Financial-aid recipient: Littleton actor, dancer and choreographer Asad Clinton was an ensemble member in Breckenridge Backstage Theatre's recent production of "Chicago." He was called "commanding" by The Denver Post when he played a tagger named Graffiti Pete in Vintage Theatre Productions' "In the Heights." He appeared in both "Aida" and "The Wild Party" for Ignite Theatre at the Aurora Fox. Before that, he spent a year working as a choreographer for the NBA's Detroit Pistons. Asad has degrees in Biology from Colorado State University and in Engineering from the University of Colorado-Denver.
His medical story: During a performance of "Chicago" in Breckenridge this past summer, Asad  had to be rushed to St. Anthony's Summit Medical Center in Frisco to be treated for High Altitude Pulmonary Edema. He spent the the next three days in St. Anthony's North Campus Hospital, where he was tested and treated for numerous heart and lung problems. He had to miss the final week of shows because the doctors were nervous about Asad returning to high-altitude performing before all of their test results came back. (Side note: Backstage Artistic Director Christopher Willard and Director Nick Sugar honorably paid Asad his stipend  for the final week of performances anyway.) That first ordeal was essentially covered by insurance. But just a few weeks later, Asad was seen by a heart specialist, and the visit was not covered by insurance, leaving him $735 in the hole.
How we will help: The Denver Actors Fund has made $735 available for Asad Clinton to pay for the uncovered portion of his  E.R. visit and EKG exam.
How you can help us help Asad Clinton more: There is  financial uncertainty in Asad's immediate future. If you would like to target a specific donation to help give him some breathing room in the coming weeks and months, simply mail checks in any amount made out to Denver Actors Fund (with Asad Clinton's name written in the topic field), to P.O. Box 11182, Denver, CO 80212. Or use this donation link. If you use the online option, be sure to designate that your donation is a targeted donation to Asad Clinton. Otherwise, your donation will be applied to the replenishment of the DAF's general fund.
A message from Asad Clinton: "The grant from the Denver Actors Fund has provided me with not only the means to deal with the hospital and medical bills, but also it has helped to ease the stress of the situation and has allowed me the time to focus, heal and move forward."
(Note: At the Denver Actors Fund, anonymity of aid recipients is presumed and fully protected, unless and until the recipient chooses to have his or her story told.)
ABOUT THE DENVER ACTORS FUND:
The Denver Actors Fund is a modest source of immediate, situational relief when members of the local theater community find themselves in medical need. To date the Fund has allocated more than $55,000 to artists facing medical need. In addition to financial relief, a team of more than 60 Denver Actors Fund volunteers offers good neighborly assistance including meal prep and delivery, child care, transportation, errands, construction, pet-sitting and more. For more information, visit our web site at DenverActorsFund.Org.
HOW YOU CAN HELP:
To DONATE the Denver Actors Fund:
Please CLICK HERE (with our humble thanks):
HOW TO APPLY FOR AID:
To apply for Denver Actors Fund aid: Fill out this brief online form here
MORE WAYS TO HELP:
DONATE BY MAIL:

Send checks made out to the Denver Actors Fund to:
P.O. Box 11182
Denver, CO 80212
ATTEND UPCOMING DENVER ACTORS FUND EVENTS:
"DENVER ACTORS FUND PRESENTS …" MONTHLY FILM SERIES: The Alamo Drafthouse Cinema in Littleton hosts a monthly film series in partnership with the Denver Actors Fund featuring films inspired by musicals and plays that are currently being performed by a Colorado theatre company. Next up on Tuesday, Nov. 15, is "A Christmas Story," featuring pre-screening entertainment by cast members from Town Hall Arts Center's upcoming stage production.  Join us for live musical performances, talk, trivia, prize giveaways … and the movie! RESERVE YOUR SEAT NOW

Coming up next:
"It's a Wonderful Life," with Spotlight Theatre Company, Monday, Dec. 5. RESERVE YOUR SEAT NOW
BUY A POSTER!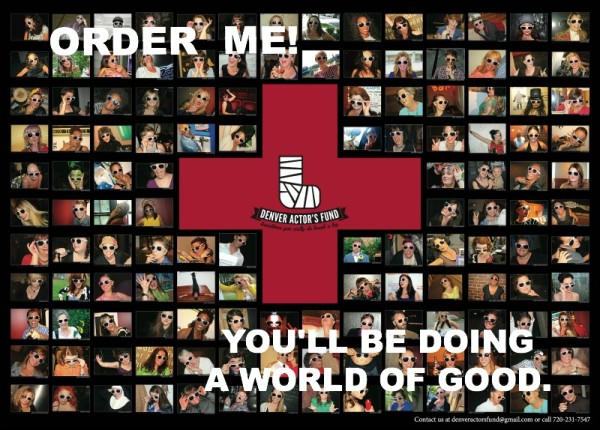 134 women (and a few token dudes) from the Colorado theater community, all supporting the Denver Actors Fund. They cost $20 per poster (20×28). To order, email your quantity to denveractorsfund@gmail.com. We'll take care of delivery and payment from there.
VISIT OUR ONLINE MERCH STORE:
Click here to see how you can buy DAF products such as T-shirts, key chains, puzzles and much more