Financial-aid recipient: Lara Maerz has been an active Stage Manager in the Colorado theatre community for many years, including stints at The Edge Theatre, Colorado Shakespeare Festival, Colorado Springs TheatreWorks, Theatre Aspen and Parker Performing Arts School. Most recently she ran The Addams Family Musical for the Northglenn Players. She is a graduate of Jefferson County Open High School in Lakewood.
Her medical story: Lara is an uninsured diabetic, and her doctor won't renew her prescriptions without an office visit. So she needed some help covering the cost of the visit, lab fees and a few months worth of prescriptions.
How we initially helped: The Denver Actors Fund has paid Lara $246 to cover her office visit, blood draw, lab fees and immediate prescription costs.

How we helped more: In June 2020, The DAF paid an additional $318.27 toward further insulin supplies in June 2020, bringing our overall support for Lara to $564.27 to date.
Help us help Lara Maerz more: This is obviously an uncertain financial time for Lara, being an uninsured diabetic. If you would like to target a specific donation to help give Lara Maerz some more breathing room in the coming months, simply mail a check in any amount made out to Denver Actors Fund (with Lara Maerz's name written in the topic field), to P.O. Box 11182, Denver, CO 80212. Or use this donation link. If you use the online option, be sure to designate that your donation is a targeted donation to Lara Maerz. Otherwise, your donation will be applied to the replenishment of the DAF's general fund.
A message from Lara: "I want to thank The Denver Actors Fund for making a stressful time of underemployment easier by allowing me to see my doctor and get the prescriptions I need. I am so thankful that DAF exists and for all of the wonderful people in our theatre community and beyond that support it."
(Note: At the Denver Actors Fund, anonymity of aid recipients is presumed and fully protected, unless and until the recipient chooses to have his or her story told.)
ABOUT THE DENVER ACTORS FUND:

Video above: The Denver Actors Fund receives the Colorado Theatre Guild's 2016 Community Impact Award.
The Denver Actors Fund is a modest source of immediate, situational relief when members of the local theater community find themselves in medical need. To date the Fund has allocated $76,000 to artists facing medical need. In addition to financial relief, a team of more than 60 Denver Actors Fund volunteers offers good neighborly assistance including meal prep and delivery, child care, transportation, errands, construction, pet-sitting and more. For more information, visit our web site at DenverActorsFund.Org.
---
HOW YOU CAN HELP:
To DONATE the Denver Actors Fund:
Please CLICK HERE (with our humble thanks)
---
HOW TO APPLY FOR AID:
To apply for Denver Actors Fund aid: Fill out this brief online form here
---
MORE WAYS TO HELP:
DONATE BY MAIL:

Send checks made out to the Denver Actors Fund to:
P.O. Box 11182
Denver, CO 80212
ATTEND UPCOMING DENVER ACTORS FUND EVENTS:
FEB. 16, 18 and 22: Fathom Events screening of Broadway's "Newsies," featuring Jeremy Jordan, at Alamo Drafthouse Denver, 7301 S Santa Fe Drive. CHOOSE YOUR SEATS NOW
SUNDAY, FEB. 19: "The Jerseys sing the Four Seasons," Featuring Paul Dwyer, Klint Rudolph, Brian Smith and Randy St Pierre. Thank you and the band for donating your stipends, and Jefferson Arca for donating part of the The Clocktower Cabaret bar! The band includes Bob Croft, Frank Baier, Doug Krause and Doug Bainbridge. 7:30 p.m. at The Clocktower Cabaret, 303-293-0075 RESERVE YOUR SEAT NOW
SUNDAY, FEB. 19: BDT Stage's "Thoroughly Modern Millie." Thanks Michael J. Duran, Matthew D. Peters and the entire team for donating the house for this very special event! Dinner starts at 6:15 p.m. at 5501 Arapahoe Ave., 303-449-6000 or
CHOOSE YOUR SEATS NOW
SUNDAY, FEB. 26: Watch Hollywood's biggest night at a viewing party hosted by Alamo Drafthouse Denver and KMGH Channel 7. This event is not sponsored by or affiliated with the Academy of Motion Picture Arts and Sciences. Thank you Alexandra Griesmer, Steve Bessette, Walter Chaw and the Alamo team. CHOOSE YOUR SEAT
TAP-SHOE INITIATIVE NIGHTS:
THURSDAY, FEB. 2: Firehouse Theatre will be accepting donations at its performance of the play "Becky's New Car, directed by Lorraine Scott, at the John Hand Theatre at Colorado Free University. Tickets $15. 7653 E. First Place, 720-880-8727 or http://firehousetheatercompany.com/

TUESDAY, FEB. 14: 5th Wall Productions will be accepting donations at its performance of the play "Straight." At Tony P's 17th Avenue, 777 E. 17th Ave., https://5th-wall-productions.ticketleap.com/straighttheplay/dates Thank you, Thomas Gerlick

"DENVER ACTORS FUND PRESENTS …" MONTHLY FILM SERIES:
The Alamo Drafthouse Cinema in Littleton hosts a monthly film series in partnership with the Denver Actors Fund featuring films inspired by musicals and plays that are currently being performed by a Colorado theatre company. Next up on Monday, March 13. is the film Jesus Christ Superstar, featuring pre-screening entertainment by cast members from the Arvada Center's upcoming stage production of the same title. Join us for live musical performances, trivia, ticket giveaways … and the movie! CHOOSE YOUR SEATS NOW

---
BUY A POSTER!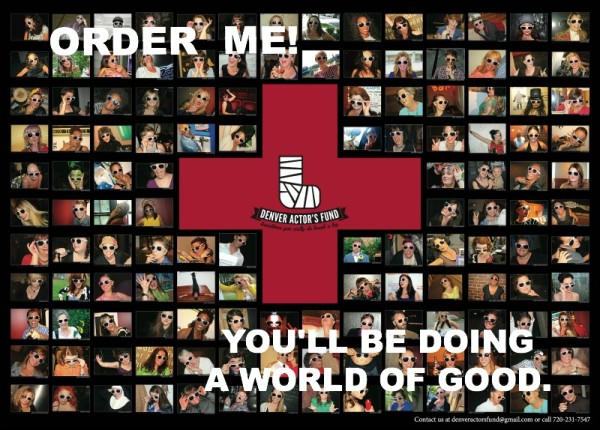 134 women (and a few token dudes) from the Colorado theater community, all supporting the Denver Actors Fund. They cost $20 per poster (20×28). To order, email your quantity to denveractorsfund@gmail.com. We'll take care of delivery and payment from there.
VISIT OUR ONLINE MERCH STORE:
Click here to see how you can buy DAF products such as T-shirts, key chains, puzzles and much more