Financial aid recipient: Longtime actor and 20-year vocal coach Traci J. Kern has appeared in productions for many local theatre companies, including as the Narrator in both "Joseph and the Amazing Technicolor Dreamcoat" for Cabrini Productions and "Bloody Bloody Andrew Jackson" for Ben Dicke Productions at the Aurora Fox. Recent productions as Music Director have included "The Nance" for The Edge Theatre and "The Marvelous Wonderettes" for Town Hall Arts Center. Traci serves many local theatre vocalists from beginners through professional through her private Traci Kern Voice Studio. She earned her masters degree in vocal performance from the University of Northern Colorado in Greeley.
Her medical story: On March 12, Traci's hand slipped as she was making dinner using a mandolin slicer, and she severed a large section of the tip of the ring finger on her right hand. At the E.R., doctors stitched her finger back together, although further surgery may be necessary to repair nerve damage. Although Traci has health insurance, her out-of-pocket cost for the procedure still came to $2,693.
How we will help: The Denver Actors Fund Board of Directors has voted to reimburse Traci for the full amount of her remaining medical bill, or $2,693. You may also recall that Traci was one of the earliest beneficiaries of the Denver Actors Fund, back in 2014. Doctors discovered a mass on her right breast, which a biopsy revealed was benign. Nevertheless, her out-of-pocket costs were about $5,500. The Denver Actors Fund paid $550 to help defray her financial burden then, thus bringing to $3,243 the total assistance we have been able to provide for her to date.
A message from Traci: "Knowing that we have something as amazing as the Denver Actors Fund in our community allows us to all breathe a little easier when medical emergencies happen. I know for me, this gift has brought me immeasurable peace of mind. I'm blown away by the generosity of our theatre family."
(Note: At the Denver Actors Fund, anonymity of aid recipients is presumed and fully protected, unless and until the recipient chooses to have his or her story told.)
---
HOW YOU CAN HELP US REPLENISH:
To DONATE the Denver Actors Fund:
Please CLICK HERE (with our humble thanks)
---
ABOUT THE DENVER ACTORS FUND:

Video above: The Denver Actors Fund receives the Colorado Theatre Guild's 2016 Community Impact Award.
The Denver Actors Fund is a modest source of immediate, situational relief when members of the local theater community find themselves in medical need. To date, the Fund has allocated more than $86,000 to artists facing medical need. In addition to financial relief, a team of more than 60 Denver Actors Fund volunteers offers good neighborly assistance including meal prep and delivery, child care, transportation, errands, construction, pet-sitting and more. For more information, visit our web site at DenverActorsFund.Org.
---
HOW TO APPLY FOR AID:
To apply for Denver Actors Fund aid: Fill out this brief online form here
---
MORE WAYS TO HELP:
DONATE BY MAIL:

Send checks made out to the Denver Actors Fund to:
P.O. Box 11182
Denver, CO 80212
ATTEND UPCOMING DENVER ACTORS FUND EVENTS:
ATTEND THE UNITED IN LOVE BENEFIT CONCERT ON APRIL 30:
Beth Malone, who starred in the DCPA Theatre Company's reimagining of "The Unsinkable Molly Brown" and then was nominated for a Tony Award her work in Broadway's "Fun Home," has joined the homegrown lineup for 'United in Love,' a special concert event presented by Ebner-Page Productions and benefiting the Denver Actors Fund on Sunday, April 30, at the Lone Tree Arts Center. The concert is co-headlined by Tony Award winner Annaleigh Ashford, Tony nominee Beth Malone ("Fun Home") and Broadway veteran Mara Davi ("Dames at Sea") for a music-filled night to help the nonprofit that in three years has made more than $86,000 available to local theatre artists facing situational medical need. The concert also will feature longtime Denver performer (and Denver First Lady) Mary Louise Lee, Broadway's Jodie Langel ("Les Misérables"), composer Denise Gentilini ("I Am Alive") along with Jimmy Bruenger, Eugene Ebner, Becca Fletcher, Clarissa Fugazzotto, Robert Johnson, Daniel Langhoff, Susannah McLeod, Chloe McLeod, Sarah Rex, Jeremy Rill, Kristen Samu, Willow Samu, Thaddeus Valdez, and the casts of both "The Jerseys" and the upcoming 13 the Musical (featuring Hinkle and an all-student cast). The lineup is subject to change, and additional stars may be added. For tickets, call 720-509-1000 or go to http://www.lonetreeartscenter.org/sho…
"DENVER ACTORS FUND PRESENTS …" MONTHLY FILM SERIES:
The Alamo Drafthouse Cinema in Littleton hosts a monthly film series in partnership with the Denver Actors Fund featuring films inspired by musicals and plays that are currently being performed by a Colorado theatre company. Next up on Sunday, May 21. is the film The Wedding Singer featuring pre-screening entertainment by cast members from the Performance Now's upcoming stage production of the same title. Join us for live musical performances, trivia, ticket giveaways … and the movie! CHOOSE YOUR SEATS NOW

---
BUY A POSTER!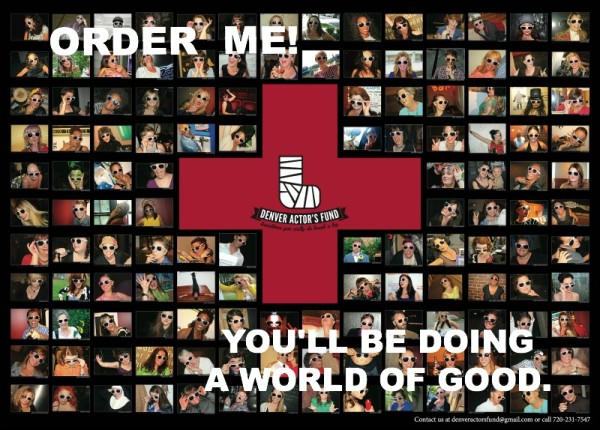 134 women (and a few token dudes) from the Colorado theater community, all supporting the Denver Actors Fund. They cost $20 per poster (20×28). To order, email your quantity to denveractorsfund@gmail.com. We'll take care of delivery and payment from there.
VISIT OUR ONLINE MERCH STORE:
Click here to see how you can buy DAF products such as T-shirts, key chains, puzzles and much more