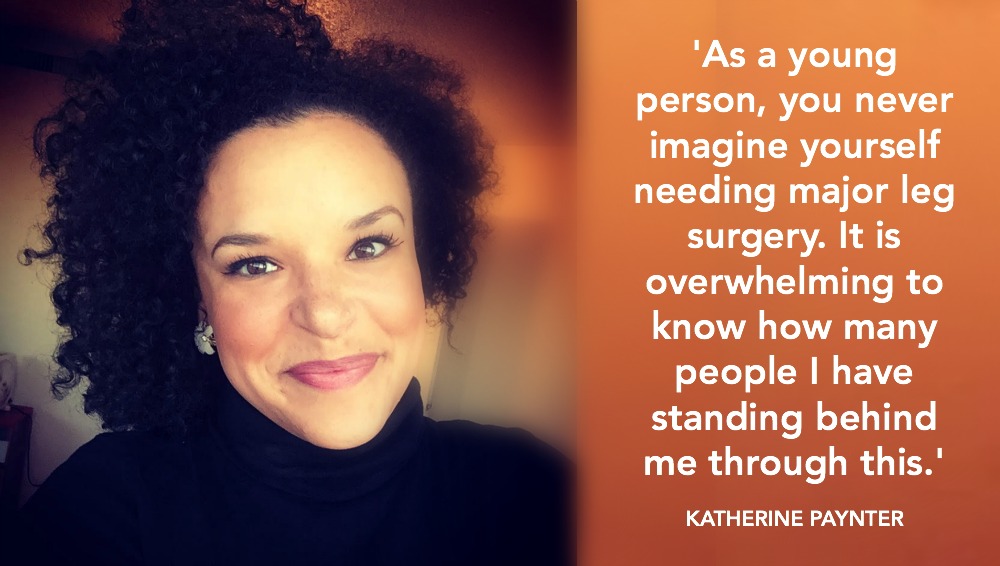 Financial aid recipient: Katherine Paynter is an actor who just performed in Performance Now Theatre Company's "The Wedding Singer," which closed Sunday. Paynter, who hails from Minnesota, studied theatre arts through a dual-college program within both Minnesota State and North Dakota State universities. She is now a Denver-based flight attendant with United Airlines and made her Denver debut in Ignite Theatre's 2015 production of "Dreamgirls." Other local roles include Extraordinary Girl in Ignite's "American Idiot," Crystal in Platte Valley Players' "Little Shop of Horrors," Dynamite in Backstage Breckenridge's "Hairspray" and in the ensemble of  Performance Now's "Ragtime."
Her medical story: On April 30, Katherine dislocated her knee during a rehearsal for "The Wedding Singer," which necessitated an ambulance ride to the emergency room, doctor visits and physical therapy that determined a portion of two knee ligaments were torn, and her kneecap were free-floating. Katherine will have surgery to realign her leg on Friday, June 30, requiring her to remain on medical leave from her job with United Airlines until at least Sept. 1. To date, Katherine has accrued $2,481 in uncovered, post-insurance expenses, and more will be coming from the surgery and physical therapy. Katherine has some accrued sick time to help cover her unpaid wages for July, but she has no other source of income for August living expenses.

How we will help: The Denver Actors Fund's board of directors has approved a grant of $4,000 to cover accrued medical expenses and help Katherine get through her post-surgical recovery until she can return to work after Sept. 1.
How you can help us help Katherine more: Despite the Denver Actors Fund gift, Katherine will accrue additional medical expenses related to her surgery and recovery. If you would like to direct a specific donation to help give Katherine some breathing room with her present expenses, simply mail checks in any amount made out to Denver Actors Fund (with Katherine Paynter's name written in the topic field), to P.O. Box 11182, Denver, CO 80212. Or use this donation link. If you use the online option, be sure to designate that your donation is a targeted donation to Katherine Paynter. Otherwise, your donation will be applied to the replenishment of the Denver Actors Fund's general fund.
A message from Katherine: "As a young person, you never imagine yourself becoming injured or needing major leg surgery due to one dance move gone wrong. While the last couple months have been mentally and physically trying, and I still have recovery ahead of me, this has now only become a small hiccup in my life – all because of the generosity of The Denver Actors Fund. In simple terms, this organization is heaven-sent for myself and many other individuals involved in the arts across Denver. It is overwhelming to know how many people I have standing behind me through this. Specifically, the entire company of 'The Wedding Singer' and now The Denver Actors Fund. As an actor, we pride ourselves on creating a true sense of community. This is exactly what DAF is all about, and what it has given me. I am wholeheartedly grateful. Thank you!"
---
HOW YOU CAN HELP US REPLENISH:
To DONATE the Denver Actors Fund:
Please CLICK HERE (with our humble thanks)
---
ABOUT THE DENVER ACTORS FUND:

Video above: The Denver Actors Fund receives the Colorado Theatre Guild's 2016 Community Impact Award.
The Denver Actors Fund is a modest source of immediate, situational relief when members of the local theater community find themselves in medical need. To date, the Fund has allocated more than $95,000 to artists facing medical need. In addition to financial relief, a team of more than 60 Denver Actors Fund volunteers offers good neighborly assistance including meal prep and delivery, child care, transportation, errands, construction, pet-sitting and more. For more information, visit our web site at DenverActorsFund.Org.
---
HOW TO APPLY FOR AID:
To apply for Denver Actors Fund aid: Fill out this brief online form here
---
MORE WAYS TO HELP:
DONATE BY MAIL:

Send checks made out to the Denver Actors Fund to:
P.O. Box 11182
Denver, CO 80212
ATTEND UPCOMING DENVER ACTORS FUND EVENTS:
"DENVER ACTORS FUND PRESENTS …" MONTHLY FILM SERIES:
We host a monthly film series in partnership with rotating local theatre companies at the Alamo Drafthouse Cinema (now at Sloan's Lake). We choose films inspired by musicals that are currently being performed by a Colorado theatre company. Next up at 6:30pm on Monday, July 24, is the John Waters camp classic Hairspray, which later inspired the Broadway musical and subsequent film sequel. Our screening features a live sneak peek at the upcoming stage production of "Hairspra" by PACE Center and Inspire Creative.  Join us for songs, trivia, ticket giveaways … and the raunchy movie that started it all! Mark your calendars. Tickets onsale soon.

---
VISIT OUR ONLINE MERCH STORE:
Click here to see how you can buy DAF products such as T-shirts, key chains, puzzles and much more