Denver Actors Fund in Action: Trenton J. Schindele
Aid recipient: Trenton J. Schindele of Broomfield is a longtime actor for the Phamaly Theatre Company, having appeared in many productions including "Evita," "Fuddy Meers," "Cabaret"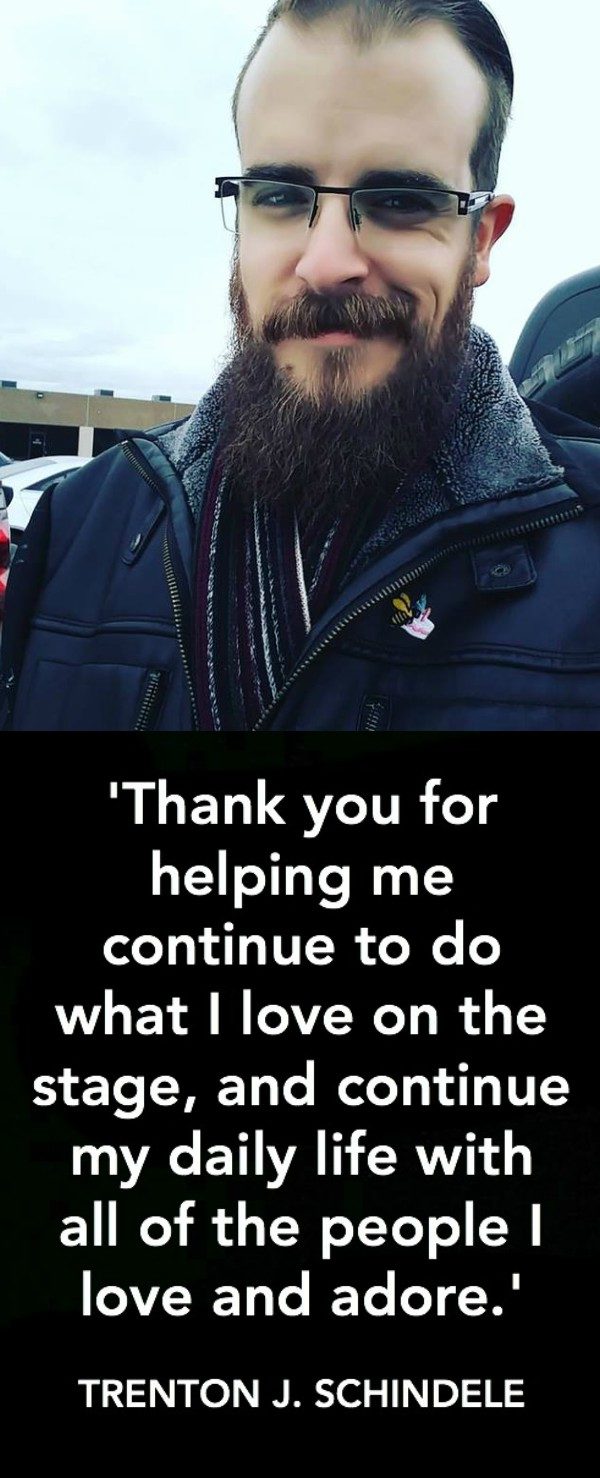 and "Fiddler on the Roof." ("As Motel, Trenton Schindele is authentic and down-to-earth," wrote Juliet Wittman of Westword.)  Most recently he played the Wolf in "Into the Woods" in the Denver Center's Space Theatre and was featured in  Boulder Ensemble Theatre Company's "Going to a Place Where You Already Are" at the Dairy Arts Center. He was trained at The American Musical and Dramatic Academy. By day he works as a retail associate at The Green Solution dispensary in Littleton.
His original medical story: Trenton has quadriplegic displagic cerebral palsy, which comes with painful and often debilitating muscle spasms from the neck down, as well as hearing loss. Trenton was in need of new leg braces to help him walk, as well as funds for a wheelchair, as his disease has progressed and his doctors have told him his condition will only get worse. In March 2018, The Denver Actors Fund approved a grant of $3,578 to buy Trenton a new wheelchair and new leg braces.
The latest chapter: Recently Trenton began to experience seizures and last week was additionally diagnosed with epilepsy. He has been placed on temporary leave from his job while doctors determine the extent of his medical situation.  Trenton underwent on MRI earlier this week, and was required to pay his portion on the bill not covered by insurance up front. The Denver Actors Fund has reimbursed Trenton with $620.56 so that he could get the test immediately. Results will not be final until early October. Including targeted donations, the Denver Actors Fund has now made $4,691 available to the Schindeles.
How you can help us help Trenton more: Even with this boost, Trenton is temporarily without income, as the results of his tests will determine whether it is safe for him to continue in his present job. So they are both fully dependent on his wife's income. "I need as much help as I can get," he says.  If you would like to direct a specific, additional donation to Trenton, simply mail checks made out to The Denver Actors Fund (with Trenton's name in the topic field) to P.O. Box 11182, Denver, CO, 80212. Or use this donation link. If you use the online option, be sure to designate that your donation is targeted for Trenton Schindele. Otherwise, your donation will be applied to the replenishment of the Denver Actors Fund's general fund.
A message from Trenton: ""I am am so thankful to the Denver Actors Fund. 'Thank you for helping me continue to do what I love on the stage and continue my daily life with all of the people I love and adore, both in the cannabis industry and in the acting community. Because of this, I am able to stay active and stay walking."
Read testimonials from other Denver Actors Fund beneficiaries here
Note: At the Denver Actors Fund, anonymity of aid recipients is presumed and fully protected, unless and until the recipient chooses to have his or her story told.
---
HOW YOU CAN HELP US REPLENISH:
To DONATE the Denver Actors Fund, please CLICK HERE (with our humble thanks)
---
ABOUT THE DENVER ACTORS FUND:
The Denver Actors Fund is a modest source of immediate, situational relief when members of the local theater community find themselves in medical need. In addition to $262,000 in financial relief, a team of more than 60 Denver Actors Fund volunteers has offered good neighborly assistance to more than 100 beneficiaries including meal prep and delivery, child care, transportation, errands, construction, pet-sitting and more. For more information, visit our web site at DenverActorsFund.Org.
---
HOW TO APPLY FOR AID:
To apply for Denver Actors Fund aid: Fill out this brief online form here
---
MORE WAYS TO HELP:
DONATE BY MAIL:

Send checks made out to the Denver Actors Fund to:
P.O. Box 11182
Denver, CO 80212
VOLUNTEER:
Ever thought about taking a more active role in the Denver Actors Fund? Click here for more information
COME TO OUR EVENTS:
'Miscast' returns Sept. 17: "Miscast," which is presented each year by Robert Michael Sanders as a benefit for The Denver Actors Fund, is an opportunity for local performers to sing songs and act out scenes they would never … ever! … get cast to perform on any legit stage. Think gender-bending, race-bending and age-bending. Odd couples and mixed groups. Wrong is oh so right. "Miscast" has evolved over the years into one of the biggest nights of the year in the Colorado theatre community – and it is a really good show. "Miscast 2018" will be held Sept. 17 at a new location: The Mizel Arts and Culture Center. Purchase tickets here or avoid fees by ordering by phone at 303.316.6360. (Leave a message if unattended.)
Miners Alley Playhouse Sept. 24: Miners Alley Playhouse' has designated the Monday, Sept. 24 performance of Lungs as a fundraiser for The Denver Actors Fund. Lungs a follows a couple through the surprising lifespan of their relationship as they grapple with questions of family, change, hope, betrayal, happenstance and the kind of pain you can only cause someone you love. Featuring the husband-and-wife acting team of Adrian Egolf and Luke Sorge. Written by Duncan Macmillan. 7:30 p.m. at 1224 Washington St., Golden, 303-935-3044 or minersalley.com
Aurora Fox Oct. 29: The Aurora Fox will present the hair-raising rock opera "Killer Wigs from Outer Space" with proceeds benefiting the Denver Actors Fund. "Killer Wigs From Outer Space," set in 1985, tells the story of a down-on-his-luck carnival worker named Orville who falls prey to a brain-eating parasite from outer space — with fabulous hair. This powerful alien transforms Orville into O, a rock star who becomes a prophet for peace and beauty. O must tackle true evil when confronted by a terrifying media tyrant who is poised to take over the world. Attendees are encouraged to B.Y.O.W. (Bring Your Own Wig) for the "Wig Out" dance party after the show! Music and Lyrics by David Nehls, with additional Lyrics by Zac Miller. Tickets $25. 7:30 p.m. 9900 E. Colfax Ave., Aurora, 303-739-1970 or aurorafoxartscenter.org
VISIT OUR ONLINE MERCH STORE:
Click here to see how you can buy DAF products such as T-shirts, key chains, puzzles and much more