Denver Actors Fund in Action: Trenton J. Schindele
Aid recipient: Trenton J. Schindele of Northglenn is a longtime actor for the Phamaly Theatre Company, having appeared in many productions including "Evita," "Fuddy Meers," "Cabaret" and "Fiddler on the Roof." ("As Motel, Trenton Schindele is authentic and down-to-earth," wrote Juliet Wittman of Westword.) Most recently he played the Wolf in "Into the Woods" in the Denver Center's Space Theatre and was featured in Boulder Ensemble Theatre Company's "Going to a Place Where You Already Are" at the Dairy Arts Center. He was trained at The American Music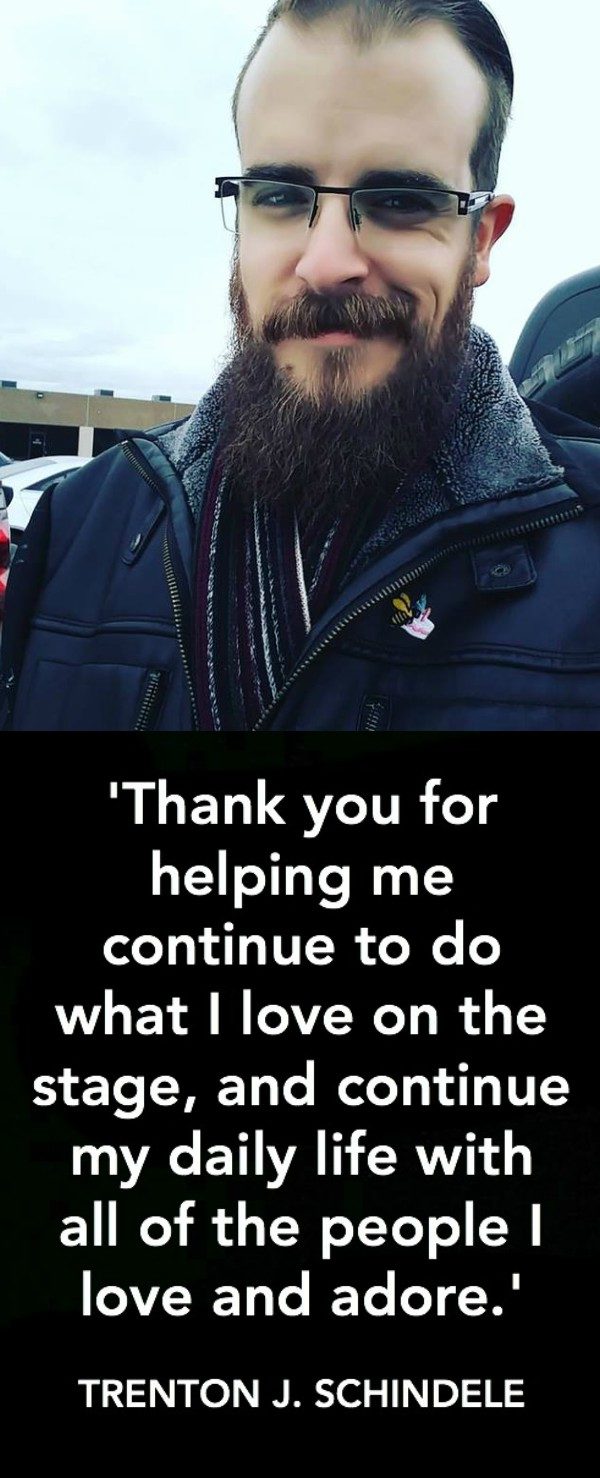 al and Dramatic Academy. Until recently, his day job was working as a retail associate at The Green Solution dispensary in Littleton.
His original medical story: Trenton has quadriplegic displagic cerebral palsy, which comes with painful and often debilitating muscle spasms from the neck down, as well as hearing loss. Trenton was in need of new leg braces to help him walk, as well as funds for a wheelchair, as his disease has progressed and his doctors have told him his condition will only get worse. In March 2018, The Denver Actors Fund approved a grant of $3,578 to buy Trenton a modest, non-motorized new wheelchair and new leg braces.
The second chapter: Trenton recently began to experience epileptic-like seizures and was placed on unpaid leave from his job while doctors pursue a diagnosis. Trenton underwent an essential MRI in September, but was required to pay his portion of the bill not covered by insurance up front. The Denver Actors Fund reimbursed Trenton with $621 so that he could get the test done without further delay.
The latest: Because Trenton remains on unpaid leave from work, he and his wife have no choice but to vacate their apartment when the lease ends at the end of November and move into Trenton's parents' house to manage expenses. Until then, the couple is trying to make ends meet on her modest income. Trenton, meanwhile, will be hospitalized from Oct. 29-Nov. 2 to hopefully pinpoint where his seizures are coming from and how best to treat them. To give the Schindeles some financial breathing room, the DAF board has authorized an additional $2,400 to help with essential living expenses until (hopefully) Trenton can return to work in December. Including targeted donations, the Denver Actors Fund has now made $7,091 available to the Schindeles.
How you can help us help Trenton more: Even with this boost, the Schindeles face an uncertain immediate financial future at best. If you would like to direct a specific, additional donation to Trenton, simply mail checks made out to The Denver Actors Fund (with Trenton's name in the topic field) to P.O. Box 11182, Denver, CO, 80212. Or use this donation link. If you use the online option, be sure to designate that your donation is targeted for Trenton J. Schindele. Otherwise, your donation will be applied to the replenishment of the Denver Actors Fund's general fund.
A message from Trenton: ""I am am so thankful to the Denver Actors Fund. 'Thank you for helping me continue to do what I love on the stage and continue my daily life with all of the people I love and adore, both in the cannabis industry and in the acting community. Because of this, I am able to stay active and stay walking."
Read testimonials from other Denver Actors Fund beneficiaries here
Note: At the Denver Actors Fund, anonymity of aid recipients is presumed and fully protected, unless and until the recipient chooses to have his or her story told.
---
HOW YOU CAN HELP US REPLENISH:
To DONATE the Denver Actors Fund, please CLICK HERE (with our humble thanks)
---
ABOUT THE DENVER ACTORS FUND:
The Denver Actors Fund is a modest source of immediate, situational relief when members of the local theater community find themselves in medical need. In addition to $262,000 in financial relief, a team of more than 60 Denver Actors Fund volunteers has offered good neighborly assistance to more than 100 beneficiaries including meal prep and delivery, child care, transportation, errands, construction, pet-sitting and more. For more information, visit our web site at DenverActorsFund.Org.
---
HOW TO APPLY FOR AID:
To apply for Denver Actors Fund aid: Fill out this brief online form here
---
MORE WAYS TO HELP:
DONATE BY MAIL:

Send checks made out to the Denver Actors Fund to:
P.O. Box 11182
Denver, CO 80212
VOLUNTEER:
Ever thought about taking a more active role in the Denver Actors Fund? Click here for more information
COME TO OUR EVENTS:
Monday, October 22: Firehouse Theater Company's Love Alone: The Firehouse has designated this special Industry Night performance as a special benefit performance with ALL ticket proceeds going to the Denver Actors Fund. Love Alone, written by Deborah Salem Smith and directed by Andrew Uhlenhopp, is a story about loss, grief and healing. When Helen's lesbian partner of 20 years dies unexpectedly while having minor surgery, Helen and her daughter want answers. Confused by the hospital's silence around the death, they bring a lawsuit against the doctors. The play tracks the fallout in both the patient's and the doctor's homes. The play speaks to an essential truth we at The Denver Actors Fund certainly ascribe to: We will all be patients one day. Tickets are $15. 7:30 p.m. at the John Hand Theatre, 7653 E. 1st Place, 303-562-3232 or firehousetheatercompany.com

Monday, October 29: Aurora Fox's Killer Wigs From Outer Space: The Aurora Fox and an all-star cast will present the hair-raising rock opera "Killer Wigs from Outer Space" with ALL ticket proceeds benefiting the Denver Actor's Fund. "Killer Wigs From Outer Space," set in 1985, tells the story of a down-on-his-luck carnival worker named Orville who falls prey to a brain-eating parasite from outer space — with fabulous hair. This powerful alien transforms Orville into O, a rock star who becomes a prophet for peace and beauty. O must tackle true evil when confronted by a terrifying media tyrant who is poised to take over the world. Attendees are encouraged to B.Y.O.W. (Bring Your Own Wig) for the "Wig Out" dance party after the show! Music and Lyrics by David Nehls, with additional Lyrics by Zac Miller. Tickets $25. 7:30 p.m. 9900 E. Colfax Ave., Aurora, 303-739-1970 or aurorafoxartscenter.org
Monday, October 29: Boulder Ensemble Theatre Company's The Wolves: For this special performance, BETC has agreed to donate ALL ticket proceeds to the DAF. Not only will you be supporting a great cause, you will be seeing a remarkable first play by Sarah DeLappe. I mean, how many playwrights can say their first play was named as a finalist for The Pulitzer Prize? The story follows nine suburban girls on an indoor soccer team warming up for an upcoming game. With each scene, they must face a new opponent, as well as coming of age and all the confusion, awkwardness, joy and sorrow that comes with it. Along the way, these unforgettable young women make fierce choices, face their own fragility, and ultimately, grow into a team. The Wolves won the 2017 Relentless Prize from the American Playwriting Foundation. "The scary, exhilarating brightness of raw adolescence emanates from every scene of The Wolves," said The New York Times. Hurry, the Carsen Theatre holds only 65 people. Tickets $20-$37 at the Dairy Center for the Arts, 2590 Walnut St., Boulder, 303-440-7826 or boulderensembletheatre.org
Monday, November 12: Denver Actors Fund Film Series Presents Xanadu: The Alamo Drafthouse At Sloan's Lake hosts a regular film series in partnership with the Denver Actors Fund featuring films inspired by musicals that are currently being performed by a Colorado theatre company. Next up is the campy cult classic roller-skating film Xanadu, with live pre-screening entertainment from the cast of the Denver Center for The Performing Arts' upcoming updated musical adaptation of the film. Therw will be captions for you to sing along. Cast members will be making a special live appearance Nov. 12 at Alamo Drafthouse Denver before a screening of the hilariously stupid cult-classic film. 4255 W. Colfax Ave. Order Xanadu film tickets here
VISIT OUR ONLINE MERCH STORE:
Click here to see how you can buy DAF products such as T-shirts, key chains, puzzles and much more