'Because of this help, I am able to stay active and stay walking'
Aid recipient: Trenton J. Schindele of Northglenn is a longtime actor for the Phamaly Theatre Company, having appeared in many productions including "Evita," "Fuddy Meers," "Cabaret" and "Fiddler on the Roof." ("As Motel, Trenton Schindele is authentic and down-to-earth," wrote Juliet Wittman of Westword.) Most recently he played slimeball murder victim Fred Casely in "Chicago," The Wolf in "Into the Woods" and was featured in Boulder Ensemble Theatre Company's "Going to a Place Where You Already Are" at the Dairy Arts Center. He was trained at The American Music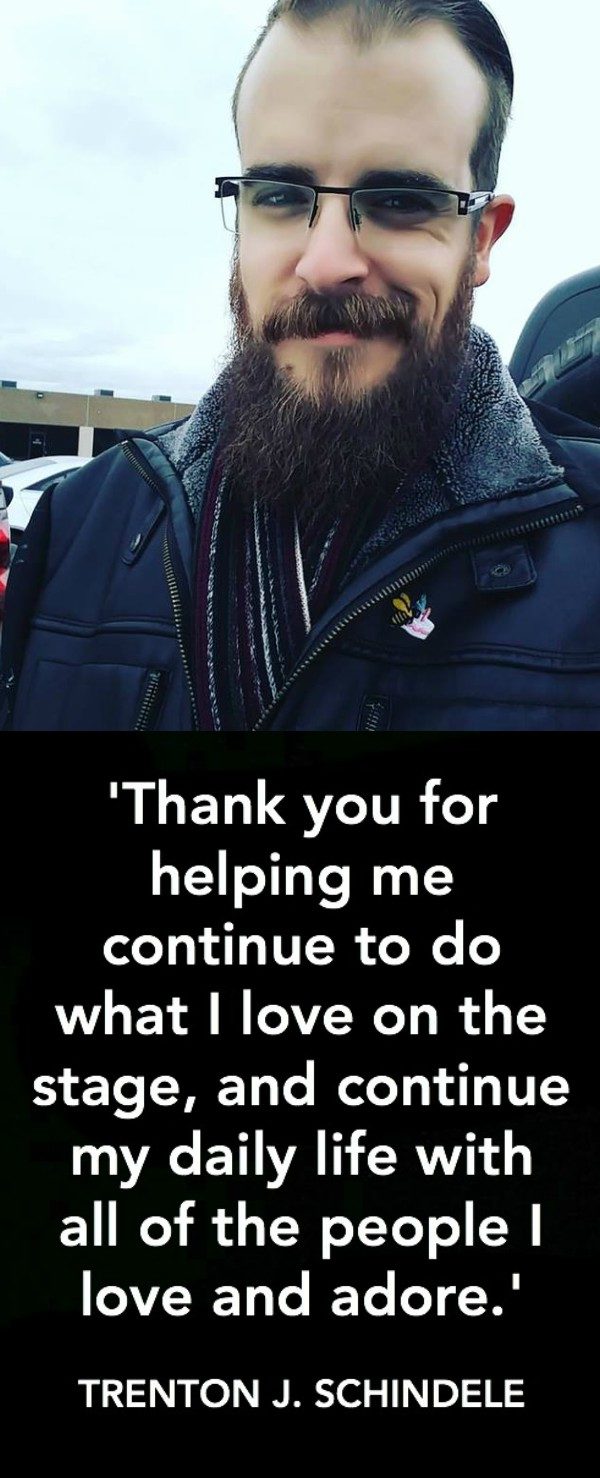 al and Dramatic Academy. By day he works as a retail associate at The Green Solution dispensary in Littleton.
His original medical story: Trenton has quadriplegic displagic cerebral palsy, which comes with painful and often debilitating muscle spasms from the neck down, as well as hearing loss. Trenton was in need of new leg braces to help him walk, as well as funds for a wheelchair, as his disease has progressed and his doctors have told him his condition will only get worse. In March 2018, The Denver Actors Fund approved a grant of $3,578 to buy Trenton a modest, non-motorized new wheelchair and new leg braces.
The second chapter: Last year, Trenton began to experience epileptic-like seizures and was placed on unpaid leave from his job while doctors pursued a diagnosis. Trenton needed an essential MRI for diagnosing the source, but was required to pay his portion of the bill not covered by insurance up front. The Denver Actors Fund reimbursed Trenton with $621 so that he could get the test done without further delay. Trenton was then hospitalized to hopefully pinpoint the source of his seizures and how best to treat them. To give the Schindeles some  breathing room, the DAF  authorized an additional $2,400 to help with essential living expenses. Trenton eventually was cleared to return to work, but only after he his wife vacated their apartment and moved into his parents' house to best manage their expenses.
The third chapter: While Trenton was focused on continuing to pay down his ongoing medical expenses, he recently was found to have eight cavities and would require fillings, a root canal and two crowns. The Denver Actors Fund referred him to our partnering dentist, Dr. Brian Kelly DDS, who provides emergency dental care to a limited number of qualified DAF applicants each year through The Dental Center at Thornton Plaza as their in-kind donation to The Denver Actors Fund. Dr. Kelly's goal with each of our patients is to move them from disease to health, and so undertook an extensive (and now completed!) treatment program for Trenton. Even after Trenton's insurance kicked in through work, Trenton would have owed $2,104 for Dr. Kelly's treatment. But because of our partnership – and Dr. Kelly's benevolence – Trenton paid nothing. We kicked in for a $99 lab fee. Because of his other existing financial obligations, Trenton now says, he "no doubt" would have let his teeth get worse before seeking treatment because he simply would not have been able to afford it. Instead, he is now free of any gum disease.
All in all: Including targeted donations, the Denver Actors Fund has now provided the Schindeles with $9,294 in financial and in-kind medical assistance.
How you can help us help Trenton more: Even with this boost, the Schindeles face an uncertain immediate financial future at best. If you would like to direct a specific, additional donation to Trenton, simply mail checks made out to The Denver Actors Fund (with Trenton's name in the topic field) to P.O. Box 11182, Denver, CO, 80211. Or use this donation link. If you use the online option, be sure to designate that your donation is targeted for Trenton J. Schindele. Otherwise, your donation will be applied to the replenishment of the Denver Actors Fund's general fund.
A message from Trenton: "I am am so thankful to the Denver Actors Fund. 'Thank you for helping me continue to do what I love on the stage and continue my daily life with all of the people I love and adore, both in the cannabis industry and in the acting community. Because of this help, I am able to stay active and stay walking."
Read testimonials from other Denver Actors Fund beneficiaries here
Note: At the Denver Actors Fund, anonymity of aid recipients is presumed and fully protected, unless and until the recipient chooses to have his or her story told.
---
HOW YOU CAN HELP US REPLENISH:
To DONATE the Denver Actors Fund, please CLICK HERE (with our humble thanks)
---
ABOUT THE DENVER ACTORS FUND:
The Denver Actors Fund is a modest source of immediate, situational relief when members of the local theater community find themselves in medical need. In addition to $398,000 in financial relief, a team of more than 60 Denver Actors Fund volunteers has offered good neighborly assistance to more than 130 beneficiaries including meal prep and delivery, child care, transportation, errands, construction, pet-sitting and more. For more information, visit our web site at DenverActorsFund.Org.
---
HOW TO APPLY FOR AID:
To apply for Denver Actors Fund aid: Fill out this brief online form here
---
MORE WAYS TO HELP:
DONATE BY MAIL:

Send checks made out to the Denver Actors Fund to:
P.O. Box 11182
Denver, CO 80211
VOLUNTEER:
Ever thought about taking a more active role in the Denver Actors Fund? Click here for more information
COME TO THE EVENTS THAT SUPPORT US:
MONDAY, OCTOBER 28: You know Jack Barton in the title roles of BDT Stage's "Joseph and the Amazing Technicolor Dreamcoat" and "Peter and the Starcatcher." He's also half of an infectious, high-energy dueling piano duet called The Barton Brothers, who mix piano-bar sing-along classics with updated contemporary covers and original songs. Jack and Dan Barton are classically trained pianists and childhood choir nerds who grew up sharing stereos, piano teachers and bunk beds, developing a familiar musical vocabulary from the beginning. They'll be taking over the BDT Stage stage for one night only, and BDT will donate $5 from every $25 ticket sold to The Denver Actors Fund. BDT is one of our greatest community partners. Please help them to continue to help us in aiding the incredible artists who make BDT Stage and all Colorado theatre such a wonderful and vibrant community. Note: There will be an a la carte menu available, but no food is included with the ticket for this event. Starys and 7 p.m. at 5501 Arapahoe Ave., Boulder, GET TICKETS HERE
MONDAY, OCTOBER 28: Music Director and longtime Denver Actors Fund supporter Mitch Samu, who recently moved to New York, will be back with a DAF fundraising concert at Columbine United Church. He's arranged for some local singers to perform at the gathering to raise a little money for the DAF while also asking attendees to bringing clean white man's crew socks to be distributed to downtown homeless by local actors Tim Fishbaugh and Carla Kaiser Kotrc. The concert begins at 7 p.m. at 6375 S Platte Canyon Road in Littleton.
VISIT OUR ONLINE MERCH STORE:
Click here to see how you can buy DAF products such as T-shirts, key chains, puzzles and much more