To see caption information on any photo above, click here. (It will be on the lower-left corner.) Or just click "show info" on any photo. If you prefer see this feature in its previous format (with each new photo stacked on top of the last), click here.
By John Moore
Jan. 1, 2014
Welcome to my 2013 labor-of-love photo series bringing you iconic snapshots from behind the scenes on opening nights in Colorado theater. This series includes one representative shot from 151 of the performances we saw 2013. The intent was to allow the reader a window into a part of the creative process they are not often allowed to witness. The result was awide swath of public and private moments backstage, onstage and outside of the stage entirely. In addition to this primary series, we dedicated a gallery of outtakes to most every production we visited as well. All photos by John Moore for www.CultureWest.Org. To inquire about reprints, email culturewestjohn@gmail.com.
THE FINAL ENTRY: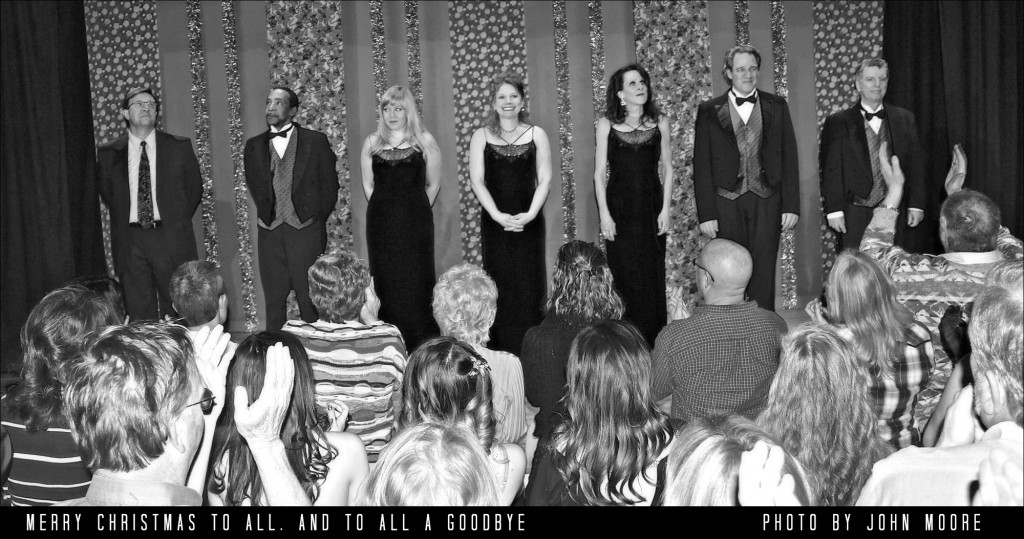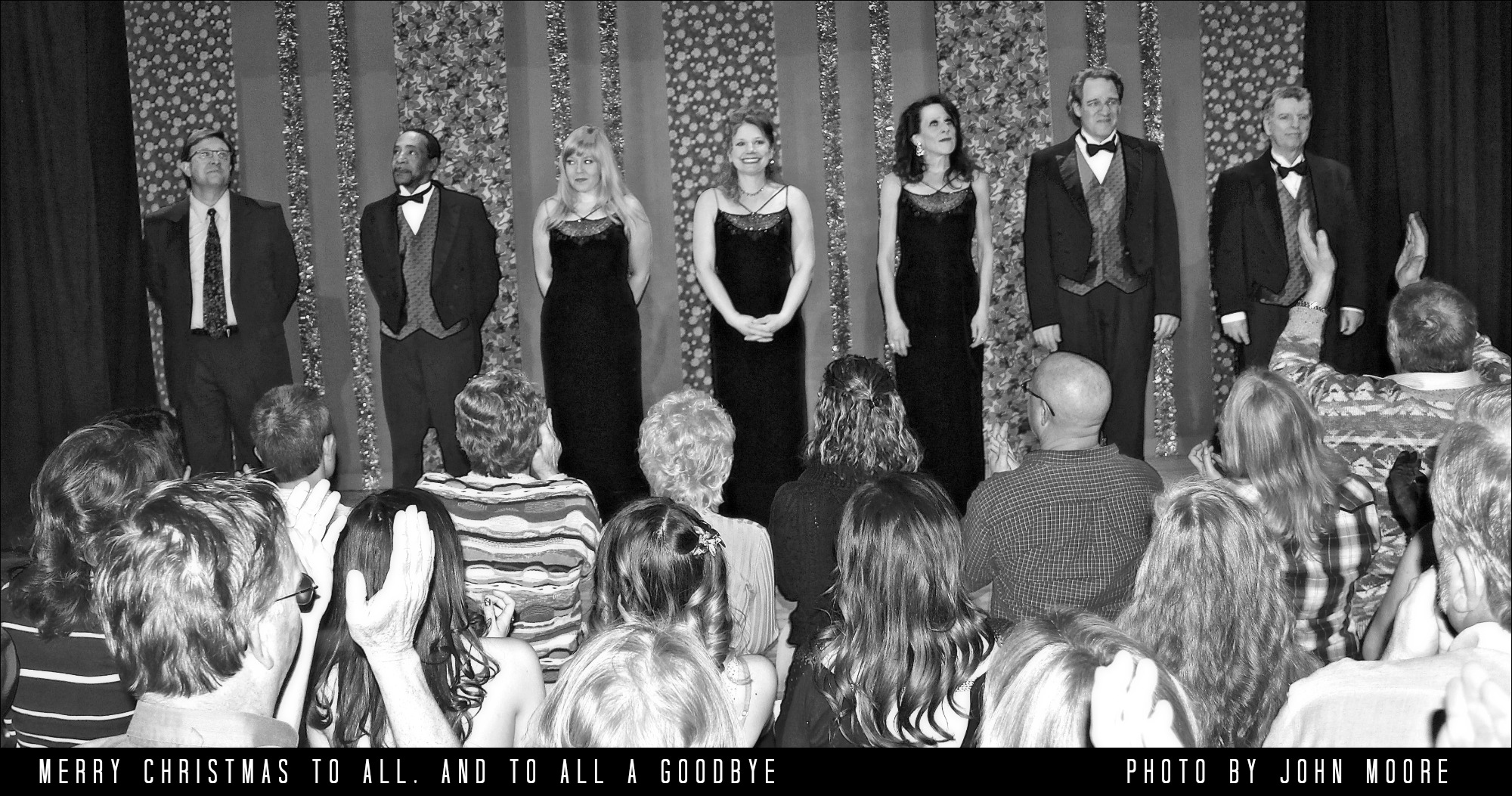 At the end of their final performance, it was only fitting that, from left, Scott Koop, Alex Crawford, Amie Rau, Johnette Toye, Annie Dwyer, Rory Pierce, T.J. Mullin (and, unseen, musicians Randy Johnson and Eric Weinstein) had no choice but to stand silently while the overflow, cheering crowd stood for several minutes thanking them not just for an evening of entertainment, but for a quarter-century of laughs, songs, terrible puns and heart-tugging moments.
Opening No. 151: Heritage Square Music Hall's "Merry Christmas to All, and to All a Goodbye": It seems only appropriate that the final entry in our "opening nights" photo series was, in fact, a closing night. And what a closing night it was for the Heritage Square Music Hall: A New Year's Eve celebration, followed by a midnight toast, live band and dancing into the wee hours. This wasn't just the end of a show for the Golden institution. This was closing night … period. And not just for T.J. Mullin and his venerable cadre of triple-threat performers. No, this was the end of the kind of entertainment Heritage Square has been providing audiences since Mullin bought the Music Hall from the legendary Bill Oakley in 1988. The Music Hall stopped being an old-fashioned house of melodrama long ago. It evolved into a place that offered blue-collar, comfortable, throwback fun. Clean, family entertainment (the hardest kind of comedy to pull off) that was both ridiculous and impeccably delivered at once. The Music Hall became best-known for its "Loud" shows, a series of pop radio hits performed by a cast that never got the credit it deserved for being among the most talented performers on any Denver stage. That final cast was Alex Crawford, Johnette Toye, Annie Dwyer, Rory Pierce and T.J. Mullin, with musicians Randy Johnson, Eric Weinstein and Crawford, with help from the booth from Scott Koop and Amie Rau. Merry Christmas indeed, Heritage Square Music Hall. And to all of you: Goodbye. Until we see you again. Photo by John Moore for www.CultureWest.Org. Thanks: Connie Helsley. Look for a full photo gallery from the final night in the coming days, as well as a video podcast that will include cast and audience interviews, and some performance highlights.
Click here to subscribe to the CultureWest.org Monthly E-Newsletter
How you can donate to the Denver Actors Fund