The opening night curtain call for the "9 to 5" cast on Feb. 22, 2013.
By John Moore
Feb. 26, 2013
Opening No. 32: The Littleton Town Hall Arts Center cast and crew had to work some overtime to pull off its regional premiere of  "9 to 5," the stage adaptation of the 1980 hit film. But come together they did, from uncommon staging challenges to the departure of cast member Shelly Bordas, whose cancer battle forced her to leave the show. "9 to 5" is the (thankfully) retro tale of three secretaries who conspire to take control of their company and learn there's nothing they can't do in a man's world. Featuring Margie Lamb, Alison Mueller, Lisa Finnerty, Seth Caikowski and Jona Alonzo. Directed by Christopher Willard. 2450 W. Main St., Littleton, 303-794-2787 or town hall's home page. Photos by John Moore of www.CultureWest.Org. Thanks to Cheryl McNab, Leslie Rutherford, cast and crew.
Bonus video coverage: Here is a link to Part 1 of our video series bringing you the Shelly Bordas Story. And here's how you can help defray her medical costs.
Note: A benefit concert for Shelly Bordas and her son will take place at 7 p.m. Sunday, March 3, at Columbine United Church, 6375 S. Platte Canyon Road, Littleton, 80123. And proceeds from a special performance of "9 to 5" at 7:30 p.m. on Monday, March 4, at Town Hall Arts Center, also will be donated to Bordas. Call 794-2787 for reservations.

To see the our full photo series, "It's Opening Night in Colorado Theatre," featuring one intimate, iconic snapshot from 33 Colorado opening nights (and counting), click here.
Click here to subscribe to the CultureWest.org Monthly E-Newsletter

Director Christopher Willard and musical director Donna Debreceni hug it out on the stage an hour before the opening performance.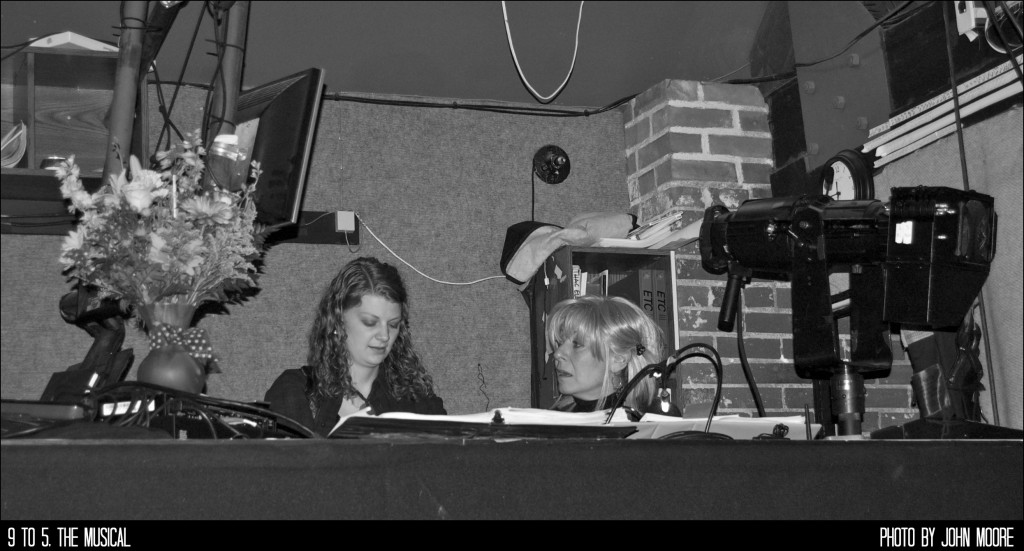 Stage manager Karin Carter and musical director Donna Debreceni work out the final touches on the recorded musical tracks.

Ensemble member Rae Klapperich stretches out during physical warmups before Friday's opening performance.


The cast gathers on the Town Hall stage for vocal warmups, above, and a group hug, below, before Friday's opening performance of "9 to 5."
(Please click below to go to the next page.)