Denver Actors Fund in Action: Abner Genece
Financial aid recipient: Actor Abner Genece performed last season in Curious Theatre's Water by the Spoonful and has been cast as a full member of the Arvada Center's Black Box Theatre Company for its upcoming second season. Artistic Director Lynne Collins has cast Genece to play Sir John in Sense & Sensibility, Ambimbola in The Electric Baby and Jim Bayless in All My Sons. His New York stage credits include Othello, Hamlet, The Cherry Orchard, Tartuffe and Waiting for Godot. He was married to Wheat Ridge native Darlene Ritz and together they have an 12-year-old son, Jayden.
His medical story: On July 2, Abner and Jayden were in a nearly fatal auto accident while en route from Denver to Portland for a holiday visit with family. They were rear-ended by a semi-truck going at least 60 mph and were then slammed into a U-Haul truck in front of them. The accident occurred in Wyoming, and both Abner and Jayden were airlifted to different hospitals in Utah. Although Jayden was seriously hurt, he has since been released from the hospital and is recovering at home with his mother in Denver. He will need to wear a neck brace for 8 weeks. But injuries Abner sustained are quite a bit more serious and have required multiple surgeries on his ribs and spine. He now has nine metal plates in his body supporting him. He remains hospitalized at the Intermountain Medical Center in Salt Lake City, Utah, and faces a long road ahead toward recovery and healing, which will be difficult, painful and expensive. With major acting jobs coming up in Wyoming and Arvada, he is highly motivated to recover fast and fully. "We are rooting for his full recovery and looking forward to having him join us in the fall, if he can possibly do it," said Collins. As he recovers, he will need help with basic living expenses, medical equipment and more.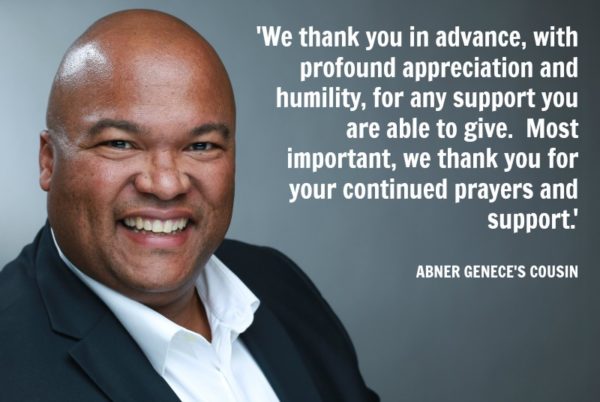 How we will help: The Denver Actors Fund's board of directors has approved a grant of $4,500, the largest gift in our history, to help Abner with essential and immediate living expenses through September. He also will be the recipient of our Action Team volunteer services including meals, transportation, housekeeping and more.
How you can help us help Abner more: Despite the Denver Actors Fund gift, Abner is in for a long haul of both significant and incidental expenses. If you would like to direct a specific donation to help give Abner give more breathing room as he heals, simply mail checks in any amount made out to Denver Actors Fund (with Abner Genece's name written in the topic field), to P.O. Box 11182, Denver, CO 80212. Or use this donation link. If you use the online option, be sure to designate that your donation is a targeted donation to Abner Genece. Otherwise, your donation will be applied to the replenishment of the Denver Actors Fund's general fund.
To volunteer to become a member of one of the Denver Actors Fund's volunteer Action Teams, sign up here.
Update: Because Abner will not be medically cleared to return to work until November, the board has approved another $1,000 grant to help with rent and other essential living expenses in October. In addition, DAF volunteers have delivered $182.50 in groceries along with prepared meals, and assisted with household chores. Your targeted donations through Oct. 3 total $690, bringing the total assistance the Denver Actors Fund has been able to provide Abner to $6,372.50.
A message from Abner's cousin: "We thank you in advance, with profound appreciation and humility, for any support you are able to give. Most importantly, we thank you for your continued prayers and support. Let us leave you with a passage from one of Ab's favorite psalms, Psalm 118 that states in part:
"The Lord's right hand is lifted high; the Lord's right hand has done mighty things! I will not die but live, and will proclaim what the Lord has done."
---
HOW YOU CAN HELP US REPLENISH:
To DONATE the Denver Actors Fund:
Please CLICK HERE (with our humble thanks)
---
ABOUT THE DENVER ACTORS FUND:

Video above: The Denver Actors Fund receives the Colorado Theatre Guild's 2016 Community Impact Award.
The Denver Actors Fund is a modest source of immediate, situational relief when members of the local theater community find themselves in medical need. To date, the Fund has allocated more than $105,000 to artists facing medical need. In addition to financial relief, a team of more than 60 Denver Actors Fund volunteers offers good neighborly assistance including meal prep and delivery, child care, transportation, errands, construction, pet-sitting and more. For more information, visit our web site at DenverActorsFund.Org.
---
HOW TO APPLY FOR AID:
To apply for Denver Actors Fund aid: Fill out this brief online form here
---
MORE WAYS TO HELP:
DONATE BY MAIL:

Send checks made out to the Denver Actors Fund to:
P.O. Box 11182
Denver, CO 80212
ATTEND UPCOMING DENVER ACTORS FUND EVENTS:
"DENVER ACTORS FUND PRESENTS …" MONTHLY FILM SERIES:
We host a monthly film series in partnership with rotating local theatre companies at the Alamo Drafthouse Cinema (now at Sloan's Lake). We choose films inspired by musicals that are currently being performed by a Colorado theatre company. Next up at 6:30pm on Monday, July 24, is the John Waters camp classic Hairspray, which later inspired the Broadway musical and subsequent film sequel. Our screening features a live sneak peek at the upcoming stage production of "Hairspra" by PACE Center and Inspire Creative. Join us for songs, trivia, ticket giveaways … and the raunchy movie that started it all! Mark your calendars and choose your preferred seats here now.

---
VISIT OUR ONLINE MERCH STORE:
Click here to see how you can buy DAF products such as T-shirts, key chains, puzzles and much more