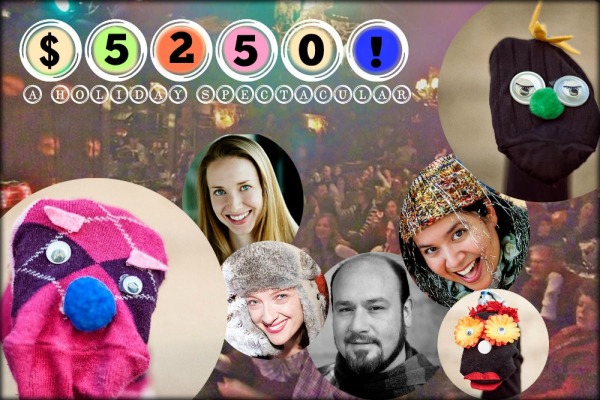 At the Denver Actors Fund, we're feeling pretty close to a mile high.
Earlier this year, we were told the Denver Actors Fund had been selected to be the sole charitable beneficiary at the 6th annual performances of "BALLS! A Holiday Spectacular" at Lannie's Clocktower Cabaret. The numbers are in, and those performances directly raised $5,250. That represents 20 percent of all funds raised by the Denver Actors Fund in the 18 months of our existence heading into those performances. Of that, $1,000 was put up as a matching grant by outgoing Denver Actors Fund board member Paul Dunne, who has recently relocated to Houston.
Needless to say, December was the best month on record for the Denver Actors Fund, which exists to support artists in response to situation medical needs, either with cash donations or volunteer assistance. While the Denver Actors Fund is considered too small to be officially included in Colorado Gives Day, we also received about $1,489 in donations inspired by that statewide effort.
In addition, two local theatre companies chose "BALLS!" performances to let us in on a little secret: The boards of the Buntport and Front Range Theatre Companies (formerly Castle Rock Players) had voted separately and independently to donate $500 gifts to the Denver Actors Fund.
The "BALLS!" total includes contributions from a variety of sources. Lannie Garrett, owner of the host venue (Lannie's Clocktower Cabaret), waived rent for the night. Performers Emily K. Harrison, GerRee Hinshaw, Mare Trevathan, Jim Ruberto and rotating guest stars performed for free, as they do each year for different deserving charities. (The complete list of thanks is noted on our Facebook page.) "BALLS!-related" donations were received by Pesha Rudnick, Cynthia DeLarber, Laura Norman and Barbara Afanador (mother of DAF beneficiary Chad Afanador). There were handmade sock-puppet and notecard sales (thank you, Margie Lamb), along with other sources of donations. It all added up.

To make our holiday season complete, we received word late last week from Sheila Sears that both Colorado Creative Industries and the Denver Office of Film, Television and Media have decided to give the Denver Actors Fund grants of $1,250 – each.
And now, for the bottom line … Thanks to the community's efforts on our behalf, the Denver Actors Fund has now raised, to date, $35,510 to help artists of all stripes in the local theatre community.
A year ago, that total was around $9,000. That means 2014, our first full year in existence, was a $25,000 year for the Denver Actors Fund. That's 294 percent growth.
We are beyond humbled. Daunted. And charged-up for 2015.
Events like the one the BALLS! team put on for us are vital for the continuing growth of the organization, because the money is needed in our community. Each quarter another performing-arts organization puts on a fundraiser on our behalf. Please plan to join us for our next event on Feb. 17, when Boulder's Dinner Theatre presents a benefit performance of "Fiddler on the Roof," with all proceeds after cost benefiting the Denver Actors Fund. All actors are waiving their performance fees for that night. Call 303-449-6000 for ticket information.
Read  Denver Actors Fund testimonials by clicking here
ABOUT THE DENVER ACTORS FUND:
The Denver Actors Fund is a modest source of immediate, situational relief when members of the local theater community find themselves in medical need. In addition to financial relief, a team of more than 60 Denver Actors Fund volunteers offers good neighborly assistance including meal prep and delivery, child care, transportation, errands, construction, pet-sitting and more. For more information, visit our web site at www.DenverActorsFund.Org
HOW YOU CAN HELP:
To DONATE the Denver Actors Fund: Please go here (with our humble thanks):
APPLY FOR AID:
To apply for Denver Actors Fund aid: Fill out this brief online form here
MORE WAYS TO HELP:
DONATE BY MAIL:

Send checks made out to the Denver Actors Fund to:
4594 Osceola St.
Denver, CO 80212
COME TO OUR FUNDRAISING EVENTS:
Feb. 17, 2015: BDT Stage (formerly Boulder's Dinner Theatre) presents a benefit performance of "Fiddler on the Roof." Call 303-449-6000.
BUY A POSTER!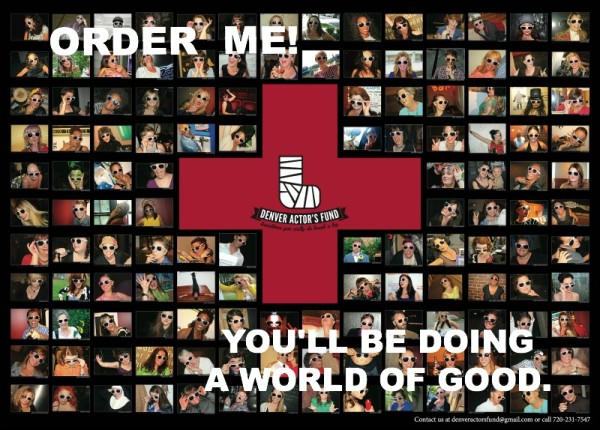 134 women (and a few token dudes) from the Colorado theater community, all supporting the Denver Actors Fund. They cost $20 per poster (20×28). To order, email your quantity to denveractorsfund@gmail.com. We'll take care of delivery and payment from there.
VISIT OUR ONLINE MERCH STORE:
Click here to see how you can buy DAF products such as T-shirts, key chains, puzzles and much more