Financial-aid recipient: Bailey Peyton Walton is part of the well-loved local theatre family that includes her brother, Burke Walton, and father, Kevin Walton. Bailey studied English at the University of Colorado-Denver and is a graduate of Cherry Creek High School. Recent roles have included Tracy in Hairspray with both the Evergreen Players and Candlelight Dinner Playhouse in Johnstown.
Her medical story: Just two weeks ago, Bailey relocated to Redondo Beach, Calif., to pursue her dreams as a vocalist and performer. On Sept. 25, during the drive from Denver to California, Walton and her boyfriend were rear-ended 15 miles outside of Las Vegas by a car going more than 75 mph. The car rolled several times, and Bailey and her boyfriend landed in the desert sand covered in dirt and glass. "Considering the severity of the accident, both Sam and myself are lucky to be alive," she said. A trip the ER Trauma Center and follow-up tests yielded a diagnosis of a concussion that will take several months to fully heal. Bailey had lined up a high-energy job working as an DJ and performer for an L.A. entertainment company, but her doctor has ordered her not return to work until fully recovered from headaches and general body soreness. So for the time being, she has no car – or source of income. In a new city.
How we will help: The Denver Actors Fund has made $1,645 available to help Bailey Walton with the immediate financial burden brought on by this accident. The DAF Board is considering hers an ongoing case, leaving open the possibility of additional financial relief as her situation unfolds.
How you can help us help Bailey Walton more: There is much financial uncertainty in Bailey's immediate future. If you would like to target a specific donation to Bailey to help give her some peace of mind in the coming weeks and months, simply mail checks in any amount made out to Denver Actors Fund (with Bailey Walton's name written in the topic field), to P.O. Box 11182, Denver, CO 80212. Or use this donation link. If you use the online option, be sure to designate that your donation is a targeted donation to Bailey Walton. Otherwise, your donation will be applied to the replenishment of the DAF's general fund.
A message from Bailey Walton: "Growing up in the Denver theatre community, I knew from a young age what it meant to choose your family. I learned from the best, and was always surrounded with endless love and support. I never thought I would ever need to contact the Denver Actors Fund, but I think we all can agree that life is continuously unexpected and comes without a guarantee. I can't thank the Denver Actors Fund enough for their generosity and love during an extremely challenging time. As you all can imagine, the emotional stress of dealing with a car accident and health issues are enough on their own. Combine that with moving to a new city, having to tell your new employers that you are unable to work until a later date and being without a car and … the burden becomes tremendous. Thanks to this help, a great portion of my stress has been relieved knowing that I have some time to heal. It will be appreciated for the rest of my days."
(Note: At the Denver Actors Fund, anonymity of aid recipients is presumed and fully protected, unless and until the recipient chooses to have his or her story told.)
ABOUT THE DENVER ACTORS FUND:
The Denver Actors Fund is a modest source of immediate, situational relief when members of the local theater community find themselves in medical need. To date the Fund has allocated more than $55,000 to artists facing medical need. In addition to financial relief, a team of more than 60 Denver Actors Fund volunteers offers good neighborly assistance including meal prep and delivery, child care, transportation, errands, construction, pet-sitting and more. For more information, visit our web site at DenverActorsFund.Org.
HOW YOU CAN HELP:
To DONATE the Denver Actors Fund:
Please CLICK HERE (with our humble thanks):
HOW TO APPLY FOR AID:
To apply for Denver Actors Fund aid: Fill out this brief online form here
MORE WAYS TO HELP:
DONATE BY MAIL:

Send checks made out to the Denver Actors Fund to:
P.O. Box 11182
Denver, CO 80212
ATTEND UPCOMING DENVER ACTORS FUND EVENTS:
"DENVER ACTORS FUND PRESENTS …" MONTHLY FILM SERIES:The Alamo Drafthouse Cinema in Littleton hosts a monthly film series in partnership with the Denver Actors Fund featuring films inspired by musicals that are currently being performed by a Colorado theatre company. Next up on Monday, Oct. 12, is "Night of the Living Dead," featuring pre-screening entertainment by cast members from Equinox Theatre Company's upcoming stage production. Tickets available here.
Coming up next:
"A Christmas Story," with Town Hall Arts Center, Tuesday, Nov. 15
"It's a Wonderful Life," with Spotlight Theatre Company, Monday, Dec. 5
BUY A POSTER!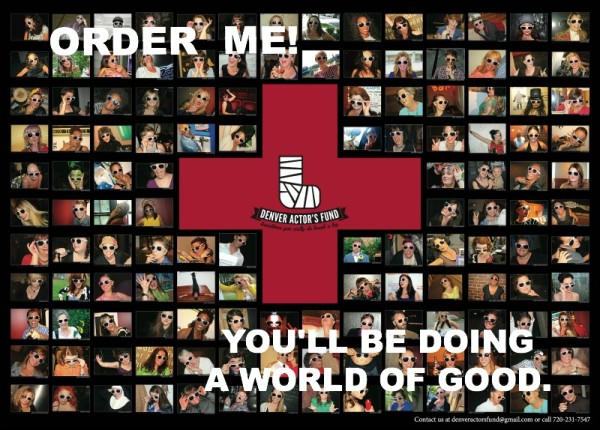 134 women (and a few token dudes) from the Colorado theater community, all supporting the Denver Actors Fund. They cost $20 per poster (20×28). To order, email your quantity to denveractorsfund@gmail.com. We'll take care of delivery and payment from there.
VISIT OUR ONLINE MERCH STORE:
Click here to see how you can buy DAF products such as T-shirts, key chains, puzzles and much more