'I am beyond grateful for this. Truly, I cannot thank all of you enough.'
Aid recipient: Denver native Cipriano Ortega is an actor, artist, musician and educator who in the past five years has performed in two productions at Su Teatro ("Dona Rosita's Japapeno Kitchen" and "Christmas in Colorado"), and in Curious Theatre's 2017 National New Voices reading festival. He previously performed for Theatre Group ("The History Boys"), The Source Theatre Company ("The Gospel at Colonus") and he currently works as a Teaching Artist and House Manager for Arvada Center Education.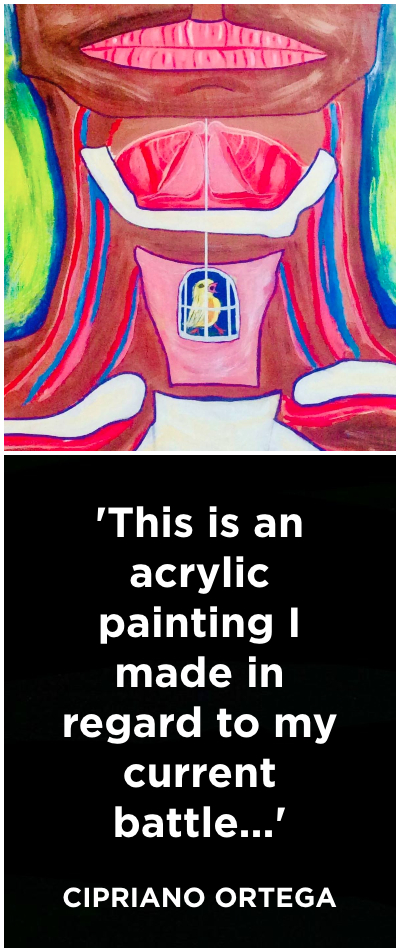 His medical story: Cipriano has been dealing with severe vocal problems since 2015. (He has been very public about the specifics of his case, and he has encouraged us to tell his full story here.) After pursuing a number of treatment options, doctors finally scheduled surgery in mid-May to remove a  large cyst on his left vocal fold. But at the last moment, the surgeon decided to postpone the procedure, and Cipriano is now undergoing ongoing weekly rehab therapy while he waits for the medical experts to determine their next course of action. Cipriano has incurred significant medical bills in association with his odyssey, and his ongoing therapy sessions (not covered by his health insurance) are only adding to his burden. Cipriano started a gofundme campaign that so far has raised $2,603 to help him with his expenses, but his medical policy comes with a $6,116.84 annual deductible, so he's still in pretty deep. He withdrew from an entire teaching cycle at the Arvada Center because he expected to be recovering from surgery at that time. This ongoing uncertainty has made it difficult for Cipriano to maintain a regular work schedule, and so he has been relying on the gofundme donations to pay for his most recent essential living expenses.
How we have helped: Cipriano submitted two specific medical bills to The Denver Actors Fund for compensation consideration that, after after insurance, left him with $3,440.80 due out of pocket. After careful consideration of Cipriano's current financial burden and income resources, The DAF board has approved two separate grants totaling $2,680.80. The Board will consider future expenses if and when surgery becomes a reality. To date, including targeted donations from the community, The Denver Actors Fund has now provided Cipriano with $2,730.80 in overall medical assistance.
How you can help us help Cipriano more: Cipriano's medical and financial situations remain unstable. The cost of his weekly therapy is ongoing; he hasn't yet come close to reaching his 2019 medical deductible; and he may still require surgery later in the year. If you would like to direct a specific donation to help give Cipriano some financial breathing room, simply mail checks in any amount made out to Denver Actors Fund (with Cipriano Ortega's name written in the topic field), to P.O. Box 11182, Denver, CO, 80212. Or use this donation link. If you use the online option, be sure to designate that your donation is a targeted donation for Cipriano Ortega. (He will receive 100 percent of your donation.) Otherwise, your donation will be applied to the replenishment of The Denver Actors Fund's general fund.
A message from Cipriano: "I am beyond grateful for this. Truly, I cannot thank all of you enough."
The Denver Actors Fund has now made more than $364,000 available to Colorado artists in medical need.
Read testimonials from other Denver Actors Fund beneficiaries here
Note: At The Denver Actors Fund, anonymity of aid recipients is presumed and fully protected, unless and until the recipient chooses to have their story told.
---
ABOUT THE DENVER ACTORS FUND:
The Denver Actors Fund is a modest source of immediate, situational relief when members of the local theater community find themselves in medical need. In addition to $364,000 in financial relief, a team of more than 60 Denver Actors Fund volunteers have offered good neighborly assistance to more than 100 beneficiaries including meal prep and delivery, child care, transportation, errands, construction, pet-sitting and more. For more information, visit our web site at DenverActorsFund.Org.
---
HOW TO APPLY FOR AID:
To apply for Denver Actors Fund aid: Fill out this brief online form here
---
MORE WAYS TO HELP:
DONATE ONLINE:
Go to our online giving site at: ColoradoGives.Org
DONATE BY MAIL:

Send checks made out to The Denver Actors Fund to:
P.O. Box 11182
Denver, CO 80212
VOLUNTEER:
Ever thought about taking a more active role in The Denver Actors Fund? Click here for more information
COME TO OUR EVENTS:
Friends, we at The Denver Actors Fund believe in building community while building funds. Most of our events are performative in nature so that you have a good time while helping a good cause. Here are some of the events that are currently being planned on our behalf. Visit denveractorsfund.org anytime for an updated list.
THURSDAY, JULY 11: Join Eric Weinstein as he takes you on a journey of songs and stories from the three decades he has been part of the Denver theatre community. The evening will feature Ragtime and Stride piano solos that were a mainstay of the venerable Heritage Square Music Hall, hits from Vintage favorite shows "Ring of Fire" and "Ain't Misbehavin'," original music and a variety of musical styles. He will be joined by daughters Kaitlin and Kelsey, and performers Hazel Kachline, Adam Luhrs and Isabella Duran. One hundred percent of ticket sales will benefit The Denver Actors Fund. 7:30 p.m. at the Vintage Theatre, 1468 Dayton St., Aurora. Reserve your ticket.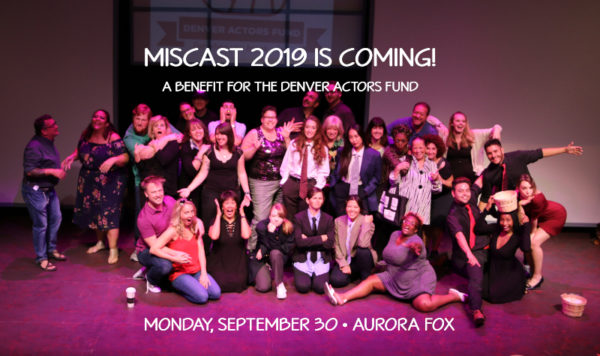 MONDAY, SEPTEMBER 30: "Miscast," which is presented each year by Robert Michael Sanders as a benefit for The Denver Actors Fund, is an opportunity for local performers to sing songs and act out scenes they would never … ever! … get cast to perform on any legit stage. Think gender-bending, race-bending and age-bending. Odd couples and mixed groups. Wrong is oh so right. "Miscast" has evolved over the years into one of the biggest nights of the year in the Colorado theatre community – and it is a really good show. "Miscast 2019" will be held Sept. 30 at a new location: The Aurora Fox Arts Center. Tickets will go on sale in August. In the meantime … Save the Date!
VISIT OUR ONLINE MERCH STORE:
Click here to see how you can buy DAF products such as T-shirts, key chains, puzzles and much more