COVID19 brought on the perfect dental storm: An infection, no money, no dental insurance and closed offices. Dr. Kelly to the rescue.
Aid recipient: Actor, Producer and Director Robert Michael Sanders may be the best friend The Denver Actors Fund ever had. He's given hundreds of volunteer hours producing and presenting fun, high-quality events on our behalf, most recently "Miscast 2019," which returne this September. In six years, Robert has helped raise $47,498 for The DAF. Other recent projects have included his Henry Award-nominated turn as Amos in Phamaly Theatre Company's "Chicago"; and directing Candlelight Dinner Playhouse's "Jekyll & Hyde" and 19K Productions' "In the Trenches: A Parenting Musical." He was recently named Education Director at Town Hall Arts Center, and last week co-produced the first-ever online Henry Awards with Betty Hart. He is a graduate of Broomfield High School and can be found on Spotify as Robert Michael. His wife is the actor Megan Van De Hey.

His medical story: Robert was recently in need of major dental surgery that included grafts, crowns, bone replacement and more.
How we helped: The Denver Actors Fund has a partnering dentist in Dr. Brian Kelly DDS, who accepts a limited number of emergency cases each year as his personal, in-kind donation to The DAF with his associates at the Dental Center at Thornton Plaza. Dr. Kelly performed all of the necessary work Robert needed over several visits. The value of Dr. Kelly's services to a regular patient would have come to $5,193. Instead, no money changed hands, other than a $297 outside lab bill that The DAF has covered. Robert paid nothing, making the overall value of his treatment $5,490. To date, the total value of Dr. Kelly's service to the Denver Actors Fund is more than $60,000 since 2017. It's no wonder that, last month, 5280 Magazine included Dr. Kelly among Denver's top dentists as chosen by his peers for the 12th year in a row. He is himself a dancer and a veteran of four Broadway productions.
A message from Robert:
"Like most people, I fear the dentist. I always have. I also tend to put off going until there is a reason. Of course, timing is everything, right? Prior to the pandemic lockdown, I had a tooth that was acting up. I knew it needed to be fixed, but I thought I would wait a little longer to see how the lockdown played out. In hindsight, that was not my best idea. No thanks to COVID, my Actors Equity (union) health insurance expired in April. Then my tooth became infected and created a perfect storm of problems. No money, no dental insurance – and all medical offices closed indefinitely. Well: Dr. Brian Kelly to the rescue. He scheduled me for the first opportunity to come in, and I never felt safer. He tackled a huge problem that had gotten out of control. He put me at ease as a human and a dentist. Two oral surgeries, one root canal, two crowns and a bridge later, everything is in good shape. Dr. Kelly brought his sense of humor and expertise to the chair every time, and made me feel comfortable. When he said, 'Don't you worry about the expense,' he meant it. Dr. Kelly continues to give selflessly to The Denver Actors Fund (and others) as his gift to this community of performers – of which he is a member himself. Please go see Dr. Kelly as a regular patient when you can. Ask him to tell you old Broadway stories while he works on you. I have deep gratitude for this human being. Please celebrate what he does for us."
The Denver Actors Fund now has made more than $600,000 available to Colorado artists in need.
How you can help us help us help more Colorado theatre artists: If you would like to make a donation to The Denver Actors Fund, simply mail checks in any amount made out to Denver Actors Fund to P.O. Box 11182, Denver, CO 80211. Or use this donation link, with our humble thanks.
Read testimonials from other Denver Actors Fund beneficiaries here
Note: At The Denver Actors Fund, anonymity of aid recipients is presumed and fully protected, unless and until the recipient chooses to have their story told.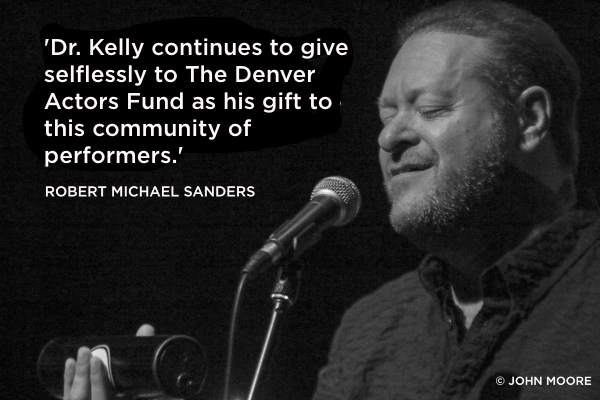 ---
ABOUT THE DENVER ACTORS FUND:
The Denver Actors Fund is a modest source of immediate, situational relief when members of the local theater community find themselves in medical need. In addition to $538,000 in financial relief, a team of more than 60 Denver Actors Fund volunteers have offered good neighborly assistance to more than 100 beneficiaries including meal prep and delivery, child care, transportation, errands, construction, pet-sitting and more. For more information, visit our web site at DenverActorsFund.Org.
---
HOW TO APPLY FOR AID:
To apply for Denver Actors Fund aid: Fill out this brief online form here
---
NEW: AFFORDABLE MENTAL HEALTH CARE:
The Denver Actors Fund has announced a major new collaboration with the Maria Droste Counseling Center of Colorado to provide affordable, professional health care to any qualifying Colorado theatre artist who needs it. CLICK HERE FOR INFORMATION
---
GET INSTANT, FREE MEDICAL ADVICE: The Denver Actors Fund has launch of a major new FREE medical service for qualified Colorado theatre artists: We are partnering with Hippo Health to provide access to emergency medical evaluations via video conferencing with a Board-certified physician. Click to read more about this wonderful, innovative new partnership that will further improve the lives of artists!
---
MORE WAYS TO HELP:
DONATE ONLINE:
Go to our online giving site at: ColoradoGives.Org
DONATE BY MAIL:

Send checks made out to The Denver Actors Fund to:
P.O. Box 11182
Denver, CO 80211
VOLUNTEER:
Ever thought about taking a more active role in The Denver Actors Fund? Click here for more information
---
SHOP AT KING SOOPERS
Sign up for King Soopers' Community Rewards Program and raise money for The DAF just by shopping for your groceries – and it doesn't cost you an extra penny. It's like the Amazon Smile Program. To sign up, simply go here and designate The DAF as your preferred non-profit. Each quarter, King Soopers sends us a donation based on how much our supporters have spent. Thanks to all of you who are shopping for The DAF.
---
VISIT OUR ONLINE MERCH STORE:
Click here to see how you can buy DAF products such as T-shirts, key chains, puzzles and much more.