"I'm looking for my lost skin. Have you seen my lost skin? It was once very pretty. We were very close. I was really attached to it." — Joseph Forbeck, as "Man with Scar Tissue." In this photo, Forbeck in the process of having his makeup applied backstage by artist Sarah Nasatka.

By John Moore
March 20, 2013
Opening No. 47, Theatre 'd Art's "Marisol": Celebrated playwright José Rivera's celestial vision of the apocalypse is seen through the eyes of Marisol Perez, an "everywoman" on a harrowing journey through a surrealistic Bronx. It's Armageddon in the heavens as millions of angels have declared war on a senile God. And in their distracted absence, it's end times on Earth as unprotected cities self-destruct into unidentifiable morasses. The play is a vibrant portrayal of an unrecognizable world where it snows in hot weather, apples are made of salt, the moon has disappeared and homeless people are burned by Nazis like trash. As depressing as all this sounds, the play is really a search for God and hope — in an insane world of derelicts and skinheads. If audiences are disturbed by Rivera's world view, one should ask what it was about his cultural experience here that led him to create this representative place in his mind. Through March 31. Directed by Anna Faye Hunter. Starring Margarita Archilla as Marisol and also featuring Brittani Janish, Benjamin Bonenfant, Jasmine Caldwell, Danine Schell, Joseph W. Forbeck, Jonathan Andujar, Laura Fuller, Erica Erickson, Michael Lee, Sallie Walker and Kala Roquemore. 8 p.m. Fridays through Sundays at 128 N. Nevada St., Colorado Springs, 719-357-8321 or theatre 'd art's home page. All photos by John Moore for www.CultureWest.org. Thanks Brian Mann, Amanda Beehler and Cecil Harrison.
To see the our full photo series, "It's Opening Night in Colorado Theatre," featuring one intimate, iconic snapshot from 49 Colorado opening nights (and counting), click here.
Click here to subscribe to the CultureWest.org Monthly E-Newsletter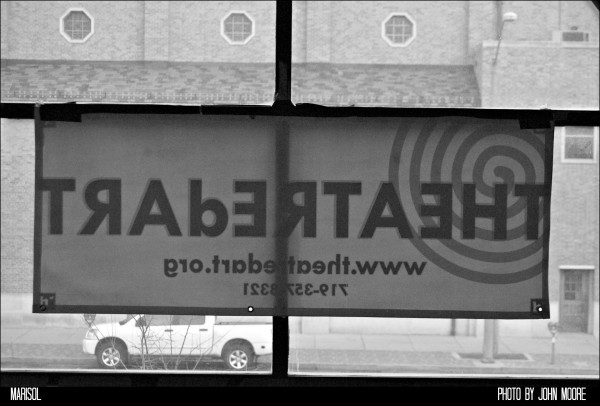 The view from the inside out.

Nevada Street welcomes theatergoers on a wind-swept night in Colorado Springs.
The Theatre 'd Art lobby features walls of chalkboard art.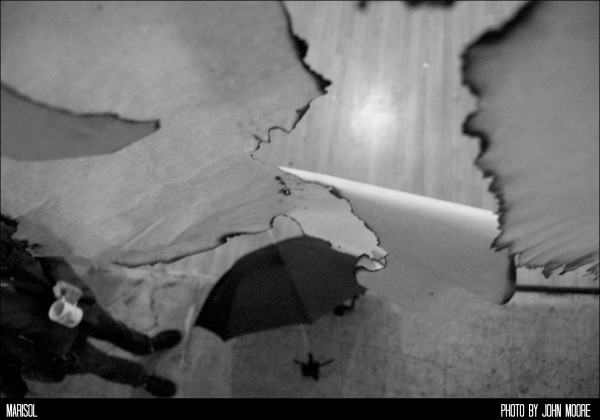 The "Marisol" set includes burned clouds hanging charred from a war-ravaged heaven.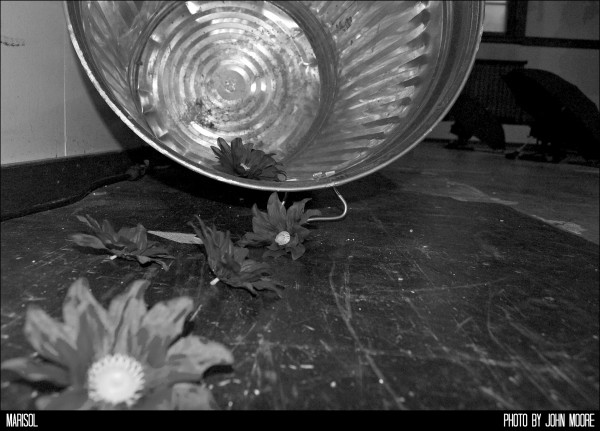 The Earth is in disarray, as a trail of flowers leading into a garbage can attest.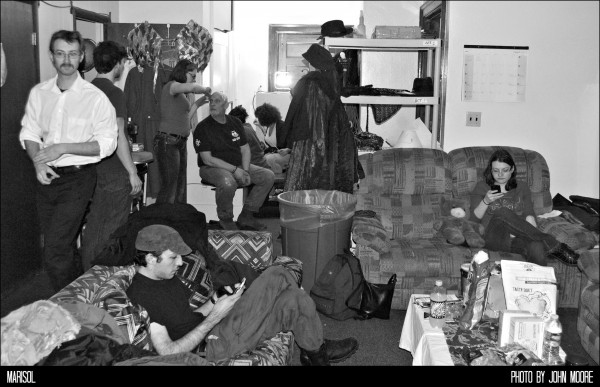 The cast begins to gather in the green room backstage.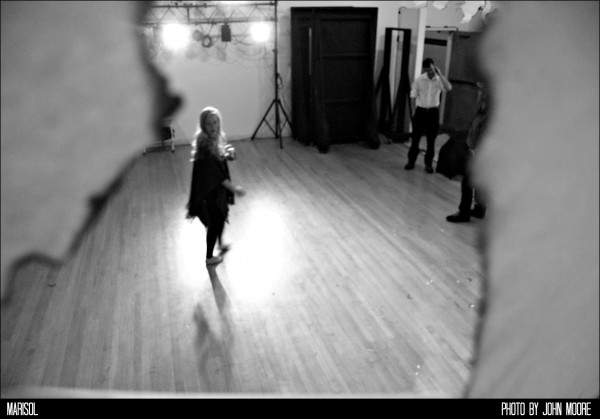 Director Anna Faye Hunter, photographed through burning clouds, tends to last-minute staging details.
(Please click below to go to the next page of photos from our night at "Marisol.")