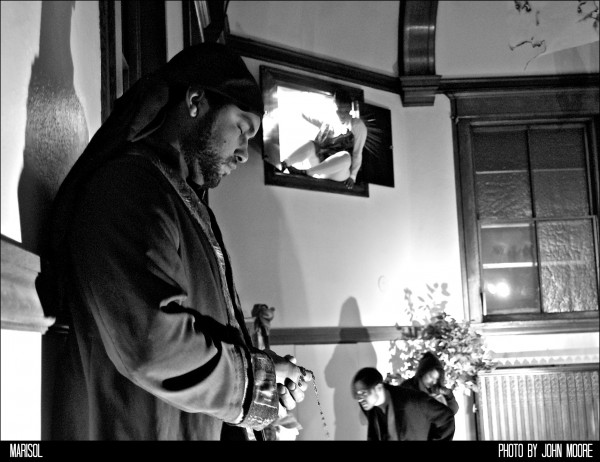 By John Moore
March 24, 2013
There's a lot that's still freaking me out about revisiting the apocalyptic drama "Marisol" for the first time in eight years last Sunday — not the least of which is that afterward, I couldn't concretely answer when I was asked how Theatre 'd Art's current staging in Colorado Springs compares to the late Denver experimental Pangaea Theatre Company's staging that introduced me to José Rivera's celebrated story back in 2005.
"Marisol" is not the kind of experience you forget; not with Armageddon playing out on Earth as it is in a Heaven where millions of angels have declared war on a senile God. The battle has left burned clouds hanging charred over unprotected cities that are self-destructing into an unrecognizable world where it snows in hot weather, apples are made of salt, the moon has disappeared and homeless people are burned by Nazis like trash. Hard to forget.
I remember Matthew Schultz's Denver staging vividly. I just couldn't, oddly, recall much of what I thought of it then. Or, more important, what I thought of Rivera's play, which got some votes a few years ago when I polled a national panel on the most important American plays ever written. The synapses dangled just out of reach, like an ephemeral dream in keeping with Rivera's play.
Google was no help. Turns out we writers' words are not as immortal as, say, Rivera's warring angels. Funny, you can be the victim of a hit-and-run journalism collision in the form of an irresponsibly reported Westword media column written about you (OK, me) years ago, and yet, it still comes up first thing on a Google name search. But apparently the things you actually write eventually come to be as endangered as the transmorphing Bronx that Rivera creates in his play.
I eventually found my review of that 2005 production, and I was encouraged to discover that both stagings, despite their signature bleakness and violence, actually left me with a sense of hope. Must be the apocalyptic Irishman in me.
I have intentionally left reviewing theater behind, at least at this present stage of my unemployed life, in favor of more innovative methods of spreading the word about the wide array of theater being offered throughout Colorado. Still, maybe some of what I wrote about "Marisol" in 2005 might yet illuminate and complement the experience that Theatre 'd Art director Anna Faye Hunter's theatergoers are having in Colorado Springs right now.
Here are some selected excerpts of my review from that staging, which starred Laura Chavez with Hugo E. Carbajal, James O'Hagan-Murphy and Katie German. (Published in the Denver Post on March 22, 2005):
Three years ago, Curious Theatre audiences saw experimental Puerto Rican playwright José Rivera wash Los Angeles away in an apocalyptic flood in "Cloud Tectonics."

Now they can see Rivera lay waste to New York in a mystical urban nightmare called "Marisol." It's part of a trio of plays the Pangaea Theatre Company is currently staging about homelessness.

Rivera has a peculiar, poetic view of Armageddon: American society, uniquely diseased by crime, drugs, political corruption and moral ambivalence, deserves to be blasted into nuclear winter. Fair enough. But Rivera is a sunny fatalist, because he always offers a small strain of hope upon which we might rebuild.

In "Cloud Tectonics," that hope comes in the form of a new life. In the grittier "Marisol," that new life is delivered stillborn to a somewhat psychotic, pregnant man. No, the hope here comes instead from having the courage to take up the sword against God himself.

To some, Rivera is a poetic social visionary. To Variety, his work is "heavy-handed message-mongering." And they're both right. Rivera is an esoteric rebel whose mentor was Gabriel (the ultimate angel) Garcia Marquez, and whose resume includes "The Motorcycle Diaries" screenplay.

"Marisol," named best off-Broadway play of 1993, is the surprisingly accessible, if at times unfocused, story of an educated young Bronx woman named Marisol Perez who escapes a random attack by a golf club-wielding thug on the subway. Her guardian angel saved her, as he has repeatedly throughout Marisol's life. But this is the last time, he tells her.

Sporting wings and military fatigues, the angel says God has grown old and senile. The angels will drop their wings at the turn of the millennium and kill God to stop the hemorrhaging of human suffering. This is a daring artistic and risky argument for Rivera to suggest that God can be both fallible and mortal at once. But it's not as if he's doubting the existence of God. Just his level of engagement in the world he has created.

Soon the play's loose literalism surrenders to a surreality. As thousands of fallen angels begin to drop from the sky to their embattled deaths, New York as we know it disappears. Buildings vanish, leaving a vast wasteland where boroughs become indistinguishable, and even the Earth's moon is fleeing the galaxy.

Absent the protection of her preoccupied angel, Marisol is left to fend off attacks from all around. She makes a survival pact with pal June, whose simpleton of a brother, Lenny, grows menacingly obsessed with Marisol.

The remaining humans are left in a vast, directionless wasteland to fend against Nazi punks. They are called "the minions of TRW" (a strong indictment of America's all-powerful credit agencies), and they go search for the homeless and other patsies to set ablaze.

"Marisol" requires that its audiences afford it more than a little narrative leeway. Its performance here ultimately hangs on the harried but valiant actor Laura Chavez, who at times seems to hold this fraying world together simply on the strength of her clenched teeth.
Theatre d' Art's "Marisol" plays through March 31 at 8 p.m. Fridays through Sundays at 128 N. Nevada St., Colorado Springs, 719-357-8321 or theatre 'd art's home page.
Go to our full photo gallery of "Marisol" photos taken for our ongoing "It's Opening Night in Colorado theater" series.