To see caption information on any photo above, or to see the gallery on a mobile phone, click here. (It will be on the lower-left corner.) Or just click "show info" on any photo.
By John Moore
Nov. 29, 2013
Welcome to my ongoing, 2013 labor-of-love photo series bringing you iconic snapshots from behind the scenes on opening nights in Colorado theater. All photos by John Moore for www.CultureWest.Org. To see the official "Opening Nights" photo series (these are outtakes), click here.
Opening No. 138: Equinox Theatre Company's "Carrie: The Musical": This musical takes a legit stab at adapting Stephen King's novel for the musical stage. Carrie White is a misfit. At school, she's an outcast who's bullied by the popular crowd, and virtually invisible to everyone else. At home, she's at the mercy of her wacko, overprotective mother. But Carrie has just discovered she's got a special power, and if pushed too far, she's not afraid to use it… And you already know she does: When Carrie is humiliated at the prom, she wreaks havoc on everyone and everything in her path. Audiences should know that unlike recent stagings of "Night of the Living Dead" and "Evil Dead" at the Bug Theatre, "Carrie" is not a campy satire. It is written very much in the vein of traditional Broadway fare. "Carrie" stars Haley DiVirgilio, Terra Salazar, Shahara Ray, Dana Hart Lubeck, Devin Bustamante and Ember Everett; and features Chris Arneson, Joseph Graves, Savannah Lake, Chelsea Winslow, Ashley Brown, Taylor Sommer, Chris Riney, James L. Crapes and Zach Nick. Directed by Colin Roybal and Hunter Hall. Final performances: 7:30 p.m. Friday and Saturday, Nov. 29-30, at the Bug Theatre, 3654 Navajo St., 720-984-0781 or equinox's home page. Thanks: Alex Weimer, Lauren Meyer, Deb Flomberg, Leticia Bisgard, cast and crew.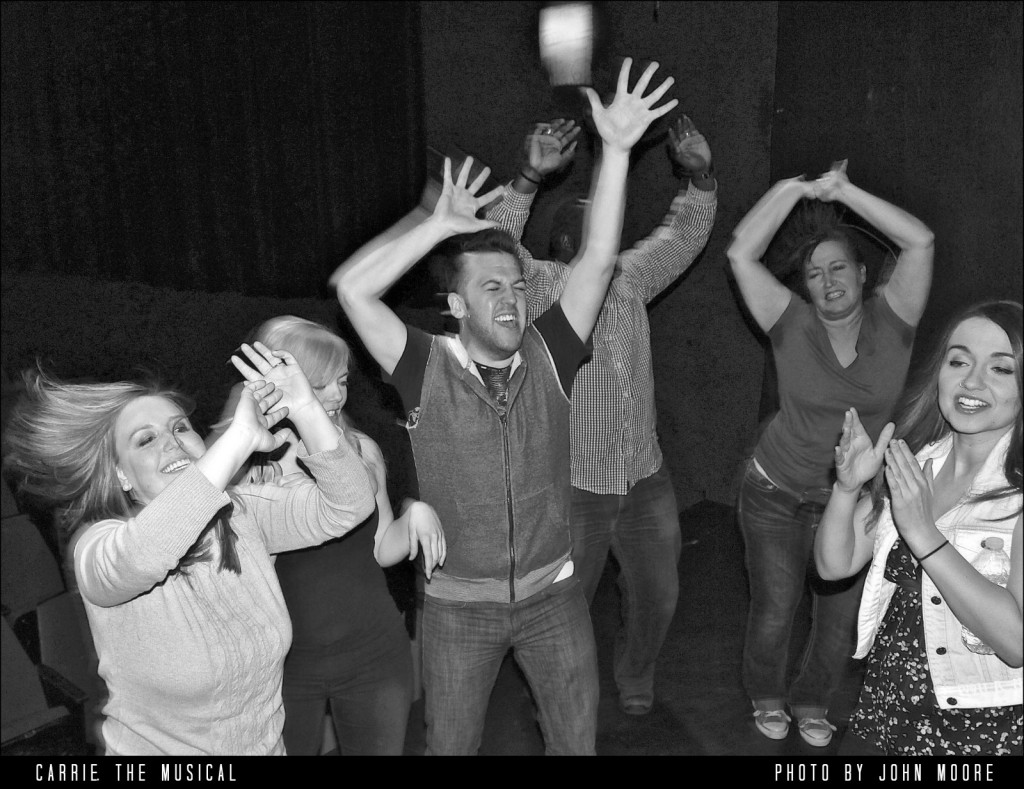 The cast gets ready to open the house with an energy-building exercise. Contrary to the story they play on stage, this tight-knit, "let the sun shine in" group of friends appears to be bully-free.
Click here to subscribe to the CultureWest.org Monthly E-Newsletter
Colorado theater schedules, however you like them:

All currently running theater productions
All theater listings by company
All theater listings by opening date

How you can donate to the Denver Actors Fund
The new Denver Actors Fund is a modest source of immediate, situational relief when members of the local theater community find themselves in sudden medical need. To donate to the Denver Actors Fund, please go here (with our humble thanks):