To see caption information on any photo above, click here. (It will be on the lower-left corner.) Or just click "show info" on any photo. If you prefer see this feature in its previous format (with each new photo stacked on top of the last), click here.
By John Moore
Sept. 12, 2013
Opening No. 112: Equinox Theatre's "Evil Dead, the Musical": The bloodletting spills out onto the streets in front of the Bug Theatre following every performance of "Evil Dead." Meaning the eviscerated cast joins departing theatergoers for photo opportunities with chain saws and all manner of fake gore. This campy musical is based on Sam Raimi's 1980s cult classic film. The story is the one you remember: A boy and his friends take a weekend getaway at an abandoned cabin. The boy expects to get lucky, but instead unleashes an ancient evil spirit. When his friends turn into Candarian Demons, the boy fights until dawn to survive. The score features comic numbers like, "All the Men in my Life Keep Getting Killed by Candarian Demons," "Look Who's Evil Now," and "Do the Necronomicon." (Take THAT, "Rocky Horrow Show.") The show stars Jason Lythgoe as the smoldering Ash, with help from Chris Arneson, Erica Trisler, Savannah Lake, Natasha Gleichmann, Preston Adams, Ember Everett, Eli Stewart, Patrick Brownson, David Ballew and Aran Peters. The director is Deb Flomberg; musical direction by Hunter Hall. Just two performances remain, and they've been selling out: 7:30 p.m. Friday and Saturday, Sept. 13-14, at 3654 Navajo St. 720-984-0781 or Equinox's home page. If you can't get in, you'll have a second, and third chance to get your taste of blood. Next up at the Bug is "Night of the Living Dead" (Oct. 4-26), followed by "Carrie, the Musical" (Nov. 8-30). Photo by John Moore for www.CultureWest.Org. To see the complete "Opening Nights" photo series to date, click here (These are outtakes). Thanks: Kate Blair.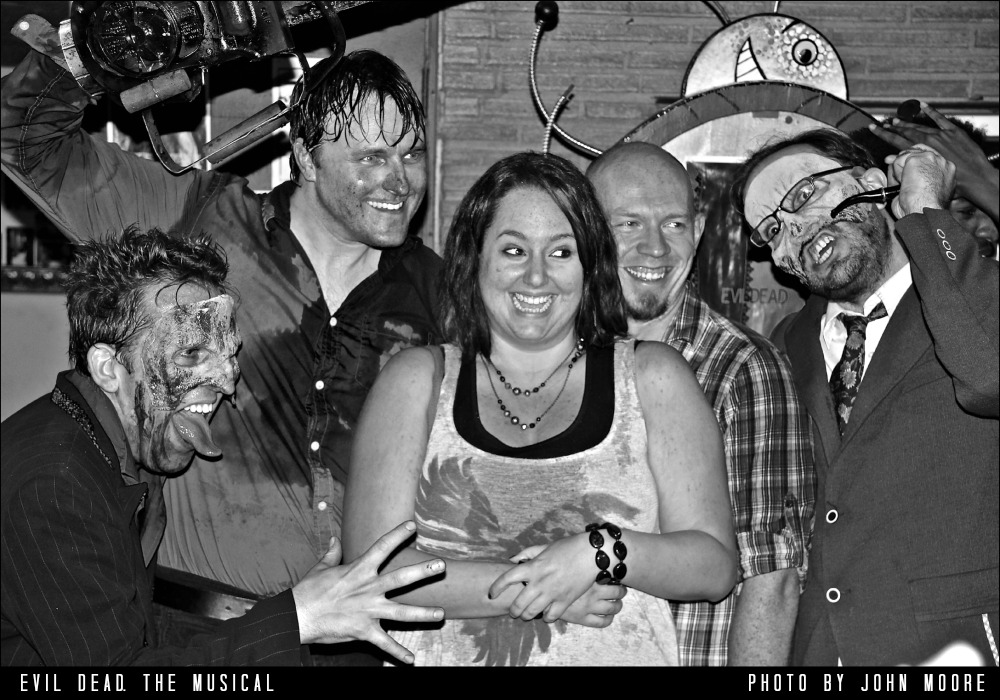 This theatergoer, surrounded by cast members Chris Arneson, Jason Lythgoe and Patrick Brownson (and presumably, a friend!), looks like she's not completely sure where the play ends and the real world begins.
Click here to subscribe to the CultureWest.org Monthly E-Newsletter
How you can donate to the Denver Actors Fund
The new Denver Actors Fund is a modest source of immediate, situational relief when members of the local theater community find themselves in sudden medical need. Photo by John Moore. To donate to the Denver Actors Fund, please go here (with our humble thanks):