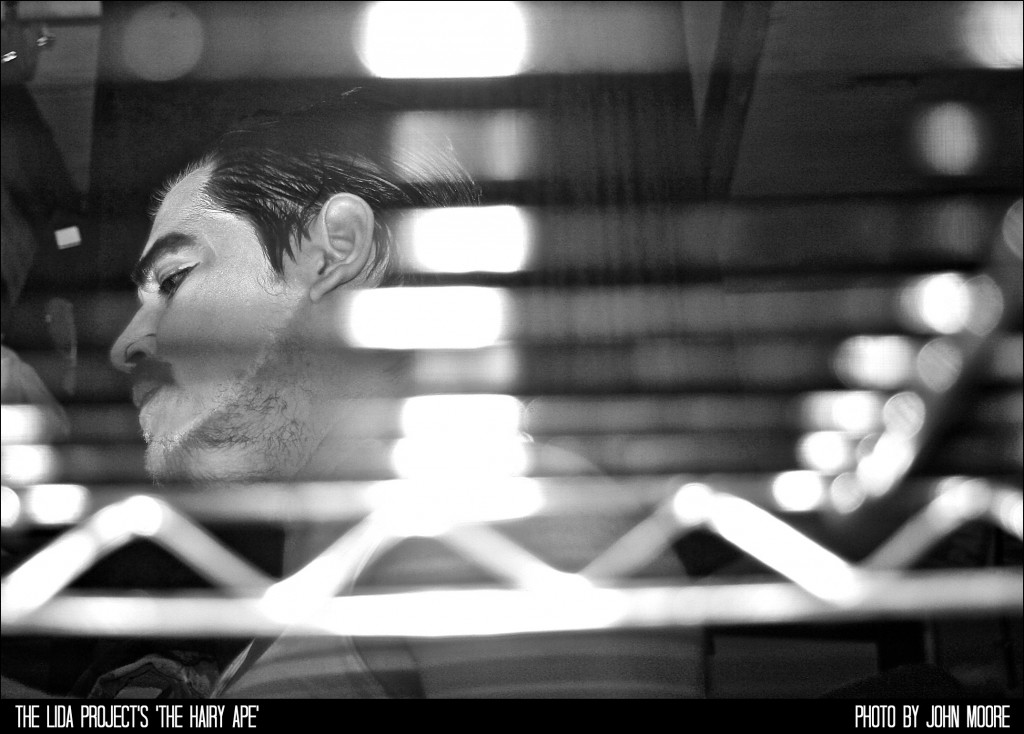 Lorenzo Sariñana prepares backstage to perform  "The Hairy Ape" along with a skeletally inclined narrator and five mannequins — all speaking in a different language than he does.
By John Moore
May 19, 2013
Welcome to my ongoing, 2013 labor-of-love photo series bringing you iconic snapshots from behind the scenes on opening nights in Colorado theater. All photos by John Moore copyright 2013 for www.CultureWest.Org.
Opening No. 69: The LIDA Project's "The Hairy Ape": Denver's most venerable experimental theater company presents iconic Irish-American playwright Eugene O'Neill's 1922 expressionistic story of a simple laborer trapped in a world controlled by the rich. And they do it in a way only the LIDA Project would ever think to do it — complete with a mostly Spanish-speaking protagonist interacting throughout with an ensemble of English-speaking mannequins smartly brought to life by director Brian Freeland. (How? You'll just have to see for yourself.) O'Neill's iconic Yank is a strong, brutal and macho fireman who despises everyone and pretty much everything, until a decadent millionaire's daughter descends to the bowels of the transatlantic ship where he works and is repulsed by a man she sees as "a hairy ape." He swears to get even with her, which lands him in jail, where he turns out to be even too revolutionary for the revolutionaries. At The LIDA Project, you best know Spanish to follow the guts of this story. But even if you don't, the essence is made plain by yeoman actor Lorenzo Sariñana, who plays Yank, and Hart DeRose as the narrator. Through June 8 at the Laundry on Lawrence, 2701 Lawrence St., 720-221-3821, or the LIDA Project's home page Thanks: Brian Freeland, David Lafont, cast and crew.
The following gallery is just one chapter in my ongoing photo series called "It's Opening Night in Colorado Theatre," bringing you iconic snapshots from behind the scenes all over Colorado theater. All photos by John Moore for www.CultureWest.Org. To see the actual, official photo series featuring one intimate, iconic snapshot from 71 Colorado opening nights (and counting), click here.
Click here to subscribe to the CultureWest.org Monthly E-Newsletter

Welcome to Eugene O'Neill's "The Hairy Ape" — like no one has ever seen it before.

Hart DeRose, who plays the narrator, is seen in the photo above in a backstage mirror preparing for her entrance.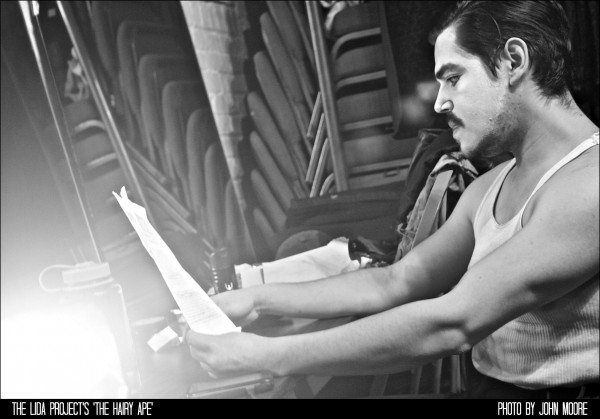 Lorenzo Sariñana brushes up on his lines backstage. He delivers most of his lines in Spanish (below), while all of the other characters communicate in English.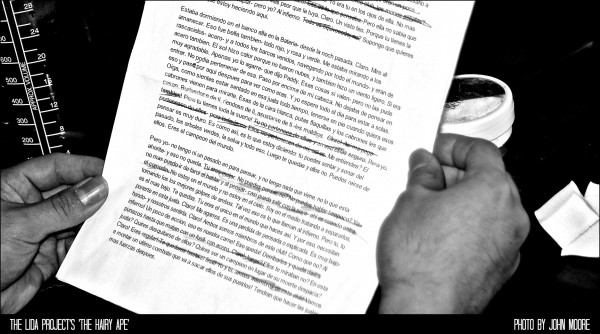 Five of Lorenzo Sariñana's co-stars are engaging in some introvertive pre-show exercises of their own.

Hart DeRose shows off her hair (below) and stage makeup, which give off a Día de Muertos vibe. The immigrant story is quintessentially American (the 1944 film starred prototypical Brooklynite William Bendix), but its ethnic bloodline could apply to anyone who came here from anywhere.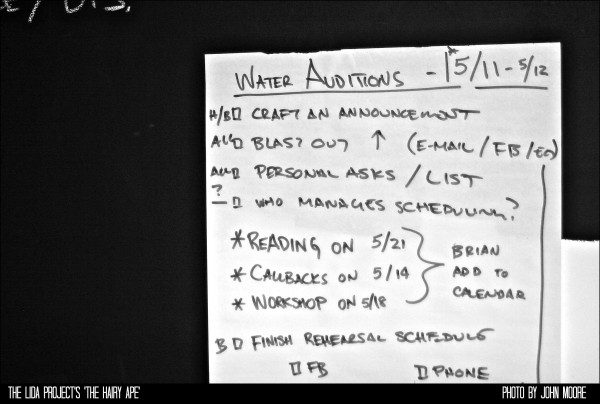 Hart DeRose's dressing room doubles as LIDA Project artistic director Brian Freeland's office. He's hard at work planning the company's 19th season.

Backstage before the show, this polite directive does not (yet) apply to me.
(Please click "Page 2" below to go to the next page of our photos from our visit to "The Hairy Ape")