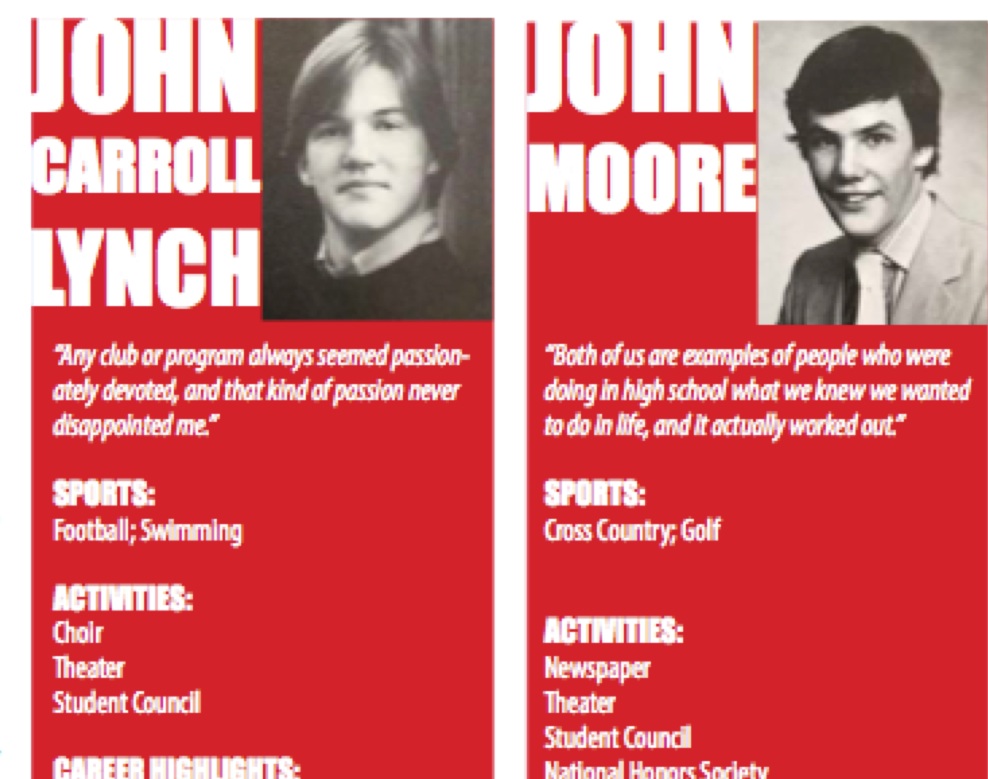 Please forgive that hideous white tie. I didn't bring one to my senior portrait session. Intentionally. But the repressive "man" who ran the studio refused to take any boy's senior photo without a tie, and that was the only one he had on hand. I guess the lesson, kids, is that you can't be a rebel half-way. I am still a bit of ashamed for not walking out that day, photo unsnapped. Instead, I capitulated. What would Bro Simms say??? (Wow, I apparently still have issues from high school!)
By John Moore
May 20, 2013
Last year, I was interviewed by Regis High School's director of alumni relations about the school's decision to finally build a dedicated performing-arts center for its students after a period of, oh, 136 years when that was never considered much of a priority. I'm an opinionated guy, and let's just say what my friend Colin St. John ultimately published was … heavily (and probably necessarily) edited.
I was already in a bit of hot water with my alma mater over an essay I had written the year before for The Denver Post: "Sticking it to Mullen, old-school style." It was my "Wonder Years"-like look back at the Regis-Mullen rivalry as it existed in our day. Even though I was named Valedictorian and Senior of the Year … well, I've also never been officially invited to a reunion. (I did crash one, though.)
Given all the hate mail I got from present-day Regis parents over the Mullen column (which, interestingly, Mullen parents seemed to enjoy very much), I figured Regis would surely never want anything to do with me again. So I wasn't sure what to expect when current Regis High School junior Hunter Gause (also an actor in Regis' drama department) reached out to me a few weeks ago asking for an interview. He and co-writer Michael Cobb were preparing a report on notable Regis alumni for a super-slick magazine called the RJ Voice, the new student publication at Regis. Now, I was once the editor of the decidedly non-glossy Raider Review student newspaper, and one look at the thick, colorful and surprisingly tough journalism they are now putting out at Regis made me feel like a bit of a journo fraud. After all, I used the Raider Review to rail about the civil liberties that were being threatened each week by mandatory mass. In the most recent issue, Hunter interviewed a former Iraq hostage.
My fears were allayed when I was met at the "new" Regis by a large and daunting-looking welcoming committee including the two student reporters, Colin St. John (the alumni director), journalism teacher Adam Dawkins and even Regis principal Fr. Phil Steele S.J. himself. (Why did I feel like I had been duped into reporting for jug?) Instead, they were all so swell, I don't even much feel the journalistic urge now to publicly point out to Hunter that his referencing me as one of the "most famous Regis alumni" is an exercise in gross hyperbole. (I just think at the very least, you should have to have a job to be seriously considered among that category).
He wasn't exaggerating in co-referencing my big-shot actor friend John Carroll Lynch that way. I had offered to bring my classmate and pal along for the interview because John was in town tending to his dying mother, and this might afford him a little bit of a diversion from that. Over the next hour, the student journalists engaged us in a wide-ranging and challenging conversation about the influence our Jesuit educations had on the men we have become. I'm not sure if I had anything relevant to contribute, but it turned out to be an enlightening exercise in trying to put into words things I haven't given much tangible thought to in 30 years.
You know John from "Fargo," "Gran Torino," "Zodiac," "Shutter Island," "Gothika," "Paul," "Mercury Rising," "Pushing Tin," "Volcano," "Face/Off" and dozens more, including punching Ryan Gosling in the face in "Crazy Stupid Love." Also from TV's "The Drew Carey Show," "Carnivale," "Body of Proof" and "K-Ville." John is a smart, serious, searching guy. I was (hopefully) comic relief.
In any event, if you would like to read what a fine job reporters Hunter and Michael did in massaging an hour of muddled transcript from a couple of rambling fools (OK, one rambling fool) into a smart and breezy read, just click this link. Their story is titled, cleverly enough: The Graduates
Thanks, Hunter, Michael, Colin, Adam and … Fr. Steele. (Sorry, I still can't call a priest – or a principal — by his first name.)
Read the RJ Voice article.
Click here to read "The Graduates: An inside look at two distinguished Regis Jesuit Alumni"