To see caption information on any photo above, or to see the gallery on a mobile phone, click here. (It will be on the lower-left corner.) Or just click "show info" on any photo.
By John Moore
Dec. 16, 2013
Welcome to my ongoing, 2013 labor-of-love photo series bringing you iconic snapshots from behind the scenes on opening nights in Colorado theater. All photos by John Moore for www.CultureWest.Org. To see the official "Opening Nights" photo series to date (these ones are specifically the "Feed" outtakes), click here.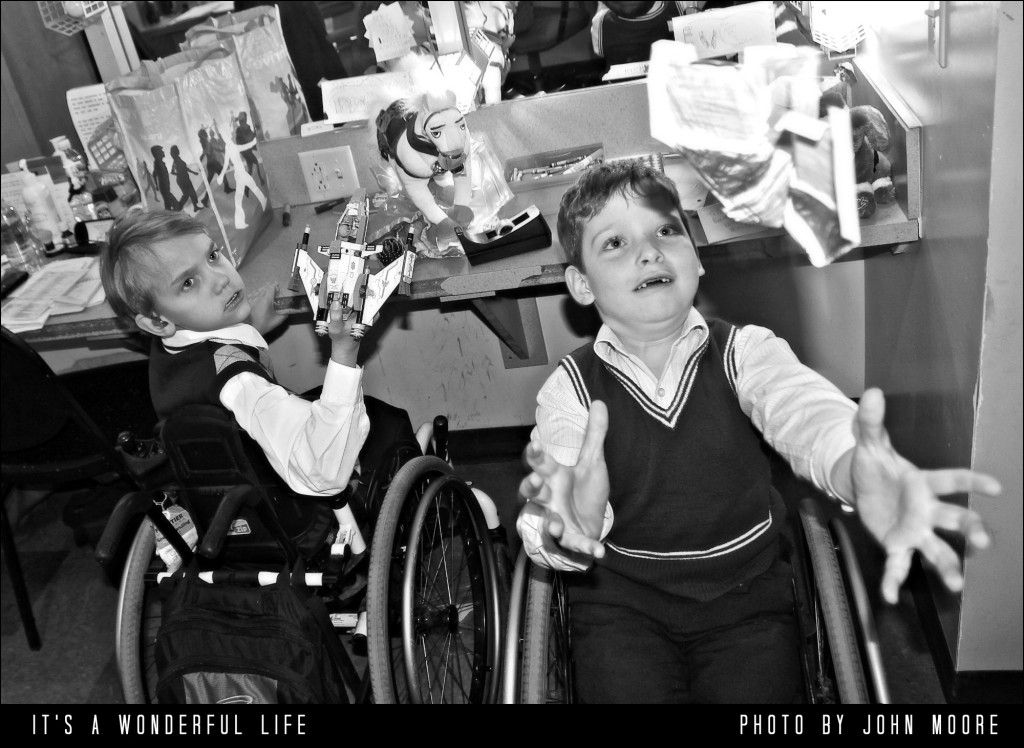 Noal Blessing, left, and Everett Ediger show off their varying flying machines backstage on opening night. Noal sports a Lego spaceship; Everett sends his paper airplane aloft just as the shutter is snapped. Noal, who has Spastic Cerebral Palsy and a progressive hearing deficit, and Everett, who has Spina Bifida, play the sons of George Bailey. The Phamaly Theatre Company prides itself on adding new levels of complexity and meaning to any production it takes on by virtue of the evident disabilities its actors incorporate into their stage characters. So what we have here is a George Bailey driven to the brink of suicide, only here he's leaving behind four handicapped kids, two of them young boys in wheelchairs. That certainly adds layers to the emotion-laden issue of suicide. There are those who intractably believe that any act of suicide, for any reason, is inherently selfish and/or sinful. So the very idea of George leaving a wife behind to care for four (adorable) handicapped children here no doubt makes actor Jeremy Palmer's challenge in playing him sympathetically that much more difficult. But young Jeremy is up to the task. It should be noted that directors Steve Wilson and Bryce Russell Alexander do not have Palmer utter the second half of Jimmy Stewart's most chilling line of the famous source movie, which he blurts when George is at the depth of his anger and despair: "You call this a happy family? Why do we have to have all these kids?"
Opening No. 145: Phamaly Theatre Company's "It's a Wonderful Life": This is the acclaimed local handicapped theatre company's first-ever holiday presentation. The story of George Bailey and his not-so-wonderful life in Bedford Falls (he thinks) remains a timeless fable of dreams, disillusionment and, ultimately, the power of love. The cast includes Jeremy Palmer (George Bailey), Lyndsay Palmer (Mary Bailey), Trenton Schindele (Clarence), Michael Leopard (Mr. Potter) and an ensemble that includes Daniel Traylor, David Wright, Lucy Roucis, Edward Blackshere, Ashley Kelashian, Jaime Lewis, Twanna Latrice Hill, Kim Jackson, Cassie Ferro, Amber Marsh, Tammy Davison, Noal Blessing, Everett Ediger, Lily Blessing, Harper Ediger, Shannon Wilson, Alicia Young, Eric Richerson and Edric Richerson. Co-directed by Steve Wilson and Bryce Alexander. Showtimes: 7:30 p.m. Fridays & Saturdays; 2 p.m. Sundays; plus 7:30 p.m. Monday, Dec. 16 and Thursday, Dec. 19. Through Dec. 22 at the Aurora Fox, 9900 E. Colfax Ave., 303-575-0005 or phamaly's home page. Thanks: Gloria Shanstrom, Chris Silberman, Grace Hartke and Danielle Rankin.
Click here to subscribe to the CultureWest.org Monthly E-Newsletter
Colorado theater schedules, however you like them:

All currently running theater productions
All theater listings by company
All theater listings by opening date

How you can donate to the Denver Actors Fund
The new Denver Actors Fund is a modest source of immediate, situational relief when members of the local theater community find themselves in sudden medical need. To donate to the Denver Actors Fund, please go here (with our humble thanks):