To see caption information on any photo above, or to see the gallery on a mobile phone, click here. (It will be on the lower-left corner.) Or just click "show info" on any photo.
By John Moore
Dec. 14, 2013
Welcome to my ongoing, 2013 labor-of-love photo series bringing you iconic snapshots from behind the scenes on opening nights in Colorado theater. All photos by John Moore for www.CultureWest.Org. To see the official "Opening Nights" photo series to date (these ones are specifically the "Feed" outtakes), click here.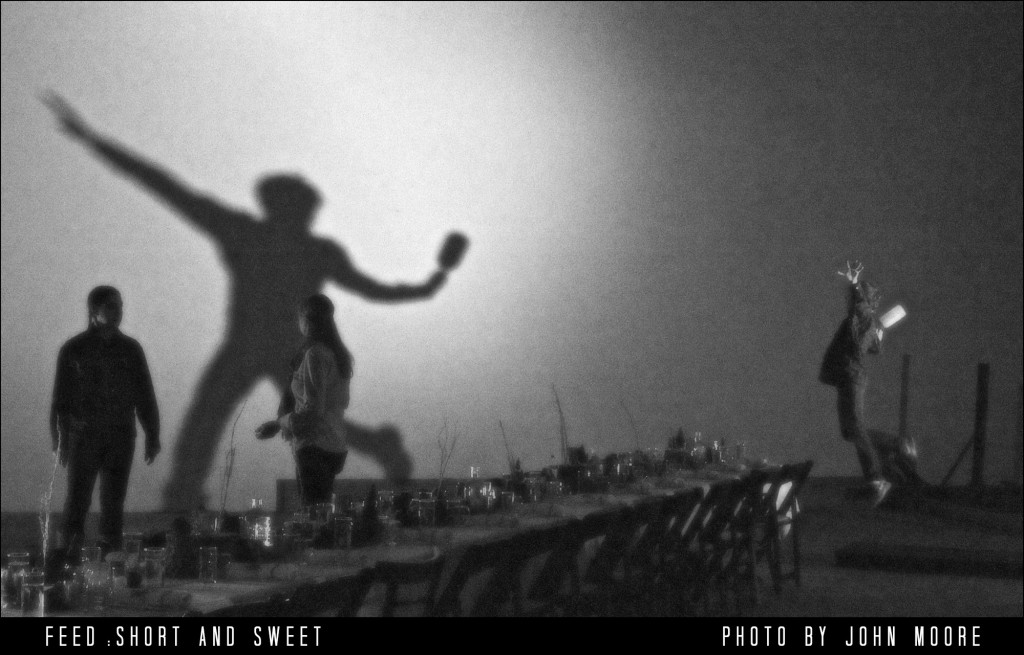 Young Catamounts cast member Quinn Hirschland jumps for joy – and casts a long shadow – during a pre-show rehearsal for Feed."
Opening No. 147: The Catamounts' "Feed: Short and Sweet": Boulder's The Catamounts performance collective reference food in their slogan: "Theatre for the Adventurous Palate." So it's feeding, I mean fitting, that Amanda Berg Wilson's young team has turned its unique "Feed" series into its signature offering. "Feed" offers audiences professional storytelling paired with specialty beer and locally sourced food. In this case: A roster of Sanitas beers paired with hand-crafted desserts from Kim and Jake's Cakes; Sweet Cow Ice Cream; and pastry chefs Dorian O'Connell and Kathy Moore.) They perform while you nosh in the back brewing room at Sanita's Brewing Company. The food and the theater fare serve as equal partners in creating a cohesive narrative here. The common ingredient for this round of stories: Each evokes sweet moments that arise from The depths of the coldest and hardest times of year, when the days are shortest and challenges the biggest. The Catamounts' aforementioned Amanda Berg Wilson, Joan Bruemmer-Holden, McPherson Horle and Jeremy Make are joined by guest storytellers Heather Grimes (from Boulder's "Truth Be Told" story slam) and a boy named Quinn Hirschland to perform a mix of monologues, adapted short stories and real stories from Boulder's recent floods. There's some A.A. Milne ("A House is built at Pooh Corner for Eeyore") in there, with a taste of former Colorado Mines engineering student turned celebrated fiction writer George Saunders ("Tenth of December.") A second "Feed" has been scheduled to accommodate demand at 8 p.m. Saturday, Dec. 14, at 8 p.m. at Sanitas, 3550 Frontier Ave. (off Foothills Parkway and Pearl Street). Tickets are $30. Call 720-468-0487 or go to The Catamounts' home page. Photo by John Moore for www.CultureWest.Org. Thanks: Mare Trevathan, Lauren Shepard, Aaron Boisvert, cast and crew. To see the entire Opening Nights photo series to date, click here.
Click here to subscribe to the CultureWest.org Monthly E-Newsletter
Colorado theater schedules, however you like them:

All currently running theater productions
All theater listings by company
All theater listings by opening date

How you can donate to the Denver Actors Fund
The new Denver Actors Fund is a modest source of immediate, situational relief when members of the local theater community find themselves in sudden medical need. To donate to the Denver Actors Fund, please go here (with our humble thanks):