To see caption information on any photo above, or to see the gallery on a mobile phone, click here. (It will be on the lower-left corner.) Or just click "show info" on any photo.
By John Moore
Dec. 15, 2013
Welcome to my ongoing, 2013 labor-of-love photo series bringing you iconic snapshots from behind the scenes on opening nights in Colorado theater. All photos by John Moore for www.CultureWest.Org. To see the official "Opening Nights" photo series to date (these ones are the "La Pastorela" outtakes), click here.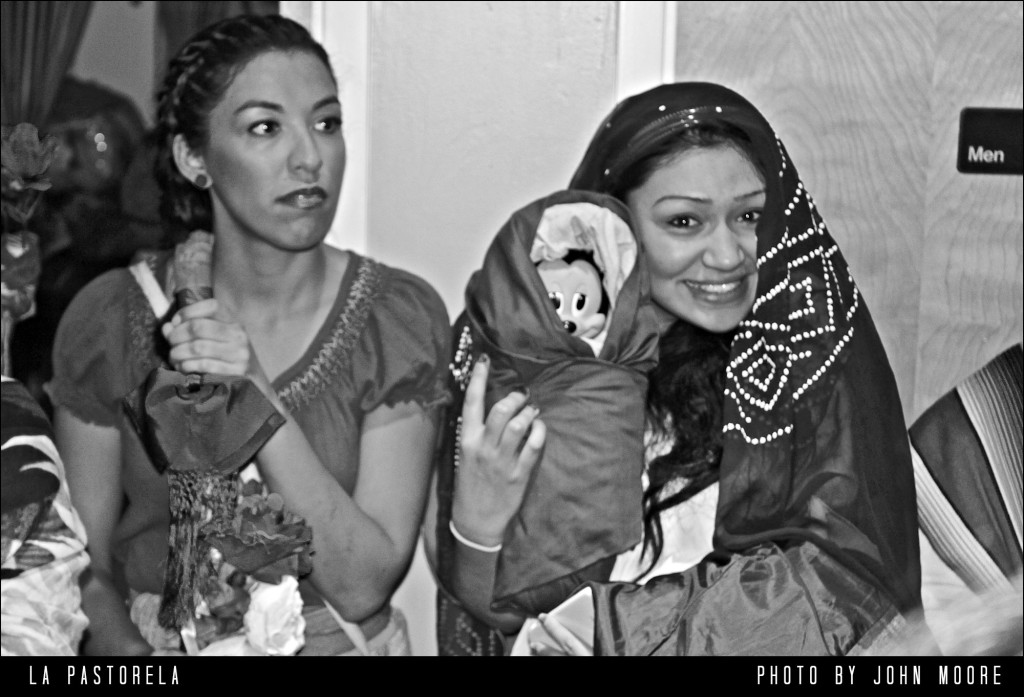 Pssst …. Look who's REALLY playing the Baby Jesus bundle of joy in Su Teatro's holiday pastoral? Yes … It's Minnie Ratón! I think that kid's got a future in show biz. That's Jessica Portillo as Proud Mary.

Opening No. 144: Su Teatro's "La Pastorela": "The Shepherd's Play" recounts the epic battle between the dark angel Luzbel (Jesse Ogas and minions) and the sword-swinging San Miguel (Amy Luna). Luis Valdez's retelling of this centuries-old folktale is a family friendly comedy that follows the trek of humble shepherds as they encounter the Angel of the Lord, who announces the birth of the Redeemer in Bethlehem. Embarking on their spiritual journey in search of the Holy Child, the scruffy shepherds find themselves beset by the demonic followers of Lucifer and Satan, who waylay them with obstacles born of their own human frailties. This adaptation is no sleepy drummer-boy version of the Nativity: it is a pageant of passion, excitement, action, adventure, music and comedy. Valdez, considered "the father of Chicano theatre," attended Saturday's performance. It was`his first visit to Su Teatro, though his brother, Daniel, has contributed original music for Su Teatro productions for years. Daniel is the music director of "La Pastorela." He is in residence at Su Teatro for the next two years, to develop new work with artistic director Anthony J. Garcia as part of a two-year innovation grant from the Bonfils-Stanton Foundation. In the fields of rural California, without financial backing and using farm laborers as actors, a 25-year-old Luis Valdez singlehandedly created a movement that has since become international in scope. "La Pastorela" is also performed as part of the St. Cajetan's Reunification Project, an annual event in which Su Teatro and the community recognize the Chicano residential community that was displaced in 1972 for Auraria to be built. Also featuring Lorenzo Gonzales, Charlie Romero, Jaycee Sanchez, an ensemble of dozens and a live band of six. Showtimes: 7:30 p.m. Thursdays through Saturdays; 2 p.m. matinees (Dec. 15 is reserved solely for AARP members and their families). Through Dec. 22 At the Su Teatro Performing Arts Center, 721 Santa Fe Drive, 303-296-0219 or su teatro's home page. Photo by John Moore for www.CultureWest.Org. Thanks: Mica Garcia de Benavidez.
Click here to subscribe to the CultureWest.org Monthly E-Newsletter
Colorado theater schedules, however you like them:

All currently running theater productions
All theater listings by company
All theater listings by opening date

How you can donate to the Denver Actors Fund
The new Denver Actors Fund is a modest source of immediate, situational relief when members of the local theater community find themselves in sudden medical need. To donate to the Denver Actors Fund, please go here (with our humble thanks):