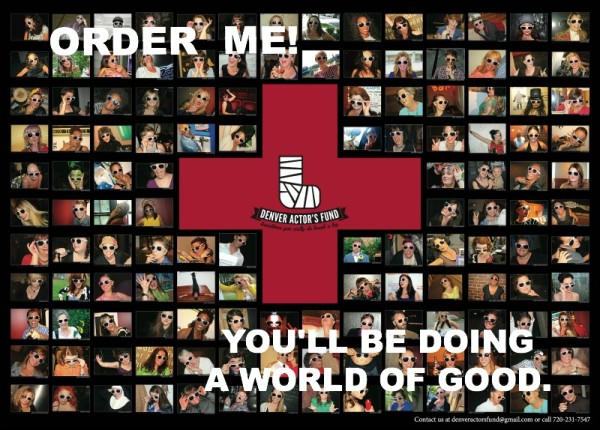 You can order this poster online instantly, in a variety of sizes. Or you can buy it as a jigsaw puzzle. Note: If  you want a poster, we would prefer that you order a print directly from John Moore, or by using the PayPal link below. Simply put, we make more money for the Fund if you buy the posters directly from us. Here's how to order. (All other gift items below are only available online.)
By John Moore
The Denver Actors Fund today launched an online store where supporters can get all sorts of merch, from posters to puzzles to T-Shirts and more.
The signature item is a poster made up of 134 members of the local theater community, all wearing Denver  Actors Fund founder John Moore's cheap, and in some cases crumbling, sunglasses. (Order it here!) To date, more than 164 men, women and dogs have been featured in the series, with more in the cue. So, sadly, not everyone who has appeared in the series made it onto the poster. (Sorry to all. But … can Part 2 be far behind?)
So who is actually on the poster? See below for a full list.
You can also order the poster as a 10 x 14  jigsaw puzzle, with 235 pieces (and 134 pair of sunglasses).
The Denver Actors Fund's new online store also offers the fund's brand spankin' new logo adorning all kinds of fun items:
Here's more fun:
*Key chains
*Commuter bags
*Water bottles
*Coffee mugs
*Trading cards
*iPhone Cases
*Spiral Notebooks
*Buttons
*Canvas Bags
*Tote Bags
*Neck Ties
*Aprons
*Coasters
*Scarves
Anything you order online today could be on its way to you tomorrow.
In accordance with the Denver Actors Fund's proud FULL TRANSPARENCY mission statement, know that the online store keeps 80 percent of your purchase price. The DAF gets 20 percent.
Given that, please consider that we have also ordered 1,000 actual posters, size 20 x 28, and we are charging $20 for those. That's $7.50 cheaper than the same size poster online, and all but the printing cost goes directly to the DAF — a much, much higher percentage of your purchase price.
So, as we stated in the caption above: If you want a poster, and time is not of the essence, we would prefer that you order your print directly from me … John Moore. Simply put, we make more money for the Fund that way. Problem is, they are ordered but not delivered yet, so they will not be in-hand for 5 to 7 days. So … if you need a poster for Christmas, order it online right now. It ships to you tomorrow. All other gift items are only available online. So order away. We'll be happy with our 20 percent … and knowing that you are helping us get the logo seen.
To order a 20 x 28 poster print from John Moore, simply drop an email with your quantity and contact information to denveractorsfund@gmail.com. I/He/It (these pronouns are killing me) will take it from there.
Key ordering link:
Denver Actors Fund online store. Order here. Order! Order!
To order a poster only (preferred): Email denveractorsfund@gmail.com
Thank yous:
Dusty Laird: For designing our poster.
Duane Brown fr designing our new logo.
Deb Flomberg: For getting it all done.
 About the Denver Actors Fund:
The Denver Actors Fund is a modest source of immediate, situational relief for when members of the local theater community find themselves in sudden medical need. It is available to most anyone, on stage or off, who has participated in the making of theater in the Denver metro area in the past five years.
Download the Denver Actors Fund's Application for Aid

Here's a link where you can donate directly to the Denver Actors Fund
Click here for more information:
News: Denver Actors Fund now taking applications for aid.

Theater companies: Are you participating in the Denver Actors Fund's "Tap Shoe Initiative?
Like the Denver Actors Fund on Facebook
And finally … Who is on the Denver Actors Fund poster?
Kristen Adele
Tina Anderson
Barbra Andrews
Jessica Austgen
Lauren Bahlman
Amy Board
Benjamin Bonenfant
Chris Boeckx
Abby Apple Boes
Erica Sarzin Borrillo
Heidi Bosk
Michael Bouchard
Rachel Bouchard
Samara Bridwell
Candy Brown
Joanie Brosseau
Rhonda Brown
Steve Burge
Claudia Carson
Kateri Cates
Laura Cuetara
Emily Paton Davies
Donna Debreceni
Lisa DeCaro
Cailin Doran
Diana Dresser
Hannah Duggan
Annie Dwyer
Amanda Earls
Adrian Egolf
Crystal Verdon Eisele
Mehry Iris Eslaminia
Deb Note Farwell
Patty Mintz Figel
Brianna Firestone
Deb Flomberg
Brian Landis Folkins
Rachel Fowler
Maddie Franke
Ronni Gallup
Mica Garcia De Benevides
Rachel Graham
Sylvia Gregory
Alexandra Griesmer
Meridith Grundei
Ashlie Amber-Harris
Emily K. Harrison
Nicole Harrison
Josh Hartwell
GerRee Hinshaw
Sara Horle
Tim Howard
Michelle Hurtubise
Wendy Ishii
Devon James
Rebecca Joseph
Ghandia Johnson
Haley Johnson
Traci Kern
Carla Kaiser Kotrc
Ellen Kaye
Elgin Kelley
Geoff Kent
Patty Kingsbaker
Rae Klapperich
Lisa Kraii
Heather Lacy
Matt La Fontaine
Margie Lamb
Eden Lane
Daniel Langhoff
Paige Lynn Larson
Sue Leiser
C Kelly Leo
Emily Ann Luhrs
Jaime Lujan
Trina Magness
Amber Marsh
Adrienne Martin-Fullwood
Melanie Mayner
Billie McBride
Abby McInerney
Boni McIntyre
Zina Mercil
Christy Montour-Larson
Alannah Moore
Missy Moore
Norrell Moore
Molly Nash
Suzanne Nepi
Laura Norman
Leslie O'Carroll
Anne Oberbroeckling
James O'Hagan Murphy
Yolanda Ortega
Lyndsay Palmer
Jessie Page
Zach Page
Pat Payne
Anne Penner
Deborah Persoff
Lindsey Pierce
Arlene Rapal
Barb Reeves
Kelly Reeves
Valerye Rene
Erin Rollman
Jamie Ann Romero
Kristen Samu
Sean Scrutchins
Michelle Sergeeff
Gloria Shanstrom
Brian Shea
Karen Slack
Melinda Smart
Shannan Steele
Maggie Stillman
Nick Sugar
Cat Tobiasson
Mare Trevathan
Rachel Turner
Megan Van De Hey
Allison Watrous
Teri Westerman
Burke Walton
Jalyn Courtenay Webb
Sharon Kay White
Amanda Berg Wilson
Winnie Winglewick
Juliet Wittman
Kathi Wood
Ryan Wuestewald
Lisa Young