Photos: My night at the Denver Center's 'A Christmas Carol'
To see caption information on any photo above, or to see the gallery on a mobile phone, click here. (It will be on the lower-left corner.) Or just click "show info" on any photo.
By John Moore
Dec. 5, 2013
Welcome to my ongoing, 2013 labor-of-love photo series bringing you iconic snapshots from behind the scenes on opening nights in Colorado theater. All photos by John Moore for www.CultureWest.Org. To see the official "Opening Nights" photo series to date (these ones are the "Over the Tavern" outtakes), click here.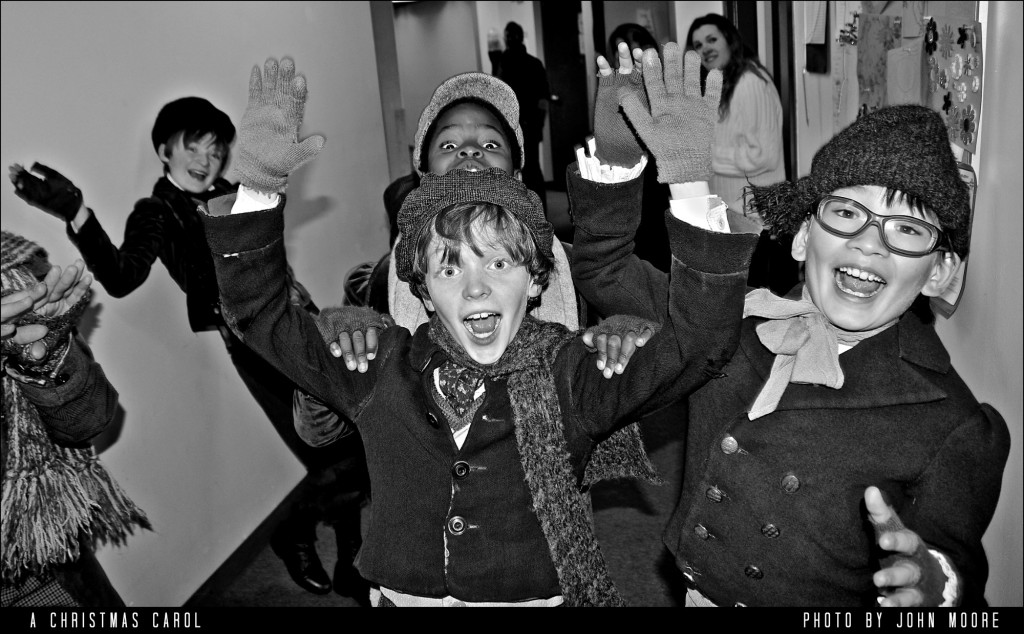 You know what I was thinking before the opening performance of "A Christmas Carol"? It's too bad these poor kid actors are so darned shy. Clockwise from center, that's Max Raabe (nephew, I found out Thursday night, of longtime Denver Post reporter Steve Raabe), Sam Modesitt, Edwin Harris and Connor Nguyen Erickson
Opening No. 143: Denver Center Theatre Company's "A Christmas Carol": The Denver Center Theatre Company's holiday tradition turns 21 this year with a return to its opulent musical adaptation of Charles Dickens' classic novel. Twenty-one? That's older than, like, every kid in this picture combined. The story, of course, traces money-hoarding skinflint Ebenezer Scrooge's overnight journey to redemption. This timeless tale illuminates the meaning of the holiday season in a way that has resonated for generations. Again starring Philip Pleasants as Scrooge, with Phamaly Theatre Company's Leonard E. Barrett as the Ghost of Christmas Present, John Hutton as Marley, Jeff Cribbs as Cratchit, Stephanie Cozart as the Ghost of Christmas Past, Douglas Harmsen as Fred, M. Scott McLean as Young Ebenezer, Michael Fitzpatrick as Fezziwig, Leslie O'Carroll as Mrs. Fezziwig, Leslie Alexander as Mrs. Cratchit and Charlie Korman as Tiny Tim. (Check out our short video interview with Charlie here. It's worth the two minutes, I promise). They are backed by a huge ensemble that includes Colin Alexander, Benjamin Bonenfant, Michael Bouchard, Kathleen M. Brady, Courtney Capek, Jenn Miller Cribbs, Connor Nguyen Erickson, Michael Gaessler, Tanner Gardner, Edwin Harris, Gabe Koskinen-Sansone, Kyra Lindsay, Amelia Modesitt, Sam Modesitt, Gabriel Morales-Gonzalez, Tricia Moreland, Mackenzie Paulsen, Jeffrey Roark, Christine Rowan, Thomas Russo, Maggie Sczekan, Lauren Shealy, Jake Walker and Christopher Wells. Showtimes: 6:30 p.m. Tuesdays through Thursdays; 7:30 p.m. Fridays and Saturdays; 1:30 p.m. on Saturdays and Sundays; 6:30 p.m. on Sundays. Also: 1:30 p.m. on Tuesday, Dec. 24. No performance on Wednesday, Dec. 25. No evening performance on Sunday, Dec. 29. At the Stage Theatre in the Denver Performing Arts Complex, 14th and Curtis streets, 303-893-4100 or the denver center's home page
Click here to subscribe to the CultureWest.org Monthly E-Newsletter
Colorado theater schedules, however you like them:

All currently running theater productions
All theater listings by company
All theater listings by opening date

How you can donate to the Denver Actors Fund
The new Denver Actors Fund is a modest source of immediate, situational relief when members of the local theater community find themselves in sudden medical need. To donate to the Denver Actors Fund, please go here (with our humble thanks):
Tags:
a christmas carol
,
Amelia Modesitt
,
benjamin bonenfant
,
bruce k. sevy
,
Bruce sevy
,
Charlie Korman
,
Christine Rowan
,
Christopher Wells
,
Colin Alexander
,
Connor Nguyen Erickson
,
Courtney Capek
,
Denver Center
,
denver center theatre company
,
Douglas Harmsen
,
Edwin Harris
,
Fitzpatrick
,
Gabe Koskinen-Sansone
,
Gabriel Morales-Gonzalez
,
jake walker
,
Jeff Cribbs
,
jeffrey roark
,
Jenn Miller Cribbs
,
John Hutton
,
john moore
,
Kathleen M. Brady
,
kent thompson
,
Kyra Lindsay
,
Lauren Shealy
,
Leonard E. Barrett
,
Leslie Alexander
,
Leslie O'Carroll
,
M Scott McLean
,
Mackenzie Paulsen
,
Maggie Sczekan
,
Michael Bouchard
,
Michael Gaessler
,
Mrs. Cratchit
,
Mrs. Fezziwig
,
opening nights
,
philip pleasants
,
Sam Modesitt
,
Stephanie Cozart
,
Tanner Gardner
,
Thomas Russo
,
Tricia Moreland