To see caption information on any photo above, or to see the gallery on a mobile phone, click here. (It will be on the lower-left corner.) Or just click "show info" on any photo.
By John Moore
Dec. 5, 2013
Welcome to my ongoing, 2013 labor-of-love photo series bringing you iconic snapshots from behind the scenes on opening nights in Colorado theater. All photos by John Moore for www.CultureWest.Org. To see the official "Opening Nights" photo series to date (these ones are the "Over the Tavern" outtakes), click here.
Opening No. 142: Bas Bleu Theatre's "Over the Tavern": This bittersweet period comedy looks back at family living over a blue-collar bar in 1959. Four children are caught between the claustrophobic authoritarianism of the Roman Catholic Church and an emotionally abusive father. Only their mother keeps this family afloat. At the center of the piece is precocious 12-year-old rebel named Rudy, who goes knuckle-to ruler-with his formidable teacher, Sister Clarissa, in the questioning of his beliefs. The cast features Thomas Borrillo as Chet (revisiting the bad-dad role he played at the Arvada Center in 2006) Ailee Holland as embattled wife Ellen and Deb Note-Farwell as old-school nun Sister Clarissa, a character who bears a striking resemblance to battleaxe Sister Aloysius in "Doubt." Director Jonathan Farwell (he won the recent Henry Award for his performance in "Amadeus") has gathered some fine teen and teen(ish) actors in August Slaughter (perhaps the greatest not-even-fake stage name in stage history), Billy Dean Allen as Georgie, Miles Chandler Horne as Eddie and Erin Johnson as Annie. Showtimes: 7:30 p.m. Thursdays through Saturdays; 2:30 p.m. Sundays, through Jan. 5 at 401 Pine St., Fort Collins, 970-498-8949 or bas bleu's home page. Thanks: Wendy Ishii, Tricia Navarre and Amy Mills.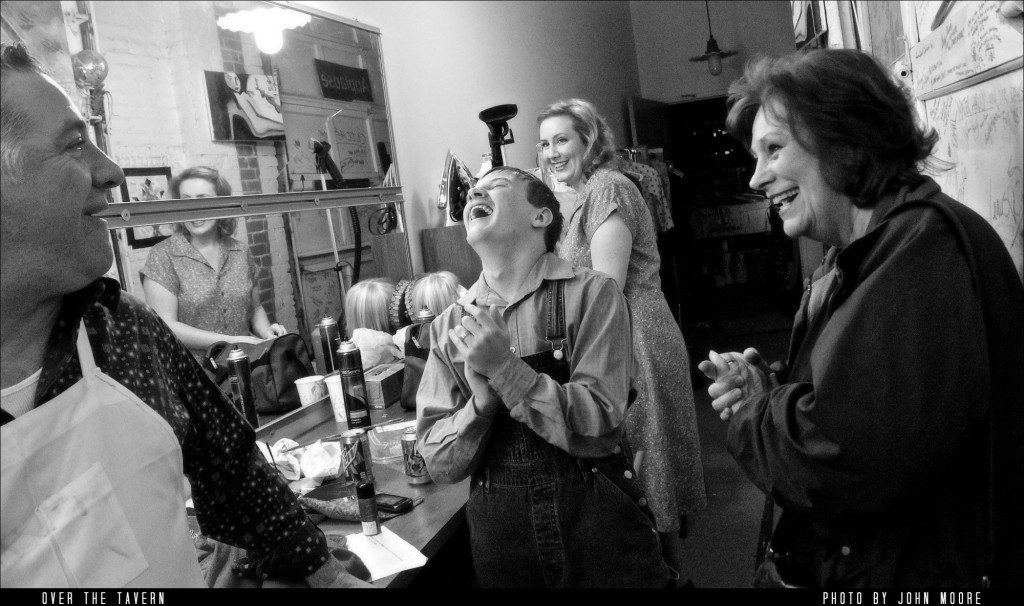 Bas Bleu Theatre co-founder Wendy Ishii, right, greets the cast in the dressing room before they face their first audience, a sold-out house in Fort Collins. From left, Thomas Borrillo, Billy Dean Allen and Ailie Holland.
Click here to subscribe to the CultureWest.org Monthly E-Newsletter
Colorado theater schedules, however you like them:

All currently running theater productions
All theater listings by company
All theater listings by opening date

How you can donate to the Denver Actors Fund
The new Denver Actors Fund is a modest source of immediate, situational relief when members of the local theater community find themselves in sudden medical need. To donate to the Denver Actors Fund, please go here (with our humble thanks):