To see caption information on any photo above, or to see the gallery on a mobile phone, click here. (It will be on the lower-left corner.) Or just click "show info" on any photo.
By John Moore
Dec. 5, 2013
Welcome to my ongoing, 2013 labor-of-love photo series bringing you iconic snapshots from behind the scenes on opening nights in Colorado theater. All photos by John Moore for www.CultureWest.Org. To see the official "Opening Nights" photo series (these ones are the "SantaLand" outtakes), click here.
Opening No. 140: Boulder Ensemble Theatre Company's "The SantaLand Diaries": National Theatre Conservatory graduate and Wheat Ridge native Matt Zambrano is donning the candy-cane tights for a second straight holiday season telling David Sedaris' real-life story of working as an elf in the New York Macy's SantaLand display. This staging is a co-production with Denver Center Attractions, which is presenting the show in the Garner-Galleria cabaret bar. Directed by Stephen Weitz. Contains adult subject matter and explicit language.  Showtimes: 7:30 p.m. Thursdays through Tuesdays; also 2 p.m. Saturdays and Sundays. No performances on Wednesdays. At the Denver Performing Arts Complex, 14th and Curtis streets, 303-893-4100 or the Denver Center's ticketing page. Thanks: Heidi Bosk, Anja Hose, Jess Buttery and Maxie Beth Bilyeu.
Highlights: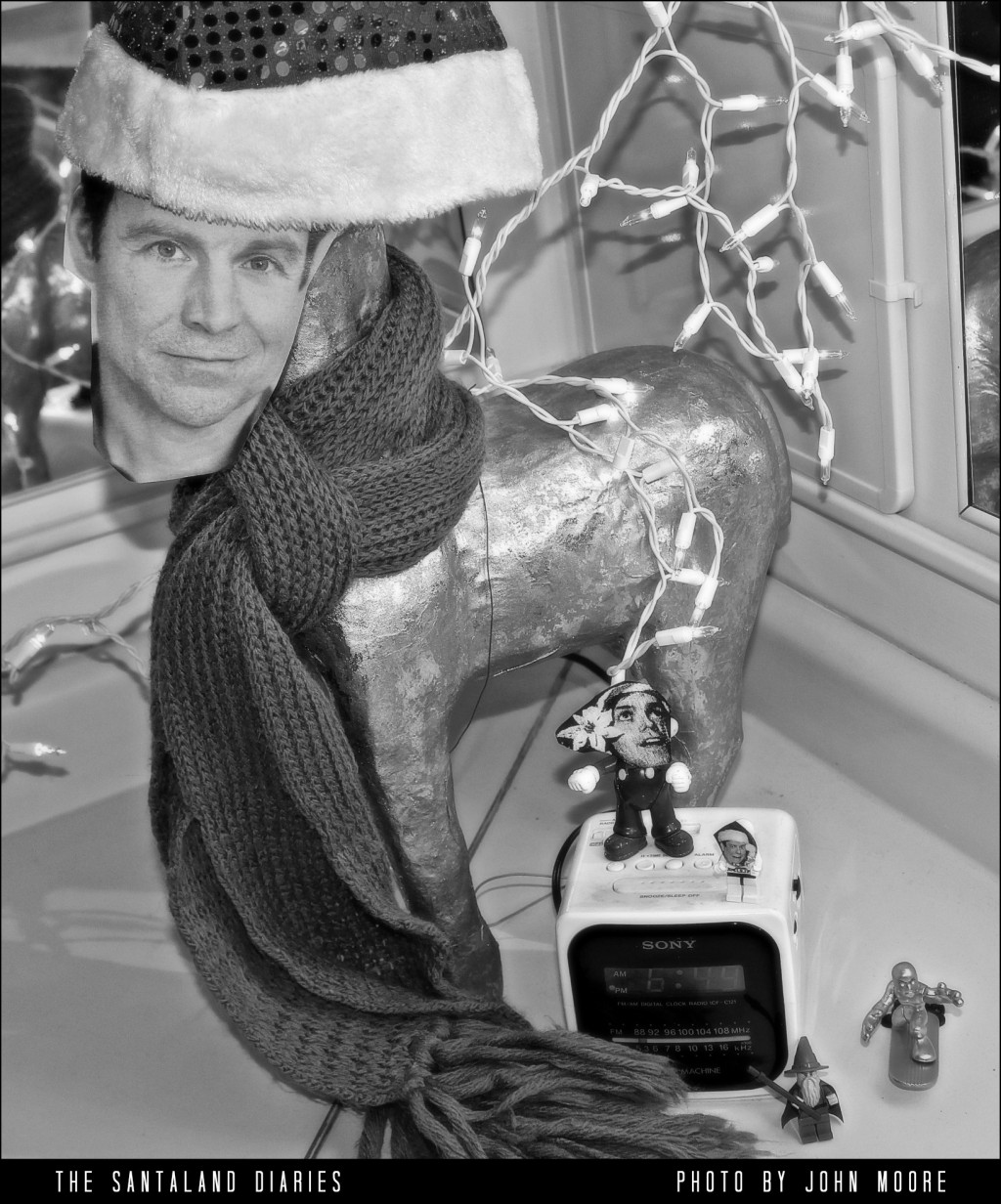 Matt Zambrano has constructed a dressing-room tribute to all of the recent Denver actors who have played Crumpet before him. That's Geoff Kent's head on the golden reindeer, and a Billie Holiday-ish Gary Culig with an elfin Bernie Cardell atop the clock radio (surrounded by, you know, a Lego Gandalf and other action figures). Kent preceded Zambrano for three Decembers playing Crumpet for the Boulder Ensemble Theatre Company; Culig played the caustic elf for 10 straight years at the Bug Theatre; and Cardell starred for Vintage Theatre.

Matt Zambrano attended a reading by "The SantaLand Diaries" author David Sedaris in Denver the week before his opening last Saturday. He waited in line and got Sedaris' autograph and good-luck message. Zambrano's signed script reads: "To Matt: You used to be a lesbian."

Just outside the Garner-Galleria Theatre, acclaimed local indie music hero Ian Cooke played a set for passersby.
Click here to subscribe to the CultureWest.org Monthly E-Newsletter
Colorado theater schedules, however you like them:

All currently running theater productions
All theater listings by company
All theater listings by opening date

How you can donate to the Denver Actors Fund
The new Denver Actors Fund is a modest source of immediate, situational relief when members of the local theater community find themselves in sudden medical need. To donate to the Denver Actors Fund, please go here (with our humble thanks):