To see caption information on any photo above, or to see the gallery on a mobile phone, click here. (It will be on the lower-left corner.) Or just click "show info" on any photo.
By John Moore
Dec. 2, 2013
Welcome to my ongoing, 2013 labor-of-love photo series bringing you iconic snapshots from behind the scenes on opening nights in Colorado theater. All photos by John Moore for www.CultureWest.Org. To see the official "Opening Nights" photo series (these are outtakes), click here.
Opening No. 139: Arvada Center's "A Christmas Carol": The Arvada Center's version of "A Christmas Carol," back after a year off, is the 1994 musical adaptation of Dickens' classic story, written by Mike Ockrent and Lynn Ahrens, featuring music by Alan Menken (Disney's "The Little Mermaid"). The cast features Richard White as Ebenezer Scrooge — he was the voice of Gaston in the "Beauty and the Beast" animated film), Cole Burden (Bob Cratchit), Kitty Skillman Hilsabeck (Ghost of Christmas Future), Megan Van De Hey (Ghost of Christmas Past), Stephen Day (Ghost of Christmas Present) and Brad Nacht (Jacob Marley). The ensemble members include Joanie Brosseau-Beyette, Stephen Cerf, Rob Costigan, Jennifer DeDominici, Ben Dicke, Maddie Franke, Kaden Hinkle, Tim Howard, Hannah Katz, Emily Luhrs, Charla Mason, David Miller, Julia Perrotta, Katie Phipps, Gregory Price, Parker Redford, Vincent Rodriguez, Mark Rubald, Robert Michael Sanders, Nate Patrick Siebert, Jacob Lewis Smith, Ron Tal, Rachel Turner, Kira Vuolo and Sharon Kay White. Directed by Gavin Mayer and David Nehls. Showtimes through Dec. 22 at 7:30 p.m. Tuesdays through Saturdays; 1 p.m. Wednesdays; 2 p.m. Saturdays and Sundays; 7:30 p.m. Sunday, Dec. 1 at 6901 Wadsworth Blvd., 720-898-7200 or www.arvadacenter.org. All photos by John Moore for www.CultureWest.Org. Thanks: Melanie Mayner, Rod Lansberry, Pat Payne, Lisa Cook, Lisa Kurtz, cast and crew. To see the official "Opening Nights" photo series (these are outtakes), click here.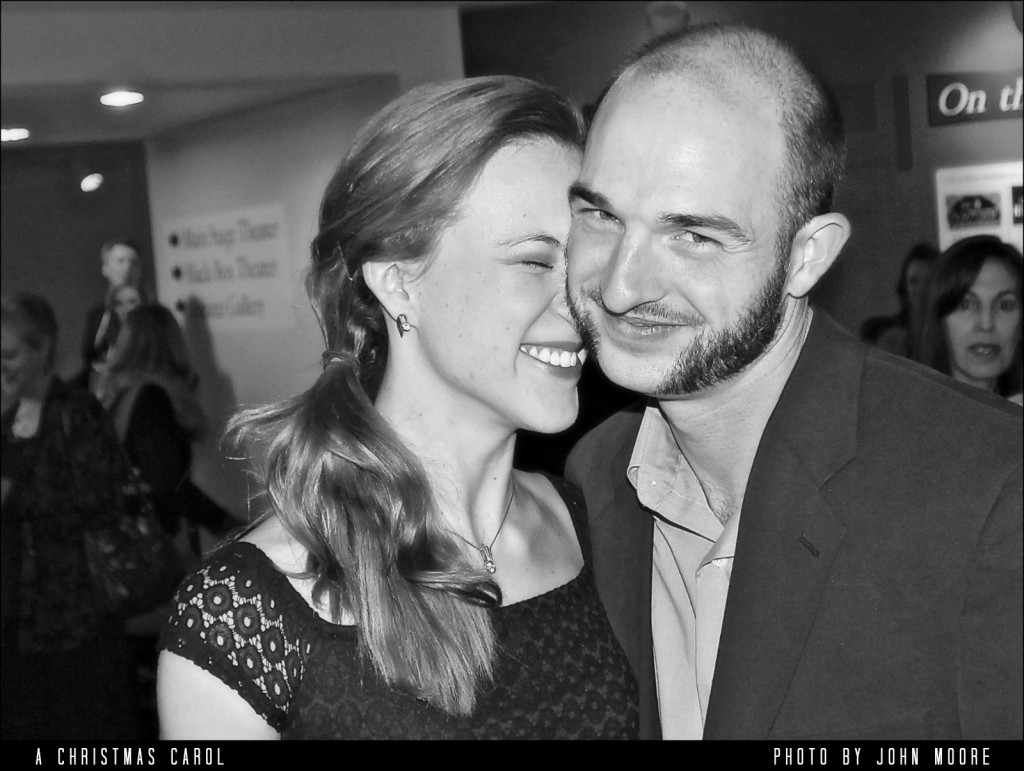 Emily Ann Luhrs accepted two marriage proposals on Tuesday. First, as herself, she agreed to marry longtime boyfriend and "A Christmas Carol" castmate Ben Dicke, mutton chops and all. Ben (star of the self-produced "Bloody Bloody Andrew Jackson last year at the Aurora Fox), presented the ring at a private dinner before last night's opening performance. Just an hour or so later, Emily, playing a character named Emily (!), accepted another marriage proposal from young Ebeneezer Scrooge. One not being played by Ben Dicke. Nervy! (In her defense, she does give THAT ring back.)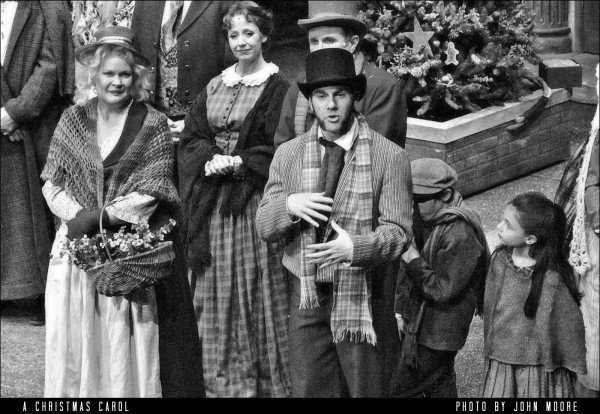 Following the opening-night curtain call, actor Ron Tal tells the crowd that cast members will be in the lobby selling the 2013 edition of the "Carols for a Cure" CD. The annual two-disc holiday compilation raises money for Broadway Cares/Equity Fights AIDS, as well as Colorado nonprofits who provide services for those battling the disease. The CDs boast voices from the worlds of Broadway and select regional theaters. The cast of the Arvada Center's "A Christmas Carol, contributed "Gather around the Christmas Tree" for this year's CD. Last year, the Arvada Center collected $34, 969.61 for the cause, making it one of the top-selling venues outside of New York City. For info: www.broadwaycares.org.
Click here to subscribe to the CultureWest.org Monthly E-Newsletter
Colorado theater schedules, however you like them:

All currently running theater productions
All theater listings by company
All theater listings by opening date

How you can donate to the Denver Actors Fund
The new Denver Actors Fund is a modest source of immediate, situational relief when members of the local theater community find themselves in sudden medical need. To donate to the Denver Actors Fund, please go here (with our humble thanks):