Financial-aid recipients: Cody Schuyler and Jacquie Jo Billings are longtime performers  in the Colorado theater community and engaged to be married next year. The couple recently appeared together in Miners Alley Playhouse's "You Can't Take it With You" as Essie Carmichael and Tony Kirby Jr. Schuyler was nominated for a 2015 Henry Award for his starring turn as Cripple Billy in Miners  Alley Playhouse's "The Cripple of Inishmaan." Billings won a 2014 True West Award for her work in Miners Alley  Playhouse's "The Fantasticks" and "Songs for a New World," as well as Town Hall Arts Center's "Spring Awakening." Jacquie Jo is the daughter of former Denver Actors Fund President Brenda Billings, who died from a sudden brain aneurysm earlier this year.
Their medical story: Cody and Jacquie Jo were randomly assaulted by three men on Oct. 15 when they came to the aid of another person being attacked outside a hotel on South Broadway. When they tried to intervene, the attackers slammed Cody's head on the concrete ground, splitting his eyeglasses in two, and beat him until he was unconscious. "When they were kicking him, they were laughing over and over," Billings told the local news media. When she started screaming, she added, "One of them held me back and the other hit me in the face as hard as he possibly could. Then I blacked out."
Cody is employed as a breakfast server, and his face was so cut up, his bosses did not want him coming back to work until significant healing takes place. By the time Cody is back to working his normal schedule, he estimates he will have lost about $5,000 in wages. Jacquie Jo missed about a week from her job recovering and visiting specialists. She also faces possible surgery.
How we will help: The Denver Actors Fund board will make $3,000 available to Cody Schyuler to help reimburse him for eyeglass replacement, prescriptions, and lost wages while recuperating from his injuries. The board also voted to make $1,000 available to Jacquie Jo Billings to help compensate her for lost wages while recuperating. Their cases will remain open in consideration of the possibility of future medical expenses resulting from the attack.
Help us help Cody Schuyler and Jacquie Jo Billings more: There is much financial uncertainty in the couple's family's immediate future. If you would like to target a specific donation to help give Cody and Jacquie Jo some breathing room in the coming weeks and months, simply mail checks in any amount made out to Denver Actors Fund (with Cody Schuyler or Jacquie Jo Billings' name written in the topic field), to P.O. Box 11182, Denver, CO 80212. Or use this donation link. If you use the online option, be sure to designate that your donation is a targeted donation to Cody Schuyler or Jacquie Jo Billings. Otherwise, your donation will be applied to the replenishment of the DAF's general fund.
PLEASE REMEMBER THE DENVER ACTORS FUND ON COLORADO GIVES DAY DEC. 6
A message from Cody Schuyler and Jacquie Jo Billings: "We both are eternally grateful to the Denver Actors Fund and the community as a whole for their generosity and outpouring of love. It's nice to know that there are such wonderful people out there after an incident like this."
(Note: At the Denver Actors Fund, anonymity of aid recipients is presumed and fully protected, unless and until the recipient chooses to have his or her story told.)
ABOUT THE DENVER ACTORS FUND:
The Denver Actors Fund is a modest source of immediate, situational relief when members of the local theater community find themselves in medical need. To date the Fund has allocated more than $55,000 to artists facing medical need. In addition to financial relief, a team of more than 60 Denver Actors Fund volunteers offers good neighborly assistance including meal prep and delivery, child care, transportation, errands, construction, pet-sitting and more. For more information, visit our web site at DenverActorsFund.Org.
HOW YOU CAN HELP:
To DONATE the Denver Actors Fund:
Please CLICK HERE (with our humble thanks):
HOW TO APPLY FOR AID:
To apply for Denver Actors Fund aid: Fill out this brief online form here
MORE WAYS TO HELP:
DONATE BY MAIL:

Send checks made out to the Denver Actors Fund to:
P.O. Box 11182
Denver, CO 80212
ATTEND UPCOMING DENVER ACTORS FUND EVENTS:
"DENVER ACTORS FUND PRESENTS …" MONTHLY FILM SERIES: The Alamo Drafthouse Cinema in Littleton hosts a monthly film series in partnership with the Denver Actors Fund featuring films inspired by musicals and plays that are currently being performed by a Colorado theatre company. Next up on Tuesday, Nov. 15, is "A Christmas Story," featuring pre-screening entertainment by cast members from Town Hall Arts Center's upcoming stage production. Join us for live musical performances, talk, trivia, prize giveaways … and the movie! RESERVE YOUR SEAT NOW

Coming up next:
"It's a Wonderful Life," with Spotlight Theatre Company, Monday, Dec. 5. RESERVE YOUR SEAT NOW
BUY A POSTER!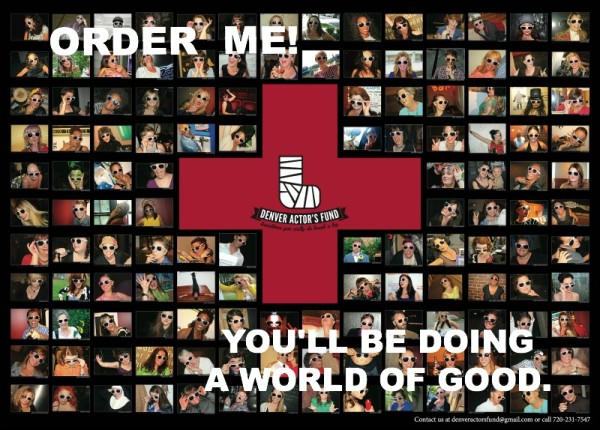 134 women (and a few token dudes) from the Colorado theater community, all supporting the Denver Actors Fund. They cost $20 per poster (20×28). To order, email your quantity to denveractorsfund@gmail.com. We'll take care of delivery and payment from there.
VISIT OUR ONLINE MERCH STORE:
Click here to see how you can buy DAF products such as T-shirts, key chains, puzzles and much more