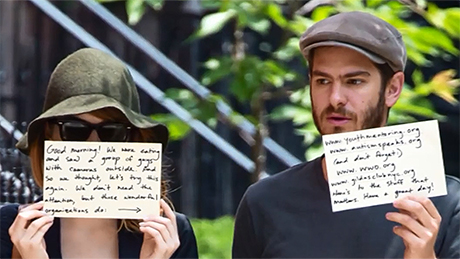 When movie stars Andrew Garfield and Emma Stone were being hounded by paparazzi at lunch, they put their celeb status to clever and good-hearted use: By hiding their faces with note cards calling attention to worthy non-profit organizations.
And, well … we took it from there.
The Denver Actors Fund provides financial and support assistance to members of the local theatre community in sudden medical need.
And join us late-night on Saturday, June 28, for some kamikaze karaoke at the Voodoo Comedy Playhouse.
Thanks, Emma Stone and Andrew Garfield for your wit and big hearts! And to Patty Kingsbaker for the idea.
Thank you: Diana Dresser, Patty Kingsbaker, Melanie Mayner, Brett Aune, Cat Tobiasson, Michael Morgan, Susie Scott, Gloria Shanstrom, John Moore, Missy Moore, Burke Walton, Jake Elvig, Josh Hartwell, Colin Alexander, Piper Arpan, Tracy Shaffer, Thom Wise.