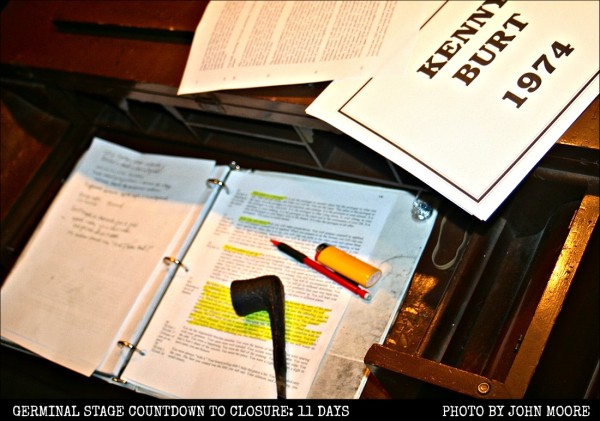 Director Ed Baierlein made up a placard for every one of his expected 45-plus actors who were to perform in "Offending the Audience." Kenny Burt, who joined Germinal in its first season, had to drop out for a transplant.
By John Moore
Aug. 15, 2013
One of the many interesting aspects of embedding myself in the final production that will ever be held Germinal Stage-Denver was the fact that among the 43 invited cast members, four were part of the original cast of 10 who performed "Offending the Audience" in 1976.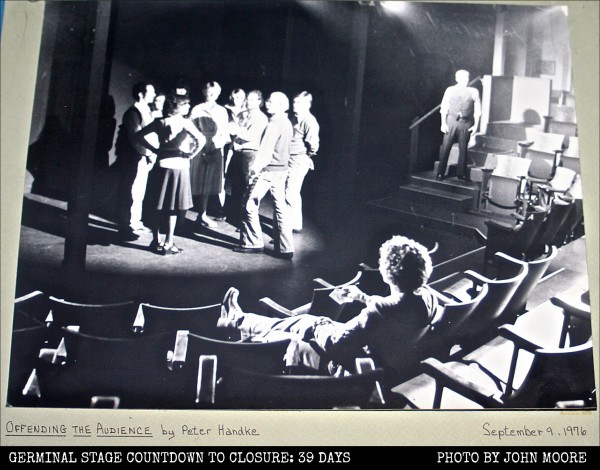 One performance sparked a spontaneous rebellion among the audience that began when a handful of spectators began heckling the performers, then joined them onstage and even physically threatened them. Eventually, according to a Denver Post news report, "virtually all the audience was participating in the chaos." The incident prompted director Ed Baierlein to call a press conference to address the media's interest in the story. How unprecedented was the uproar? Well, when's the last time you can remember a local theater company having to (or should we say "getting to?") call a press conference over anything … And the media showing up?
This 2013 farewell revival has not yet incited the same kind of reaction – although there was one heckler on Sunday night. And now only three members of that original cast are in the 2013 staging: Baierlein, wife Sallie Diamond, and Paul Caouette.
Kenny Burt, who started with Germinal in its first season in 1974, had to drop out just before rehearsals were to begin because he is now undergoing a marrow transplant. But he dropped me a line the other day to tell me about the good old days. (It might help for you to first read the cast taking on the question, "What the hell IS this play?")
"I have two distinct memories that stand out," Burt wrote. "The first was a night early in the run when, for the first time, we got someone who came with the preconception that this was a "happening." Fairly early in the performance, I was downstage, and this guy — wearing a cap, I distinctly recall — stood up, walked onstage and put his hand on someone's shoulder near me. I just thought, "Focus. Point of concentration. What are we going to do now?"
Burt doesn't remember of this was the audience member who started "the riot." "Frankly, I don't remember 'the riot,' he said. "I just remember that silent, poor misguided guy."
His second strong memory was from the night his parents came. "I was 26 or so, and my parents came to shows I was involved in pretty often," he said. "My dad loved theater, but he was of the "Arsenic and Old Lace" era — and my mom came because I was her son.
"Ed had directed all the actors to wear a slack-jawed expression that never changed — an 'expression' that was as close to expressionless as one could be, while scanning over the audience section near us constantly. I remember looking at the audience, making eye contact with my parents and thinking, 'I wonder what the (bleep) they are thinking? I bet they hate this.' It was the second-most uncomfortable moment I've ever had — and not just in theater. The most uncomfortable moment was the night I had to be naked on stage and my father had come to the show. But that's another theater, and another story."
Burt knows there are a lot of people who hate "Offending the Audience." "I've never understood that," he said. I think it is (bleeping) hilarious and brilliant. I agree with Ed that it is an exceptional statement about the theatergoing experience. However, that said, I've never had to go watch it as the majority of people do, not knowing what they are getting into, and bringing inside themselves all the preconceptions that each individual undoubtedly does. Of course, (playwright Peter) Handke's knowing that that's what is going to happen is part of the piece's brilliance. Plus, I started getting interested in theater when theater of the absurd was very popular, especially on college campuses.
"I still remember the sense of excitement that first seeing absurdist plays gave me, and 'Offending the Audience' is one logical extension of one of the themes of absurdist theater."
According to Burt, Baierlein had scheduled another play for that time slot, but after the first read-through, he came to rehearsal and announced that the play was so unworthy of production that they were going to do "Offending the Audience" instead.
"I remember totally understanding his point about the original selection," said Burt. "That I can't remember the show's title is testament to its unremarkability. On a personal note, though, I was deeply disappointed for myself. I had done the best audition I have ever done before or since for that damn show, and had been cast in a romantic lead role. This was a first — and last — for me."
Burt first got involved with Germinal during a heady period for the theater.
"I distinctly remember working a rehearsal, running lights and thinking, 'It's just SO good!' he said. "I thought I'd never seen acting of that caliber. To this day, I don't think I've seen acting that is any better. It was very moving for me to be around people who were so dedicated to their craft. Further, for me at least, I felt like this was important work. World-changing, important work. It was a mission that had the power to change people's lives. I was convinced of that in my heart.
"I don't know if people, especially young people, feel that way about doing theater in Denver these days, but I did. I remember a few of us sitting around talking after a rehearsal one night during the first season, and Ed said, 'I want to put ever other theater in Denver out of business.' As much as I felt a sense of purpose in my involvement at Germinal, even I thought that he was overstating things just a tad — perhaps he was being a little ironic. But then he said, 'No, I really do.' It made quite an impression."
"Offending the Audience"
Aug. 9-25, 2013
2450 W. 44th Ave., 303-455-7108 or germinal's home page
Click here to subscribe to the CultureWest.org Monthly E-Newsletter
Additional coverage:

At "Terminal Germinal," these walls CAN talk. Check out our photo essay of all the backstage quotes that have been etched into the dressing-room walls.
"Offending the Audience": What the hell is this play?
Why dozens of Denver actors are oh so eager to offend you
How you can donate to the Denver Actors Fund
The new Denver Actors Fund is a modest source of immediate, situational relief when members of the local theater community find themselves in sudden medical need. Photo by John Moore. To donate to the Denver Actors Fund, please go here (with our humble thanks):