The Colorado Shakespeare Festival last staged "The Tempest" in 2007.
By John Moore
When you schedule your every summer around pretty much the same 400-year-old canon, you can understand why the Colorado Shakespeare Festival is pretty excited about a major development coming next summer at … the concession stand.
The nation's second-oldest Shakespeare fest will feature regular beer and wine sales outside at the Mary Rippon Outdoor Theatre, inside at University Theatre, and in the adjacent Shakespeare Garden for picnicking. Previously, only sales of 3.2-percent alcohol beverages were permitted inside the theaters.
"This now means you can enjoy a beer or glass of wine with a picnic and carry it right into the theater with you," said interim artistic director Timothy Orr.
On stage, Colorado Shakes' 57th season of the Bard will consist of "The Tempest," "Henry IV, Parts 1 and 2" and "The Merry Wives of Windsor." The slate will also include the so-so comedy with the can't miss title, "I Hate Hamlet." That's a contemporary comedy about a lousy TV star with no business acting on a legit stage who is cast to play Shakespeare's brooding prince in New York's Central Park, and winds up being visited by the ghost of great Shakespearean actor John Barrymore.
"These are some of our all-time favorite plays by and about Shakespeare," Orr said. "You could call it the CSF 'staff picks.' The early concept conversations we're having point to some amazing, moving, hilarious and entertaining theater. It'll be a season to remember."
The Colorado Shakespeare Festival just enjoyed a rebound summer, having logged a 10.3 percent increase in attendance over 2012. But the fest is in the midst of the longest leadership transition in just about ever, with Orr now planning his second summer as the interim artistic boss. Officials from the University of Colorado aren't expected to name a permanent replacement for Philip Sneed, who left in January for a job at the Arvada Center, until September 2014. Orr, Geoffry Kent and Boulder Ensemble Theatre Company founder Stephen Weitz are among the known local candidates for the job, although the search is very much national in scope. The University is ultimately expected to name an artistic director with an established academic resume.
Colorado Shakespeare Festival 2014 season at a glance:
(Descriptions written by Colorado Shakespeare Festival)
• "The Tempest" — Shakespeare's final play includes magic, romance, high adventure, humor and pathos. Directed by Geoffrey Kent, director of the the acclaimed 2013 comedy, "A Midsummer Night's Dream." (Kent also played the hack actor in the Aurora Fox's staging of "I Hate Hamlet" in 2006, so I wouldn't be surprised to see him back in that role next summer.) Last staged in Boulder in 2007.
• "Henry IV, Part 1" — The second leg in the four-play "Henriad" cycle, begun in 2012 with "Richard II," introduces the licentious, crafty Falstaff and begins Prince Hal's ascension to the throne of England. Last performed by the Colorado Shakes in 1999.
• "Henry IV, Part 2" — There will be just two performances — and the fest is calling them "original practices," meaning (I guess) not fully staged, or glorified rehearsals. It covers Prince Hal's rise in stature and his old adviser Falstaff's descent into debauchery. Also last performed at the fest in 1999.
• "The Merry Wives of Windsor" — Falstaff owns the show in perhaps Shakespeare's greatest farce. His efforts to woo two married English ladies results in his being tricked. Set here in a 1960s Catskills vacation resort, so we are told to expect some "dirty dancing." Also last performed at the fest in 1999.
• "I Hate Hamlet" — When a rising young Hollywood star accepts the role of Hamlet at Shakespeare in the Park, everyone thinks he's nuts — and that's before he starts getting advice from the ghost of the great Shakespearean actor John Barrymore. A comic romp that also explores the meaning of Shakespeare in the modern world. Written by New Yorker contributing writer Paul Rudnick, screenwriter of the "The Addams Family" films. I wrote of the Aurora Fox production: "I couldn't love it. I couldn't hate it. I just felt … neutral, which in the theater can be worse than hate. It's certainly less interesting."
Season tickets go on sale Monday, Nov. 4 by phone (303-492-8008) or in person at the University Club on the CU-Boulder campus from 10 a.m. to 5 p.m. Monday through Friday. Online sales open on Nov. 11 at www.coloradoshakes.org. Single-tickets will go on sale Dec. 9 online, by phone or in person.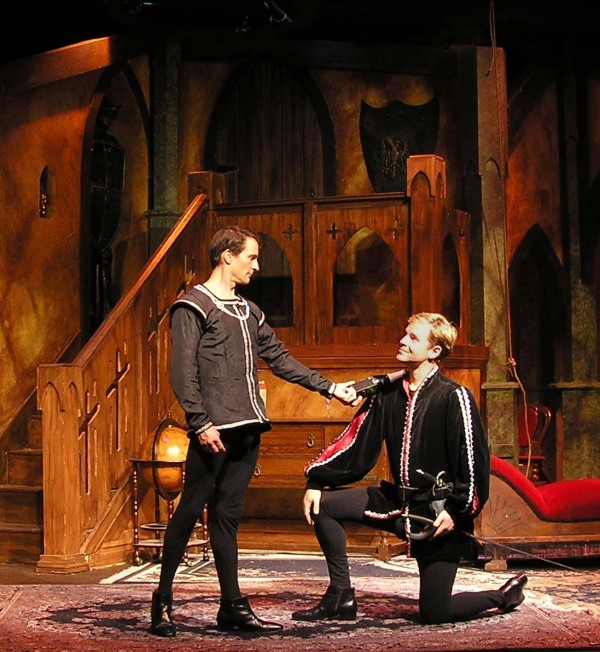 Geoffrey Kent, right, with David Russell (at the ghost of John Barrymore) in the Aurora Fox's 2006 production of "I Hate Hamlet."
Click here to subscribe to the CultureWest.org Monthly E-Newsletter
Colorado theater schedules, however you like them:

All currently running theater productions
All theater listings by company
All theater listings by opening date

How you can donate to the Denver Actors Fund
The new Denver Actors Fund is a modest source of immediate, situational relief when members of the local theater community find themselves in sudden medical need. To donate to the Denver Actors Fund, please go here (with our humble thanks):