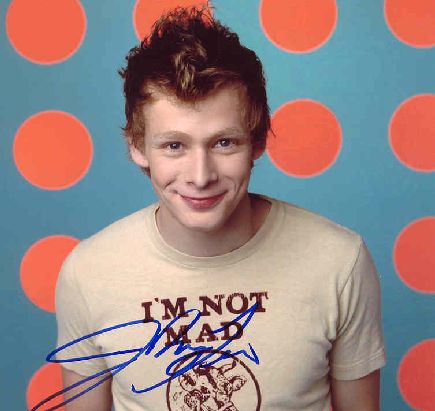 By John Moore
Sept. 29, 2012
LISTEN TO JOHN MOORE'S INTERVIEW WITH JOHNNY LEWIS AND GRETA SEACAT
Johnny Lewis, the "Sons of Anarchy" star who was found dead in a driveway near Hollywood on Wednesday after allegedly murdering his 81-year-old landlady and her cat, performed in a play with his friends in Boulder in 2007, and at that time he agreed to a promotional interview with me while I was working for The Denver Post.
Just days after he was released from jail for trying to break into a woman's bedroom window last February, police say Lewis went on a rampage Wednesday morning, killing his landlady before plunging to his own death from a roof or wall. He was 28, having descended from a promising Hollywood career and boyfriend of Katy Perry to a sordid life of petty crime, financial  trouble, homelessness, suspected drug abuse and mental illness.
Lewis appeared in 26 episodes of "Sons of Anarchy" in 2008-09 as Kip "Half-Sack" Epps. His final movie was this year's "186 Dollars to Get Out." Lewis, who had strong ties to the Church of Scientology, was also waging a custody battle for his daughter at the time of his death.
In May, Lewis' probation officer filed a report stating: "The defendant will continue to be a threat to any community he may reside [in]."
That wasn't at all the 23-year-old Lewis we saw during his brief stint in Boulder in 2007. Lewis, who had just wrapped "Aliens vs. Predator 2" at the time, was in Boulder at the behest of director Jamie Wollrab, a 1995 graduate of Boulder High School. Wollrab brought pals Lewis, Shannon Woodward ("Raising Hope"), Justin Chatwin ("War of the Worlds") and Zach Shields ("The Most Beautiful Thing") to Boulder to present the black comedy "The Mistakes Madeline Made" at the Dairy Center.
Lewis, for one, was happy to temporarily trade the glare and glam of Hollywood for the artistry of Boulder. "You don't have celebrities, but you also don't care, which is awesome," Lewis told me. "People get strangely obsessive about it in L.A."
Lewis was an easy sell to come to Boulder. Two of his best friends are from Fort Collins, "and while they didn't like Fort Collins, they said they love Boulder," he joked.
"I wanted to get out of L.A., and I wanted to do theater," he said. "Boulder felt like a more positive place to do it in. We're kind of sick of (always) being around actors."
Lewis was like a lot of twenty-somethings. "We don't love theater," he said bluntly, including co-star Woodward in his assessment. "We love great theater." He said he thought "Madeline" was great theater that would appeal to the younger generation because it's about them.
It's the story of a young woman named Edna wrestling with her brother's death and a mind-numbing first job who develops a fear of bathing.  It was written by  Elizabeth Meriwether, then 25.
"This is a play that I feel so connected to," Lewis said. "It is about youth. It deals with a lot of big issues. It touches on Iraq. It touches on war. It touches on a lot of societal issues. But it mostly reflects on the personal aspects of that. Things like solitude in a modern world, to use a cliche. But it is a young play. I don't want to use  'hip,' but it's definitely more for the younger generation. It's about them."
Acting coach Greta Seacat, who also performed in the play, called Edna a sensitive, feeling character who, like many kids just out of college, feels trapped in an environment that's not very nourishing.
In retrospect, she may as well have been talking about Lewis.
"That's what a lot of young people coming out of college are dealing with in our culture," she said. "These are big issues: Iraq, the workforce, death, loss, loneliness, addiction, obsession, values, neurosis, pathos. That is the 20s experience now.
"The play asks, 'How does one live with what's going on in the world today?"'
LISTEN TO JOHN MOORE'S INTERVIEW WITH JOHNNY LEWIS AND GRETA SEACAT