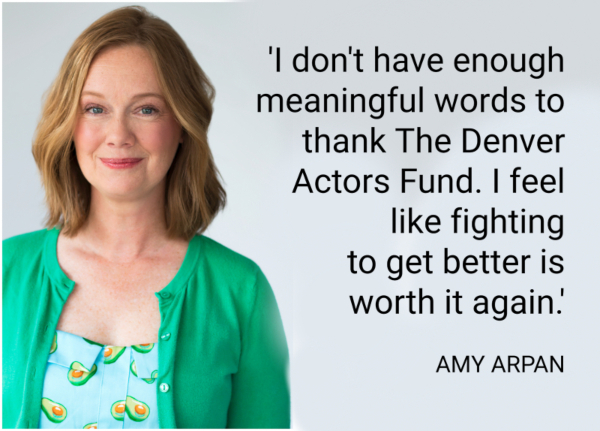 'It's powerful medicine to know there are great people out there in the world'
Aid recipient: Amy Arpan is an actor and circus choreographer who most recently appeared as Mrs. Soames in Miners Alley Playhouse's production of "Our Town." She is also the owner and principal performer at Amy Arpan's Illusions And Confusions. She is the sister of area actor, director and choreographer Piper Arpan.
Her medical story: Amy went to Denver Health wish stomach pains and was rushed in for emergency surgery. Despite having insurance, Amy was led to believe that her patient responsibility for the surgery would eventually come to a whopping $30,000. But over the next two months, that bill never came due. Instead, Amy and her husband, Chris Morrison, took on most of expenses associated with her surgery themselves, including a $500 E.R. bill. The largest expense at first was a bill for $2,846 to cover the services of four individual specialists who participated in her surgery. The DAF paid that bill off and, as time passed, the couple began to believe that maybe that was the end of it. It wasn't. On June 5, the other shoe dropped. Amy received an actual, post-insurance bill for an additional $33,605. She was shell-shocked.
How we have helped: First, The Denver Actors Fund board paid the full amount of Amy's initial hospital bill, or $2,846. When the more recent bill arrived, the hospital set her up on a payment plan that essentially called for her to pay $332 a month pretty much in perpetuity. Amy and her husband, who made just less than $24,000 the year before, were nearly resigned to their fate. We offered our free legal counsel, as well as a consultation with new DAF Board Member Dr. Kelli Lewis, who completed her Emergency Medicine residency at the very same Denver Health. We then encouraged Amy and her sister, Piper Arpan, to challenge the bill with both Denver Health and her insurance company. And they did. Long story short: It was discovered that there had been an accounting error, and Amy's bill was reduced from $33,605 to "just" $11,970. The Denver Actors Fund Board subsequently authorized an additional $7,000 gift to Arpan and her husband, bringing her deficit down to just under $5,000. This second gift still equals the largest single payout in Denver Actors Fund history. Between the two DAF gifts, as well as targeted donations from members of the community (see more below), The Denver Actors Fund had (at that point) had made $10,371 available to Amy and Chris.
More to the story: Whenever The DAF cannot fully wipe out a qualified recipient's full medical obligation, we consider theirs to be open cases that we review periodically. Last month, we checked in with Amy and Chris to see how they were doing. They were still 32 months away from paying off the remaining balance. With interest, they were looking at paying an additional $10k before this would all be over. They didn't ask us for any additional help, but because the community was very generous with The DAF 2019, the Board voted unanimously to gift the couple with an additional $2,500, to be applied against the remaining balance. That brings The Denver Actors Fund's overall support for the couple to $12,871 to date.
Amy's reaction: "With this new gift, we are down from 32 months of payments to 21 months. That is almost a full YEAR of our lives released from this financial weight. This organization, the people who run it, and the people who support it, are true goodness, kindness, compassion and love. Thank you!"
How you can help us help Amy more: Even with this latest gift, Chris and Amy are looking at paying another $6,700 before this odyssey finally ends. If you would like to direct a specific donation to help give them more breathing room, simply mail checks in any amount made out to The Denver Actors Fund (with Amy Arpan's name written in the topic field), to P.O. Box 11182, Denver, CO 80211. Or use this donation link. If you use the online option, be sure to designate that your donation is a targeted donation for Amy Arpan. (She will receive 100 percent of your donation.) Otherwise, your donation will be applied to the replenishment of the Denver Actors Fund's general fund.
The Denver Actors Fund has now made more than $462,000 available to Colorado artists in medical need.
Read testimonials from other Denver Actors Fund beneficiaries here
Note: At Denver Actors Fund, anonymity of aid recipients is presumed and fully protected, unless and until the recipient chooses to have his or her story told.
THE FULL TEXT OF AMY ARPAN AND CHRIS MORRISON'S MESSAGE TO DENVER ACTORS FUND SUPPORTERS:
Amy Arpan and Chris Morrison's ER selfie.

"I have three main memories of the night my husband drove me to the E.R. at 3 a.m. The first is of the pain – like nothing I'd ever felt before. It was all-consuming, and I just needed it to stop. The second is of the overwhelming concern in my husband's eyes as he stayed by my side to comfort me. The third is of me telling the E.R. doctor: "I don't think our insurance is very good, so if something isn't necessary, please don't do it." These are memories I hope none of you ever have to have. They are terrifying. They are embarrassing.

On Day 2 of recovery after emergency surgery, we were visited by a financial adviser in our hospital room. She wanted to make us aware that the amount we would owe would come to around $30,000. It felt like someone had punched us. It felt like getting better was pointless. Ten weeks after we got home, we got our first bill. It was close to $3,000. For all we knew, there might be more on the way.

Then we contacted The Denver Actors Fund, and they let us know they would pay off that first bill in full. "In full?" I thought I'd misheard. We were stunned. That call from The Denver Actors Fund was as welcome and as emotionally uplifting as the call I got from the hospital telling me the mass they had removed was benign.

We don't have enough meaningful words to thank The Denver Actors Fund – I think even Shakespeare would have a rough go at it. My husband and I feel like we can breathe again. I feel like fighting to get better is worth it again. It's powerful medicine to know that there ARE great people out there in the world.

Thank you, Denver Actors Fund, for looking out for those of us who choose to make our own way in the world of performing. To those of you who donate to it and to those of you who run it: Thank you for your generosity. Thank you for my health. Chris and I have never been more grateful."
---
HOW YOU CAN HELP US REPLENISH:
To DONATE to the Denver Actors Fund, please CLICK HERE (with our humble thanks)
---
ABOUT THE DENVER ACTORS FUND:
The Denver Actors Fund is a modest source of immediate, situational relief when members of the local theater community find themselves in medical need. In addition to $462,000 in financial relief, a team of more than 60 Denver Actors Fund volunteers has offered good neighborly assistance to dozens of beneficiaries including meal prep and delivery, child care, transportation, errands, construction, pet-sitting and more. For more information, visit DenverActorsFund.Org.
---
HOW TO APPLY FOR AID:
To apply for Denver Actors Fund aid: Fill out this brief online form here
---
GET INSTANT, FREE MEDICAL ADVICE ON YOUR DEVICE:
The Denver Actors Fund has launch of a major new FREE medical service for qualified Colorado theatre artists: We are partnering with Hippo Health to provide access to emergency medical evaluations via video conferencing with a Board-certified physician. Click to read more about this wonderful, innovative new partnership that is further improving the lives of artists!
---
MORE WAYS TO HELP:
DONATE BY MAIL:

Send checks made out to the Denver Actors Fund to:
P.O. Box 11182
Denver, CO 80211
VOLUNTEER:
Ever thought about taking a more active role in the Denver Actors Fund? Click here for more information
COME TO THE EVENTS THAT SUPPORT US:
THURSDAY, FEBRUARY 13: Our friends at Miners Alley Playhouse are once again donating ALL PROCEEDS from that evening's performance of "Frankie and Johnny in the Clair de Lune" to The Denver Actors Fund. Terrence McNally's enduring working-class romance, starring Jessica Robblee and Bill Hahn, tells the story of a diner waitress and a short-order cook. After they meet for a night of momentary connection, they expect a return to loneliness, but their desire turns into the possibility of love. The play begins at 7:30 p.m. Miners Alley Playhouse is located at 1224 Washington Avenue. Golden. Call 303-935-3044 or buy online at minersalley.com. Thank you to Len Matheo, Elizabeth Scott-Mckean, Jonathan Scott-Mckean, Lisa DeCaro, Bryanna Scott, the cast, crew and whoever kindly works the bar. It's nights like these that truy make what we do possible.
MONDAY, FEBRUARY 17: The Cherry Creek Theatre Company has announced that its Industry Night performance of "My Way – A Musical Tribute to Frank Sinatra" will be a benefit for The Denver Actors Fund. Let the music of Frank Sinatra transport you back in time to a swanky nightclub on the Las Vegas strip. Experience more than 50 quintessential hits from the Ol' Blue Eyes collection. From The Lady is a Tramp to New York, New York, you can't help but hum along with your favorite jazz standards on this trip down memory lane. Pack up, let's fly away and fall in love all over again with the music of one of the most celebrated recording artists of all time. The director is Susie Snodgrass, with musical direction from David Nehls. The cast includes Sheryl McCallum, Stephen Day, Shannon Steele and Jeremy Rill. Tickets (normally $33) are $20. At the Mizel Arts and Culture Center, 350 S. Dahlia St., 303-800-6578 or cherrycreektheatre.org
FEBRUARY 28-29: CenterStage Theatre Company, which exists to create performance opportunities for students ages high school through college, will be collecting for The Denver Actors Fund following its February 28 and 29 performances of "Into the Woods" in Louisville. James Lapine and Stephen Sondheim's classic musical gathers everyone's favorite storybook characters "into the woods" and imagines what might have happened to them after all those fairy tales ended. CenterStage has long supported our efforts, and this collection is specifically being led by two of our longest-standing young supporters, Kaden Hinkle and 2019 True West Award winner Darrow Klein, both of whom appear in the show. The bad news is that all three designated DAF shows are already sold out. So if you are gong, bring your spar-change jar! CenterStage performs at 901 Front St. in Louisville. Information: centerstagetheatrecompany.org
SUNDAY, APRIL 26: True story: A few months ago, the local band Gin & Tonix did a show at the Clocktower to benefit the DAF, and I wasn't sure I could make it so I didn't book in advance. I dropped in just before the show began to buy a ticket at the door, and the woman looked at me like I was trying to walk in on Ariana Grande, Billie Eilish, BTS, Shawn Mendes and the Wu-Tang Clan all at once. The look on her face was priceless. The event was was way sold out. "Gin & Tonix sells out every time," she said. Point taken. So who is Gin & Tonix? A group of talented musician friends and family who have made music together on and off for many years. The band features vocal the harmonies of Morgan Griego, Kacie Thomas, Trinity Thomas, and Eileen Adair, by Madi Spillman on guitar, Ian Spillman on drums and vocals, and Jason Spillman on bass and vocals. The group plays songs by artists ranging from The Indigo Girls, The Eagles, The Avett Brothers and many more. The band will again be donating 10 percent of ticket sales for The Denver Actors Fund and taking a collection as a tribute to the late Amy Malmgren – an original DAF board member, and Jason Spillman's sister. last time the total was a lucky $777. Gin and Tonix is as passionate about their community and family as they are about their music, which is touching. Now take the advice that is splased across the Clocktower's web page: BOOK EARLY! GIN & TONIX *WILL SELL OUT IN ADVANCE!* Get your tickets here.
JULY 9-18: Stage Left Productions has announced that it will donate ALL NET PROFITS from the entire run of its upcoming summer musical "Ordinary Days" to The Denver Actors Fund! "We are so excited to work with DAF on such an amazing cause," says Stage Left Productions Owner Sophia Johnson-Grimes, who founded her company as a place for young theatre artists ages high school through college to let their talents shine, to collaborate, create, build leadership skills and give back to their communities. Every production has a designated philanthropic benefactors. "Ordinary Days" is a refreshingly honest and funny musical by Adam Gwon about four young New Yorkers whose lives intersect as they search for fulfillment, happiness, love and cabs. Through a score of vibrant and memorable songs, their experiences ring startlingly true to life. For more information, go to https://stageleftdenver.com
VISIT OUR ONLINE MERCH STORE:
Click here to see how you can buy DAF products such as T-shirts, key chains, puzzles and much more