Denver Actors Fund in Action: Cathrine Floyd
Financial aid recipient: Cathrine Floyd (pronounced KUH-TREE-nuh), played Miss Lark in Englewood Summer Drama's 2016 production of Mary Poppins alongside her daughters, Emma and Hanna.
Cathrine's story: Shortly after Mary Poppins ended, Cathrine was diagnosed with breast cancer. After undergoing chemotherapy, surgery and radiation, Cathrine was found to be cancer-free last month. The bills have continued to roll in however. In their application, the Floyds sought help with a late-arriving $720 bill from Sky Ridge Medical Center for her radiation treatments.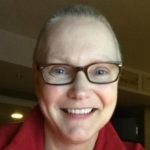 How we will help: The Denver Actors Fund has paid the $720 bill in full.
How you can help us help the family more: If you would like to direct an additional donation to help give the Floyd family some more financial breathing room, simply mail a check in any amount made out to Denver Actors Fund (with Cathrine Floyd's name written in the topic field), to P.O. Box 11182, Denver, CO 80212. Or use this donation link. If you use the online option, be sure to designate that your donation is targeted for Cathrine Floyd. Otherwise, your donation will be applied to the replenishment of the Denver Actors Fund's general fund.
A message from Cathrine: "My family and I are so grateful to all of those who have donated to Denver Actors Fund. This is such a huge blessing for my family. We hope our story will inspire others to help their fellow actors."
(Note: To volunteer to become a member of one of the Denver Actors Fund's volunteer Action Teams, sign up here.)
---
HOW YOU CAN HELP US REPLENISH:
To DONATE the Denver Actors Fund, please CLICK HERE (with our humble thanks)
---
ABOUT THE DENVER ACTORS FUND:

Video above: The Denver Actors Fund receives the Colorado Theatre Guild's 2016 Community Impact Award.
The Denver Actors Fund is a modest source of immediate, situational relief when members of the local theater community find themselves in medical need. To date, the Fund has allocated more than $112,000 to artists facing medical need. In addition to financial relief, a team of more than 60 Denver Actors Fund volunteers offers good neighborly assistance including meal prep and delivery, child care, transportation, errands, construction, pet-sitting and more. For more information, visit our web site at DenverActorsFund.Org.
---
HOW TO APPLY FOR AID:
To apply for Denver Actors Fund aid: Fill out this brief online form here
---
MORE WAYS TO HELP:
DONATE BY MAIL:

Send checks made out to the Denver Actors Fund to:
P.O. Box 11182
Denver, CO 80212
ATTEND UPCOMING DENVER ACTORS FUND EVENTS:
COMING SEPTEMBER 25: MISCAST 2017

"Miscast," the major annual fundraiser produced and presented by the Denver Actors Fund, is an opportunity for local performers to sing songs and act out scenes they would never … ever! … get cast to perform on any legit stage. Think gender-bending, race-bending and age-bending. Odd couples and mixed groups. Wrong is oh so right. "Miscast" has evolved over the years into one of the biggest nights of the year in the Colorado theatre community – and it is a really good show. The video below showing one 2016 number has now been viewed more than 400,000 times online. "Miscast2017" will be held Sept. 25 at the Town Hall Arts Center, and it will sell out, so reserve your seats now. Tickets only $20. BUY ONLINE
"DENVER ACTORS FUND PRESENTS …" MONTHLY FILM SERIES: The Alamo Drafthouse Cinema At Sloan's Lake hosts a monthly film series in partnership with the Denver Actors Fund featuring films inspired by musicals and plays that are currently being performed by a Colorado theatre company. Next up at 6:30 p.m. Monday, August 28: A Chorus Line, with entertainment from the Arvada Center. CHOOSE YOUR SEATS NOW
VIDEO HIGHLIGHTS FROM 'DENVER ACTORS FUND PRESENTS …' FILM SERIES:

NOTE: OUR MONTHLY FILM SERIES HAS MOVED FROM LITTLETON TO THE NEW ALAMO DRAFTHOUSE AT SLOAN'S LAKE.
VISIT OUR ONLINE MERCH STORE:
Click here to see how you can buy DAF products such as T-shirts, key chains, puzzles and much more