Financial-aid recipient: Aurora native Faith Angelise Goins-Simmons is playing Lily in the Aurora Fox's Porgy and Bess. The daughter of Pastors Verdale and Jane Goins is a graduate of Aurora Central High School and the University of Denver, where she was the first person of color to graduate from the Lamont School of Music. She later returned to DU to coach gymnastics. In addition to her many stage credits with companies including the Arvada Center (Hairspray) and the Town Hall Arts Center (Hair), she was a member of the Denver Nuggets' Super Mascot Rocky Squad. She teaches gospel and praise dance at local churches. Her husband is Andre "Dre Future" Simmons, a futuristic style music artist and producer from Cincinnati who founded Superhero Sound Studios. He is also co-owner of F.S.W., a clothing company focused on motivating positive action through music and unique fashion styles.
Their story: The Simmons family moved into a new house in Centennial last month. One week later, the couple's otherwise healthy 13-month-old son, Syer Peace Simmons, began to exhibit signs of a cold, and died suddenly later that night. The Arapahoe County Coroner's office has yet to determine a cause of death, but the police immediately shut down the house and the couple have moved into a reduced-rate hotel nearby while the police investigate whether the house itself had anything to do with the sudden change in the baby's condition. The Simmonses responded to the unthinkable tragedy by hosting a toy drive for area children, along with a life celebration filled with music and dance in lieu of a traditional funeral. The couple is now facing burial expenses and are seeking an immediate place to live. All told, their expenses are expected to exceed $15,000. A GoFundMe campaign organized by friends has raised about $9,000 to date.

How we will help: The Denver Actors Fund has made another $4,000 available to help the Goins-Simmons family pay for immediate relocation and burial expenses. This represents the largest gift to date in the history of our non-profit. We are also actively seeking tips on possible relocation options. If you have any leads, please email denveractorsfund@gmail.com
Help us help the Simmons family more: There is obviously much financial uncertainty in this family's immediate future. If you would like to target a specific donation to help give the Goins-Simmons family some breathing room in the coming weeks and months, simply mail checks in any amount made out to Denver Actors Fund (with the Goins-Simmons name written in the topic field), to P.O. Box 11182, Denver, CO 80212. Or use this online donation link. If you use the online option, be sure to designate that your donation is a targeted donation to the Goins-Simmons family. Otherwise, your donation will be applied to the replenishment of the DAF's general fund.
Watch the 9News report on this story
A message from Faith Angelise Goins-Simmons: "Losing my baby after only 13 months is the most devastating experience I could ever have. I would not wish this pain on anyone. It has shown me how much my son, Syer, touched so many lives in such a way that inspires people to spread love and peace. The Denver Actors Fund has been such a comfort to my husband and me. It has been stressful trying to figure out where we are going to live next, how we are going to pay for memorial expenses, cremation and the long legal battle that is ahead of us. Denver Actors Fund is a blessing to this industry and we cannot fully express our gratitude. Thank you all so very much for the immediate generosity. I would trade every dollar to have my baby back, but the Denver Actors Fund has helped us try to live life after this horrific experience. Love, Peace and Gratitude, from the family of Syer Peace ♡"
(Note: At the Denver Actors Fund, anonymity of aid recipients is presumed and fully protected, unless and until the recipient chooses to have his or her story told.)
ABOUT THE DENVER ACTORS FUND:

Video above: The Denver Actors Fund receives the Colorado Theatre Guild's 2016 Community Impact Award.
The Denver Actors Fund is a modest source of immediate, situational relief when members of the local theater community find themselves in medical need. To date the Fund has allocated  $70,000 to artists facing medical need. In addition to financial relief, a team of more than 60 Denver Actors Fund volunteers offers good neighborly assistance including meal prep and delivery, child care, transportation, errands, construction, pet-sitting and more. For more information, visit our web site at DenverActorsFund.Org.
HOW YOU CAN HELP:
To DONATE the Denver Actors Fund:
Please CLICK HERE (with our humble thanks):
HOW TO APPLY FOR AID:
To apply for Denver Actors Fund aid: Fill out this brief online form here
MORE WAYS TO HELP:
DONATE BY MAIL:

Send checks made out to the Denver Actors Fund to:
P.O. Box 11182
Denver, CO 80212
ATTEND UPCOMING DENVER ACTORS FUND EVENTS:

STAGED READING: On the final night of the Obama presidency, come to the staged reading of John Moore's "Waiting for Obama," which was recently performed at the New York International Fringe Festival. It's about one Colorado Springs family that is convinced the President is coming for their guns. And in the world of this play, they just might be right. Thursday, Jan. 19. Social hour at 6 p.m. in The Edge Theatre Company bar, with drinks and snacks. The reading begins at 7. The plays runs 75 minutes. This event is free. Donations will be accepted at the door for the Denver Actors Fund. There are no advance ticket sales. Just join us at 1560 Teller St. in Lakewood. Direct any questions to culturewestjohn@gmail.com.
"DENVER ACTORS FUND PRESENTS …" MONTHLY FILM SERIES: The Alamo
Drafthouse Cinema in Littleton hosts a monthly film series in partnership with the Denver Actors Fund featuring films inspired by musicals and plays that are currently being performed by a Colorado theatre company. Next up on Sunday, Jan. 22, is the film Billy Elliot, featuring pre-screening entertainment by cast members from Vintage Theatre Company's upcoming stage production of Billy Elliot, the Musical. Join us for live musical performances, trivia, ticket giveaways … and the movie! CHOOSE YOUR SEATS NOW!
And coming up after that:
Feb. 16, 18 and 22: Special Fathom Events screening of Newsies, featuring Jeremy Jordan CHOOSE YOUR SEATS NOW
6:30 p.m. Monday, March 13: Jesus Christ Superstar, with entertainment from the Arvada Center CHOOSE  YOUR SEATS NOW
BUY A POSTER!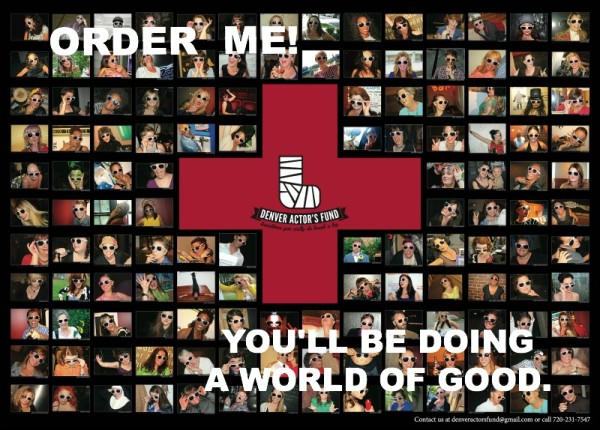 134 women (and a few token dudes) from the Colorado theater community, all supporting the Denver Actors Fund. They cost $20 per poster (20×28). To order, email your quantity to denveractorsfund@gmail.com. We'll take care of delivery and payment from there.
VISIT OUR ONLINE MERCH STORE:
Click here to see how you can buy DAF products such as T-shirts, key chains, puzzles and much more