Actor faced both oral surgery and nearly $3,000 in up-front costs
Aid recipient: Actor and Arvada native Jason Maxwell is a longtime favorite in the Denver theatre community. He is a company member with Boulder's The Catamounts, where this year he performed in the ensembles of "United Flight 232," "The Last Apple Tree" and "Everybody." For the past three holiday seasons, Jason has played Fred, Marley, Fezziwig, Martha AND Old Joe in Miners Alley Playhouse's seasonal staging of "A Christmas Carol" adapted by Josh Hartwell. Over the past four Decembers, Miners Alley Playhouse has donated all proceeds from one designated performance of "A Christmas Carol" to The Denver Actors Fund, generating an overall donation of $9,660 to date. Jason graduated from Faith Christian High School and the University of Colorado Denver. Favorite roles have included Jazzbo Heywood in Miners Alley Playhouse's production of "It's a Wonderful Life: A 1940s Radio Play"; and for The Catamounts, Public Crippen in "The Three Faces of Dr. Crippen" and John N. in "Failure: A Love Story."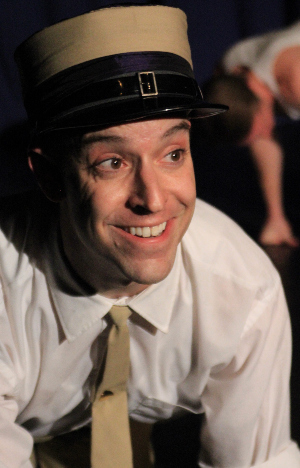 His medical story: Jason recently faced a severely painful dental crisis that required surgery to place a tooth implant in place of his upper left molar, which also required a sinus lift to complete. Ever the trouper, Jason suffered through the pain in order to complete this year's run of "A Christmas Carol" before having the procedure, which took place on December 27 – four days after closing. Complicating matters: Colorado Regional Oral Surgery required payment up front before the procedure could take place, and that worked out to $2,992 in advance and out-of-pocket. Most people don't have that kind of cash in reserve. But in true Jason Maxwell fashion, in making his application to The Denver Actors Fund for financial assistance, he volunteered to have the procedure done without general anesthetic, as that would have shaved about $600 off the bill.
How we helped: The Denver Actors Fund Board of Directors voted to pay for Jason's entire $2,992 procedure – up front, as required by the surgeon (and including general anesthesia!)
A message from Jason: "In the 10-plus years I've been acting professionally in the Denver metro area, I have been amazed at the communal sense of responsibility that Colorado theatrical artists hold for each other. It's awesome to behold when so many props/furniture/specialty set pieces/building ideas are shared by so many theatres, but what's even more special is the sharing of funds. The Denver Actors Fund is as special to Colorado as our majestic mountains, and for a theatrical artist in need it is nothing short of a godsend. Thanks to all who donate and for the volunteers who do what they do daily to keep The Denver Actors Fund alive and well. "
The Denver Actors Fund now has made more than $425,000 available to Colorado artists in medical need.
How you can help us help us help more Colorado theatre artists: If you would like to make a donation to The Denver Actors Fund, simply mail checks in any amount made out to Denver Actors Fund to P.O. Box 11182, Denver, CO 80212. Or use this donation link, with our humble thanks.
Read testimonials from other Denver Actors Fund beneficiaries here
Note: At The Denver Actors Fund, anonymity of aid recipients is presumed and fully protected, unless and until the recipient chooses to have their story told.
---
ABOUT THE DENVER ACTORS FUND:
The Denver Actors Fund is a modest source of immediate, situational relief when members of the local theater community find themselves in medical need. In addition to $425,000 in financial relief, a team of more than 60 Denver Actors Fund volunteers have offered good neighborly assistance to more than 100 beneficiaries including meal prep and delivery, child care, transportation, errands, construction, pet-sitting and more. For more information, visit our web site at DenverActorsFund.Org.
---
HOW TO APPLY FOR AID:
To apply for Denver Actors Fund aid: Fill out this brief online form here
GET FREE, INSTANT MEDICAL ADVICE: The Denver Actors Fund has launch of a major new FREE medical service for qualified Colorado theatre artists: We are partnering with Hippo Health to provide access to emergency medical evaluations via video conferencing with a Board-certified physician. Click to read more about this wonderful, innovative new partnership that will further improve the lives of artists!
---
MORE WAYS TO HELP:
DONATE ONLINE:
Go to our online giving site at: ColoradoGives.Org
DONATE BY MAIL:

Send checks made out to The Denver Actors Fund to:
P.O. Box 11182
Denver, CO 80211
VOLUNTEER:
Ever thought about taking a more active role in The Denver Actors Fund? Click here for more information
---
SHOP AT KING SOOPERS
Sign up for King Soopers' Community Rewards Program and raise money for The DAF just by shopping for your groceries – and it doesn't cost you an extra penny. It's like the Amazon Smile Program. To sign up, simply go here and designate The DAF as your preferred non-profit. Each quarter, King Soopers sends us a donation based on how much our supporters have spent. Thanks to all of you who are shopping for The DAF!
---
COME TO THE EVENTS THAT SUPPORT US:
SUNDAY, FEBRUARY 9: Save the Date: For the fifth straight year, The Denver Actors Fund will partner with the Alamo Drafthouse and the local ABC station KMGH-7 for a "Hollywood's Biggest Night" viewing party, with a percentage of the proceeds benefiting The DAF. Check back on the DAF Events page when advance tickets go on sale.
Check back in the new year for further updates!
---
VISIT OUR ONLINE MERCH STORE:
Click here to see how you can buy DAF products such as T-shirts, key chains, puzzles and much more.