'My dad was a hard-working, loving and vibrant man who will be missed every day.'
Qualifying artist: Mark Duran of Denver was the Stage Vice President of IATSE Local 7. He worked dozens of Denver Center shows at the Buell Theatre, including having had a large hand in Denver's pre-Broadway run of Disney's "Frozen." He also was the Head Carpenter for Colorado Ballet for many years and worked many Opera Colorado performances.
His story: Mark died in May at only age 42, leaving a wife and four children. "My dad was a hard-working, loving and vibrant man who will be missed every day by me, my mother and my three younger siblings," said his daughter, Faith.
How we have helped the family: The Denver Actors Fund's distribution policy allows for a gift of up to $1,000 be made directly to the next of kin of a qualified recipient for essential expenses. The Board of Directors has approved a $1,000 disbursement to Duran's wife, Jade Martinez.
How you can help us help the Duran family more: If you would like to direct a specific donation to help give the Duran family some additional breathing room during this difficult time, mail checks in any amount made out to The Denver Actors Fund (with Jade Martinez's name written in the topic field), to P.O. Box 11182, Denver, CO 80211. Or use this donation link. If you use the online option, be sure to designate that your donation is targeted for Jade Martinez. (She will receive 100 percent of your donation.) Otherwise, your donation will be applied to the replenishment of the Denver Actors Fund's general fund.
A message from friend Max Peterson: "Mark was the epitome of a Union brother. He worked tirelessly to make sure our members were able to safely make a good living."
The Denver Actors Fund has now made more than $378,000 available to Colorado artists in medical need.
Read testimonials from other Denver Actors Fund beneficiaries here
Note: At The Denver Actors Fund, anonymity of aid recipients is presumed and fully protected, unless and until the recipient chooses to have their story told.
---
ABOUT THE DENVER ACTORS FUND:
The Denver Actors Fund is a modest source of immediate, situational relief when members of the local theater community find themselves in medical need. In addition to $378,000 in financial relief, a team of more than 60 Denver Actors Fund volunteers have offered good neighborly assistance to more than 100 beneficiaries including meal prep and delivery, child care, transportation, errands, construction, pet-sitting and more. For more information, visit our web site at DenverActorsFund.Org.
---
HOW TO APPLY FOR AID:
To apply for Denver Actors Fund aid: Fill out this brief online form here
---
MORE WAYS TO HELP:
DONATE ONLINE:
Go to our online giving site at: ColoradoGives.Org
DONATE BY MAIL:

Send checks made out to The Denver Actors Fund to:
P.O. Box 11182
Denver, CO 80211
VOLUNTEER:
Ever thought about taking a more active role in The Denver Actors Fund? Click here for more information
COME TO OUR EVENTS:
Friends, we at The Denver Actors Fund believe in building community while building funds. Most of our events are performative in nature so that you have a good time while helping a good cause. Here are some of the events that are currently being planned on our behalf. Visit denveractorsfund.org anytime for an updated list.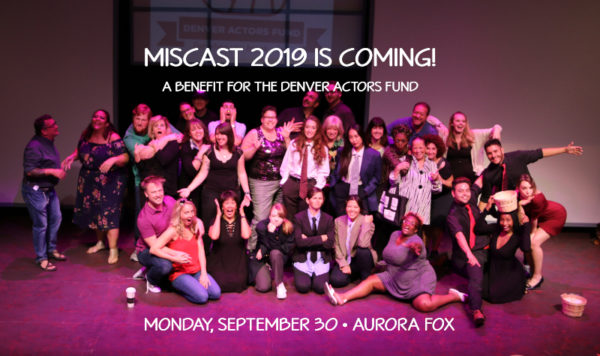 SUNDAY, SEPTEMBER 22: Jason Spillman and his family band "Gin & Tonix" are playing at the Clocktower Cabaret and donating 10 percent of total tickets sales to The Denver Actors Fund. Gin & Tonix, a group of talented musicians who have made music together for many years, features the harmonies of Morgan Griego, Kacie Thomas, Trinity Thomas and Eileen Adair, backed by Madi Spillman on guitar, Ian Spillman on drums and vocals, and Jason Spillman on bass and vocals. Gin & Tonix will be performing songs by Pentatonix, The Indigo Girls, The Eagles, The Avett Brothers and more. This is expected to be a sold-out show so reserve your seat now. Tickets are $20. Show starts at 7 p.m. at 16th and Arapahoe streets on the 16th Street Mall.
MONDAY, SEPTEMBER 30: "Miscast," which is presented each year by Robert Michael Sanders as a benefit for The Denver Actors Fund, is an opportunity for local performers to sing songs and act out scenes they would never … ever! … get cast to perform on any legit stage. Think gender-bending, race-bending and age-bending. Odd couples and mixed groups. Wrong is oh so right. "Miscast" has evolved over the years into one of the biggest nights of the year in the Colorado theatre community – and it is a really good show. "Miscast 2019" will be held Sept. 30 at a new location: The Aurora Fox Arts Center. Tickets are on sale here.
VISIT OUR ONLINE MERCH STORE:
Click here to see how you can buy DAF products such as T-shirts, key chains, puzzles and much more.