Financial-aid recipient: Robert Larson is a graduate of Cherry Creek High School and serves as the music director of Hope United Methodist Church. As an actor, he most recently appeared in "Sweeney Todd: The Demon Barber of Fleet Street" at the PACE Center in Parker. He is also a singer with the Original Dickens Carolers, who spread cheer during the holiday season through song. "Robert is a warm, loving and devoted friend," says Becca Fletcher.
His medical story: In the early morning hours of May 18, Robert went to the emergency room with shortness of breath. Shortly thereafter, he lost consciousness. He was suffering from pneumonia, sepsis of the blood and a collapsed lung. He was unconscious for the next four days. "No one was sure if I would make it, and my family flew in from out of town in case I died," he said. Robert spent a total of seven days in the ICU. To date, his out-of-pocket expenses have come to more than $6,000.

How we will help: The Denver Actors Fund has made $3,000 available to help Robert Larson defray his medical expenses.
How you can help us help Robert Larson more: If you would like to target a specific donation to Robert Larson to help raise the remaining $3,000 (minimum) he needs, simply mail checks in any amount made out to Denver Actors Fund (with Robert Larson's name written in the topic field), to P.O. Box 11182, Denver, CO 80212. Or use this donation link. If you use the online option, be sure to designate that your donation is a targeted donation to Robert Larson. Otherwise, your donation will be applied to the replenishment of the DAF's general fund.
A message from Robert Larson: "I am so thankful for your existence, and your willingness to help the Denver theatre community members through the toughest times in their lives. I don't know how to thank you enough, but I would love to help pay it forward though volunteering." HOW TO VOLUNTEER
(Note: At the Denver Actors Fund, anonymity of aid recipients is presumed and fully protected, unless and until the recipient chooses to have his or her story told.)
ABOUT THE DENVER ACTORS FUND:
The Denver Actors Fund is a modest source of immediate, situational relief when members of the local theater community find themselves in medical need. To date the Fund has allocated more than $50,000 to artists facing medical need. In addition to financial relief, a team of more than 60 Denver Actors Fund volunteers offers good neighborly assistance including meal prep and delivery, child care, transportation, errands, construction, pet-sitting and more. For more information, visit our web site at DenverActorsFund.Org.
HOW YOU CAN HELP:
To DONATE the Denver Actors Fund:
Please CLICK HERE (with our humble thanks):
HOW TO APPLY FOR AID:
To apply for Denver Actors Fund aid: Fill out this brief online form here
MORE WAYS TO HELP:
DONATE BY MAIL:

Send checks made out to the Denver Actors Fund to:
P.O. Box 11182
Denver, CO 80212
ATTEND UPCOMING DENVER ACTORS FUND EVENTS:
COMING MONDAY, SEPT. 26: "Miscast 2016," the Denver Actors Fund's major annual fundraiser, takes place at Town Hall Arts Center. Come for the fun as actors from all over the metro area and Front Range perform in roles they would never – ever – normally cast to perform. READ MORE BUY TICKETS
"DENVER ACTORS FUND PRESENTS …" MONTHLY FILM SERIES: The Alamo Drafthouse Cinema in Littleton hosts a monthly film series in partnership with the Denver Actors Fund featuring films inspired by musicals that are currently being performed by a Colorado theatre company. Next up on Monday, Oct. 12, is "Night of the Living Dead," featuring pre-screening entertainment by cast members from Equinox Theatre Company's upcoming stage production. Tickets available here.
BUY A POSTER!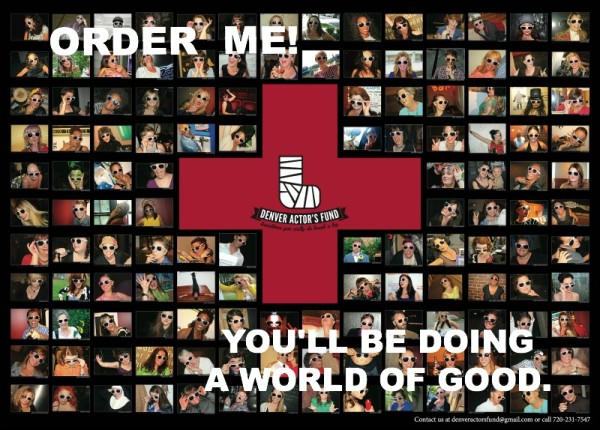 134 women (and a few token dudes) from the Colorado theater community, all supporting the Denver Actors Fund. They cost $20 per poster (20×28). To order, email your quantity to denveractorsfund@gmail.com. We'll take care of delivery and payment from there.
VISIT OUR ONLINE MERCH STORE:
Click here to see how you can buy DAF products such as T-shirts, key chains, puzzles and much more