Actor, teacher and mother's long and defiant battle galvanized the Colorado theatre community
Note: At the Denver Actors Fund, anonymity of aid recipients is presumed and fully protected, unless and until the recipient chooses to have his or her story told.

Financial-aid recipient: Shelly Bordas was a Denver actor and teacher who appeared in dozens of plays all around Colorado, including memorable turns in Theatre Group's "Cell Block Sirens of 1953," "Bat Boy, the Musical" and "Debbie Does Dallas." She also performed at the Arvada Center, the Avenue Theater, Backstage Theatre in Breckenridge and many others. Shelly wrote, taught and directed youth theater for more than 16 years. She founded her own school, Acting Up, giving teenagers professional acting instruction. Many of her students have gone on to work in New York. She taught kids at the Town Hall Arts Center in Littleton for 10 years. She also was an instructor for Denver Public Schools, Gunnison High School, Stage Eleven and the Cherry Creek School District. She was named the 2013 CultureWest Theatre Person of the Year for the courage and inspiration she demonstrated in her attempt to come back from her cancer battle to appear in Town Hall's "9 to 5: The Musical."
Her medical story: Shelly was diagnosed with an aggressive form of breast cancer in November 2009, while she was pregnant with her son, Nathan. After five years of chemo, radiation and dozens of surgeries, Shelly entered the home hospice stage of her disease. She and her family decided that she would undergo no more radiation or chemotherapy. Shelly's needs at that point became both financial and practical. Doctors wanted Shelly to have a 24-hour in-home companion. Her were running about $5,000 a month, including ElderLink Home Care service, which cost about $200 a day. For two months, "Team Shelley" – led by Chris Whyde, Steve Burge, Steve Tangedal, Barbara Bordas (Shelly's mom) and other friends, family and an army of Denver Actors Fund volunteers – took on 12-hour shifts, each of which saved money the family did not have to pay for the ElderLink service. Still, Shelly and her family were rapidly running out of money to pay for her continued in-home care.
How we helped: The Denver Actors Fund board of directors initially approved the largest gift in its history to that point – $2,000 – to extend Shelly's ElderLink service a little longer, in addition to rallying Action Team volunteers to help Team Shelly in a variety other ways, including organizing play dates or sleepovers with her 5-year-old son, Nathan. There's no way to know exactly how much our services saved the family but in the end, The DAF provided $4,165 in financial support to Shelly and her family through her ordeal.
How you helped: Shelly felt more safe when there was someone with her at night. So we expanded the circle of friends and family who took on 12-hour shifts  (daytime or overnight) sitting with Shelly. Every every shift Team Shelly takes on saved the family about $100. Both friends and strangers joined in, either as Individuals or in tandems. This was not medical care. It was offering companionship and help with the wheelchair, water, light errands, etc. Our accompanists were essentially a security blanket.
A message from Barbara Bordas: "I can't put into words what this help means to me. It gives me a sense of relief and calmess knowing Shelly has friends who are willing to help her during this time."
Update: Shelly Bordas died on January 4, 2015, just a few days after she was moved into a hospice care. To read her remarkable life story, click here.

To help us honor Shelly: If you would like to direct a donation in Shelly's memory, mail checks to Denver Actors Fund, P.O. Box 11182, Denver, CO 80211. Or use this donation link.
Read more Denver Actors Fund testimonials by clicking here
ABOUT THE DENVER ACTORS FUND:
The Denver Actors Fund is a modest source of immediate, situational relief when members of the local theater community find themselves in medical need. In addition to financial relief, a team of more than 60 Denver Actors Fund volunteers offers good neighborly assistance including meal prep and delivery, child care, transportation, errands, construction, pet-sitting and more. For more information, visit our web site at www.DenverActorsFund.Org
APPLY FOR AID:
To apply for Denver Actors Fund aid: Fill out this brief online form here
MORE WAYS TO HELP:
DONATE BY MAIL:

Send checks made out to the Denver Actors Fund to:
P.O. Box 11182
Denver, CO 80211
BUY A POSTER!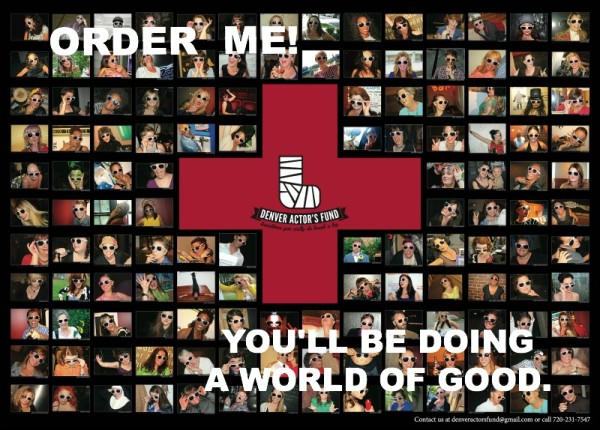 134 women (and a few token dudes) from the Colorado theater community, all supporting the Denver Actors Fund. They cost $20 per poster (20×28). To order, email your quantity to denveractorsfund@gmail.com. We'll take care of delivery and payment from there.
VISIT OUR ONLINE MERCH STORE:
Click here to see how you can buy DAF products such as T-shirts, key chains, puzzles and much more
Video: See highlights from "Misacast 2014," a September fundraiser held on behalf of the Denver Actors Fund: