'No matter what we did, we could not stop the bills from piling up into the thousands'
Aid recipient: Tara Falk is an acclaimed local actor who recently appeared in the DCPA Theatre Company's "Sweat." Previous local roles have included Curious Theatre Company's "Hand to God" and "Time Stands Still"; as well as Senior Housing Options' "On Golden Pond" at the Barth Hotel. Her Broadway credits include Mary Zimmerman's "Metamorphoses." She is married to DCPA Education Head of Acting Tim McCracken.
Her medical story: Tara was diagnosed last fall with an aggressive form of skin cancer on her face. Just one day after surgery removed the deep tumor and a large part of her nose, she had reconstructive surgery. Her medical odyssey, which has also come with severe autoimmune issues, has continued with the discovery of more tumors requiring additional surgery.
How we have helped: Even though Tara and her husband have health insurance, they have accrued five-figure out-of-pocket medical bills. But despite that enormous and ongoing financial burden, Tara has, to date, only asked The Denver Actors Fund for help paying off one specific bill of $1,938.50 owed to CU Medicine. In May, The Denver Actors Fund Board of Directors voted unanimously to pay that full amount, while leaving her case open to consider other bills that come up in the future. With targeted donations from the community, The Denver Actors Fund's total support for Tara Falk to date is $2,338.50.
Why are you hearing about this now? At The Denver Actors Fund, anonymity of aid recipients is assumed and fully protected unless and until the recipient chooses to have their story told. In May, Tara and Tim chose anonymity. This week, Tara reconnected with The Denver Actors Fund to say: "We have decided to go public with our story to let people know that even when a couple has one person in a full-time position with health benefits and the other is a working spouse, we still needed help."
A message from Tara:
"Shame and fear of what others might think are powerful emotions that can stop you from seeking help when you need it most. Three years ago, I started on a mysterious medical journey. Tons of blood tests and treatments. Thousands of dollars later, still no diagnosis. My husband and I worked and used any cash from extra jobs to begin paying down the debt. With the miles amassed because of the medical debt, we decided to cash them in for three cheap tickets for a European vacation with our son so we all could rest from our hectic schedule and heal a bit from still not knowing. Last October, a few months after we cashed in the miles (but before the scheduled trip), I was diagnosed with infiltrative basal cell carcinoma. It was not life-threatening, but a serious procedure that left a massive disfiguration on my nose, causing me to need reconstructive surgery using cartilage from my ear. The bills were astronomical, and on top of having a large monthly health-insurance premium, we found ourselves back in debt again and staring at three more future procedures. Should we not go on the trip? Even though it was free and paid for with miles? Who do we think we are?
"Then some beautiful soul at The Denver Actors Fund told us: 'Why do artists think piling up medical bills on credit cards is OK? Why do they think they don't deserve a vacation? Why disappoint your young son? Take some help!' My husband and I both work hard and possess a massive 'we can do it' attitude. But after much soul-searching, we realized that no matter what we did, we could not stop the bills from piling up into the thousands. After months of debating, we submitted one bill for $1,939 to The Denver Actors Fund, which they instantly paid. That took a giant weight off our shoulders and allowed us to catch up a bit on our other bills. More than anything, it meant we could just take a breath.
"The day after we arrived home from our trip, I had the second surgery on my cheek, which left another very large disfiguration. This procedure somehow ended up costing us $4,000 more than the much-more involved surgery I'd had the year before. If we hadn't already reached out to The Denver Actors Fund, swallowed some pride and ignored whatever mumblings might unfold from asking for this help, that extra nearly $2,000 debt would have been gaining in interest and holding us back from chipping away at the bills that still lie ahead.
"For years we had made small donations to The Denver Actors Fund. We have watched it allow people to breathe, heal and move forward with their lives instead of being saddled with stress, fear and debt. We never thought we would be recipients of their incredible generosity and we never knew the impact it would have on us. We are forever thankful – and there is definitely no shame in that."
How you can help us help replenish: If you would like to make a donation to help The Denver Actors Fund replenish, simply mail checks in any amount made out to The Denver Actors Fund to P.O. Box 11182, Denver, CO 80211. Or use this donation link. Or, just attend "Miscast 2019" on September 30 at The Aurora Fox. "Miscast" is the major annual fundraiser for The Denver Actors Fund. Tickets here. (More details below.)
How you can help us help Tara more: While Tara has not requested any additional financial assistance at this time, any targeted donations from the public will be passed on to them in full. If you would like to direct a specific donation to the family, write Tara's name on the topic field of any check or, if using the online option above, be sure to designate that your donation is a targeted donation for Tara in the space provided.
Read more about Tara Falk's story here
The Denver Actors Fund has now made more than $392,000 available to Colorado artists in medical need.
Read testimonials from other Denver Actors Fund beneficiaries here
Note: At The Denver Actors Fund, anonymity of aid recipients is presumed and fully protected, unless and until the recipient chooses to have their story told.
---
ABOUT THE DENVER ACTORS FUND:
The Denver Actors Fund is a modest source of immediate, situational relief when members of the local theater community find themselves in medical need. In addition to $392,000 in financial relief, a team of more than 60 Denver Actors Fund volunteers have offered good neighborly assistance to more than 100 beneficiaries including meal prep and delivery, child care, transportation, errands, construction, pet-sitting and more. For more information, visit our web site at DenverActorsFund.Org.
---
HOW TO APPLY FOR AID:
To apply for Denver Actors Fund aid: Fill out this brief online form here
---
MORE WAYS TO HELP:
DONATE ONLINE:
Go to our online giving site at: ColoradoGives.Org
DONATE BY MAIL:

Send checks made out to The Denver Actors Fund to:
P.O. Box 11182
Denver, CO 80211
VOLUNTEER:
Ever thought about taking a more active role in The Denver Actors Fund? Click here for more information
COME TO OUR EVENTS:
Friends, we at The Denver Actors Fund believe in building community while building funds. Most of our events are performative in nature so that you have a good time while helping a good cause. Here are some of the events that are currently being planned on our behalf. Visit denveractorsfund.org anytime for an updated list.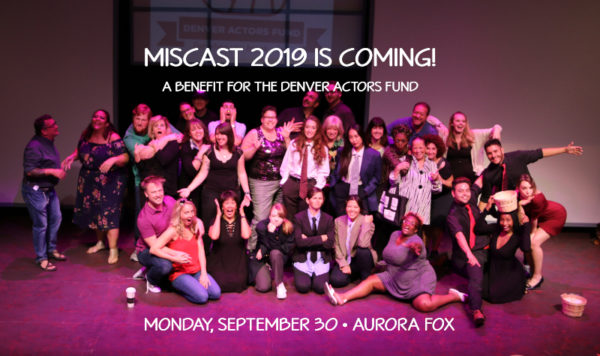 MONDAY, SEPTEMBER 30: "Miscast," which is presented each year by Robert Michael Sanders as a benefit for The Denver Actors Fund, is an opportunity for local performers to sing songs and act out scenes they would never … ever! … get cast to perform on any legit stage. Think gender-bending, race-bending and age-bending. Odd couples and mixed groups. Wrong is oh so right. "Miscast" has evolved over the years into one of the biggest nights of the year in the Colorado theatre community – and it is a really good show. "Miscast 2019" will be held Sept. 30 at a new location: The Aurora Fox Arts Center. Tickets are on sale here.
VISIT OUR ONLINE MERCH STORE:
Click here to see how you can buy DAF products such as T-shirts, key chains, puzzles and much more.