By John Moore
When: Sept. 1-Oct. 13 at  Curious Theatre in Denver (previews Aug. 30-31); Oct. 19-Nov. 11 at TheatreWorks in Colorado Springs
Written by: Kristoffer Diaz
The story: This rare intersection of sports and theater centers on a  frustrated Puerto Rican professional wrestler. It seems his lot in life is being the guy who loses to cocky megastar Chad Deity. But when he and his Indian-American partner reinvent their wrestling personas as Muslim fundamentalist enemies to America, his career suddenly becomes very interesting indeed. Diaz creates a unique theatrical experience (including live wrestling!) that forces one to question the disturbingly persuasive power of ethnic stereotypes in our popular culture. This is a high-decibel, audience-interactive theatrical event, with explicit language, sweet staged violence, thrashing music and all-around awesomeness. You have been warned.
Why it made the list:  This regional premiere marks the first co-production between Curious Theatre Company in Denver and TheatreWorks in Colorado Springs, both of which will be among the first companies in the country to present this groundbreaking play. "This collaboration has allowed our two theater companies to combine forces and produce a play that may have been beyond the scope of either company independently," said TheatreWorks artistic director Murray Ross. "Plus, it's a lot of fun to share ideas with our colleagues in Denver and work with them to make something really exciting."
Cast list:
Director: Chip Walton
Chad Deity: Patrick Byas
Patrick Byas: Chad Deity
William Hahn: EKO
Akshay Kapoor: VP
Michael Lopez: Mace
Bruce Rogers: The Bad Guy
Plus three real-life, local wrestlers: Ronin, Brian Keith Nelson and Brandon Morris.
Where: In Denver: 1080 Acoma St.
In Colorado Springs: Dusty Loo Bon Vivant Theater, 3955 Regent Circle, corner of Union and Austin Bluffs Parkway on the University of Colorado-Colorado Springs campus
Performance times: In Denver: 8 p.m. Thursdays-Saturdays; 2 p.m. Sundays in Denver
In Colorado Springs: 7:30 p.m. Wednesdays-Fridays; 2 p.m. and 7:30 p.m. Saturdays;  4 p.m. Sundays
Tickets: In Denver: $25-$44
In Colorado Springs: $35 reserved; Children under 16 $15; UC-CS Students free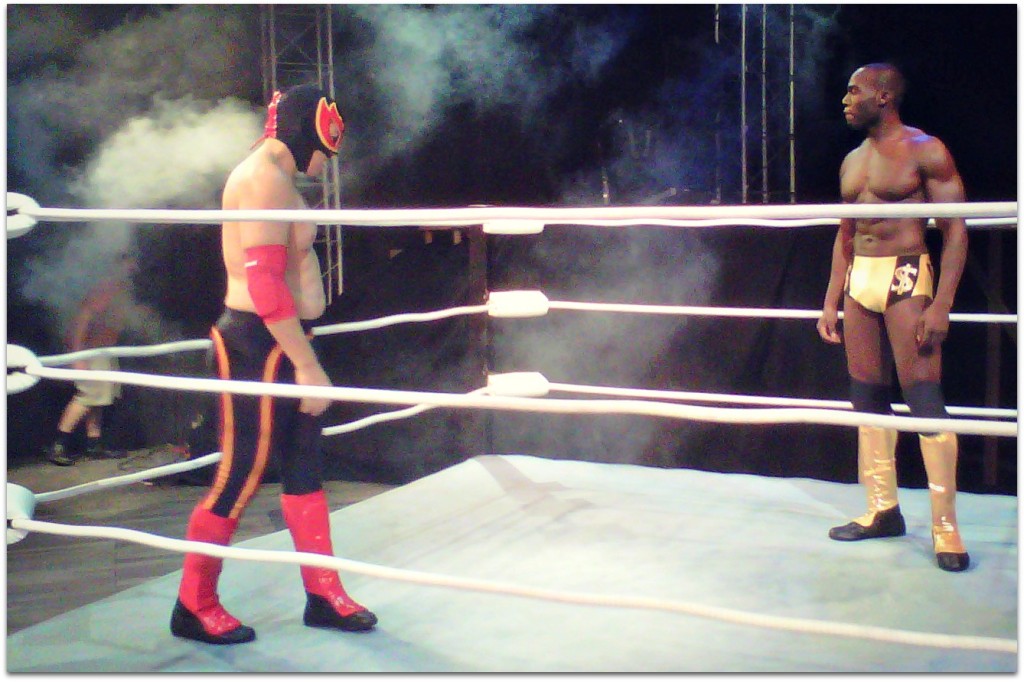 The Fall 2012 theater preview countdown:
No. 1: Curious Theatre's "The Elaborate Entrance of Chad Deity"
No. 2: Ben Dicke Presents' "Bloody Bloody Andrew Jackson"
No. 3: Abster Productions' "August: Osage County"
No. 4: Midtown Arts Center's "In the Heights"
No. 5: Denver Center Theatre Company's "The Giver"
No. 6: Local Theater Company's "Elijah: An Adventure"
No. 7: Vintage Theatre's "The Cider House Rules"
No. 8: Miners Alley Playhouse's "The Three Penny Opera"
No. 9: Colorado Springs Fine Arts Center's "Make Sure It's Me"
No 10: Creede Rep's "Is He Dead?" at the Arvada Center
No. 11: Theatre Or's "The Value of Names"
Among the many other shows to watch:
Sept. 1-16, 2012: Ami Dayan Presents "A Happy End," at Buntport Theater Read my interview with playwright Iddo Netanyahu
Sept. 4-16, 2012: National touring production of "La Cage Aux Folles," at the Buell Theatre
Sept. 7-Nov. 3, 2012: Boulder's Dinner Theatre's "Avenue Q"
Sept. 7-22, 2012: Germinal Stage-Denver's "A Kind of Alaska"
Sept. 7-Oct. 6, 2012: Spark Theater's "Rebecca" (note new address: 985 Santa Fe Drive)
Sept. 11-30, 2012: Arvada Center's "Dirty Rotten Scoundrels" (and Oct. 4-14 at the Lone Tree Arts Center)
Sept. 13-16, 2012: PACE Center's "Scarlet Letter, The Musical" (Parker)
Sept. 14-Oct. 14, 2012: Town Hall Arts Center's "Sweet Charity" (Littleton)
Sept. 14-Nov. 10, 2012: The Avenue's "Murder Most Fowl"
Sept. 14-Oct. 14, 2012: Ashton Entertainment's "Picasso at the Lapin Agile," at the Aurora Fox
Sept. 15-Oct. 14, 2012: Bas Bleu's "The Love of the Nightingale" (Fort Collins)
Sept. 20-Oct. 14, 2012: Denver Center Theatre Company's "Fences" (Space Theatre
Sept. 21-Oct. 21, 2012: The Edge's "Boom" (Lakewood)
Sept. 27-Oct 21, 2012: Denver Center Theatre Company's "The Three Musketeers" (Stage Theatre)
Oct. 2-24, 2012: And Toto Too's "Pardon My Dust" (at Laundry on Lawrence)
Complete Denver Post theater listings:
Capsules of all currently running productions