By John Moore
When: Oct. 2-28 (previews Sept. 28-30)
Written by: Mark Twain, adapted by David Ives
The story: In this newly discovered Mark Twain comedy (and recent Broadway hit), the original master of American humor dishes out a sly critique of the art world with acerbic wit and social commentary well ahead of his time. Cleverly adapted for modern audiences by David Ives, "Is He Dead?" is a fast-paced farce about a struggling artist who stages his own death to drive up the price of his paintings. As the riotous scheme unfolds, Twain poses daring questions about fame, greed and the value of art, and pokes his signature, mischievous fun at everyone involved.
Why it made the list:  A "new" play from Mark Twain? Bring it. Plus, it's another chance for Denver audiences to see old favorites like John Arp and Steven Cole Hughes, with other actors who help make the Creede Rep, located 250 miles southwest of Denver, one of the state's best theater companies. This is Creede's third straight fall to bring one of its summer productions to the metro area. It's a fine tradition. And if you just can't wait till October, you can still see it performed in Creede through Sept. 20 (719-658-2540 or 1-866-658-2540).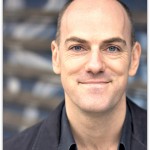 Director: Michael Perlman
Agamemnon Buckner ("Chicago"): Tosin Morohunfola
Hans Von Bismark ("Dutchy"): Patrick Du Laney
Marie Leroux: Caitlin Wise
Cecile Leroux: Adrian Egolf
Papa Leroux: John S. Green
Jean-Francois Millet: Steven Cole Hughes
Bastien Andre: John Arp
Madame Bathilde: Annie Butler
Madame Caron: Christy Brandt
Phelim O'Shaughnessy: Chad Afanador
Basil Thorpe/Claude Riviere/Charlie/King: Graham Ward
Where: Arvada Center studio theater, 6901 Wadsworth Blvd.
Performance times: 7:30 p.m. Tuesdays through Sundays, also 1 p.m. Wednesdays and 2 p.m. Saturdays (no Saturday matinee on Sept. 29)
Prices: $42-48
Contact: 720-898-7200 or the arvada center's home page
The Fall 2012 theater preview countdown:
No. 1: Curious Theatre's "The Elaborate Entrance of Chad Deity"
No. 2: Ben Dicke Presents' "Bloody Bloody Andrew Jackson"
No. 3: Abster Productions' "August: Osage County"
No. 4: Midtown Arts Center's "In the Heights"
No. 5: Denver Center Theatre Company's "The Giver"
No. 6: Local Theater Company's "Elijah: An Adventure"
No. 7: Vintage Theatre's "The Cider House Rules"
No. 8: Miners Alley Playhouse's "The Three Penny Opera"
No. 9: Colorado Springs Fine Arts Center's "Make Sure It's Me"
No 10: Creede Rep's "Is He Dead?" at the Arvada Center
No. 11: Theatre Or's "The Value of Names"
Among the many other shows to watch:
Sept. 1-16, 2012: Ami Dayan Presents "A Happy End," at Buntport Theater Read my interview with playwright Iddo Netanyahu
Sept. 4-16, 2012: National touring production of "La Cage Aux Folles," at the Buell Theatre
Sept. 7-Nov. 3, 2012: Boulder's Dinner Theatre's "Avenue Q"
Sept. 7-22, 2012: Germinal Stage-Denver's "A Kind of Alaska"
Sept. 7-Oct. 6, 2012: Spark Theater's "Rebecca" (note new address: 985 Santa Fe Drive)
Sept. 11-30, 2012: Arvada Center's "Dirty Rotten Scoundrels" (and Oct. 4-14 at the Lone Tree Arts Center)
Sept. 13-16, 2012: PACE Center's "Scarlet Letter, The Musical" (Parker)
Sept. 14-Oct. 14, 2012: Town Hall Arts Center's "Sweet Charity" (Littleton)
Sept. 14-Nov. 10, 2012: The Avenue's "Murder Most Fowl"
Sept. 14-Oct. 14, 2012: Ashton Entertainment's "Picasso at the Lapin Agile," at the Aurora Fox
Sept. 15-Oct. 14, 2012: Bas Bleu's "The Love of the Nightingale" (Fort Collins)
Sept. 20-Oct. 14, 2012: Denver Center Theatre Company's "Fences" (Space Theatre
Sept. 21-Oct. 21, 2012: The Edge's "Boom" (Lakewood)
Sept. 27-Oct 21, 2012: Denver Center Theatre Company's "The Three Musketeers" (Stage Theatre)
Oct. 2-24, 2012: And Toto Too's "Pardon My Dust" (at Laundry on Lawrence)
Complete Denver Post theater listings:
Capsules of all currently running productions