By John Moore
When: Oct. 4-Nov. 18 (opens in previews Sept. 28)
Written by:  Lois Lowry, adapted by Eric Coble
The story:  Lowry's beloved and oft-challenged dystopian children's novel comes to the stage in a new version by Coble, whose "Bright Ideas" and "The Dead Guy" have been staged at Curious Theatre.  The story follows a boy named Jonas through the 12th year of his life. The society has eliminated pain and strife by converting to "Sameness," a plan that has also eradicated emotional depth from their lives. Jonas is selected to inherit the position of "Receiver of Memory," the person who stores all the past memories of the time before Sameness, in case they are ever needed to aid in decisions that others lack the experience to make. When Jonas meets the previous receiver — The "Giver" — he discovers the power of knowledge. The people in his community are happy because they do not know of a better life, but the knowledge of what they are missing out on could create major chaos. He faces a dilemma: Should he stay with the community, his family living a shallow life without love, color, choices, and knowledge  — or should he run away to where he can live a full life?
Why it made the list:  Though the novel sold 5.3 million copies and is read by many middle schools,  it also made the American Library Association's  list of the most-challenged books of the 1990s. I'm excited by this being the first Denver Center Theatre Company production to be made up of an all-local cast since I don't know when. Billie McBride, Diana Dresser and Timothy McCracken are among those joining DCTC veteran Philip Pleasants in the title role. Young Alistair Hennessy starred in the Colorado Shakespeare Festival's 2011 "The Little Prince."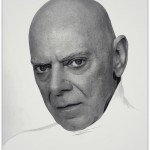 Director: Christy Montour-Larson
The cast:
Father Timothy McCracken
Mother Diana Dresser
Lily: Aliza Fassett and Amelia Modesitt
Jonas: Jackson Garske and Alistair Hennessy
Asher: Gabe Koskinen-Sansone and Evan Sullivan
Fiona: Brynn Gauthier and Isabel Sabbah
Chief Elder: Billie McBride
The Giver: Philip Pleasants
Where: Ricketson Theatre, Denver Performing Arts Complex, 14th and Curtis streets
Performance times: 6:30 p.m. Tuesdays through Thursdays; 7:30 p.m. Fridays; 1:30 and 7:30 p.m. Saturdays; 1:30 p.m. Sundays.
Tickets:  $37-$47 (previews $27-$37)
Contact: 303-893-4100 or the denver center's home page
The Fall 2012 theater preview countdown:
No. 1: Curious Theatre's "The Elaborate Entrance of Chad Deity"
No. 2: Ben Dicke Presents' "Bloody Bloody Andrew Jackson"
No. 3: Abster Productions' "August: Osage County"
No. 4: Midtown Arts Center's "In the Heights"
No. 5: Denver Center Theatre Company's "The Giver"
No. 6: Local Theater Company's "Elijah: An Adventure"
No. 7: Vintage Theatre's "The Cider House Rules"
No. 8: Miners Alley Playhouse's "The Three Penny Opera"
No. 9: Colorado Springs Fine Arts Center's "Make Sure It's Me"
No 10: Creede Rep's "Is He Dead?" at the Arvada Center
No. 11: Theatre Or's "The Value of Names"
Among the many other shows to watch:
Sept. 1-16, 2012: Ami Dayan Presents "A Happy End," at Buntport Theater Read my interview with playwright Iddo Netanyahu
Sept. 4-16, 2012: National touring production of "La Cage Aux Folles," at the Buell Theatre
Sept. 7-Nov. 3, 2012: Boulder's Dinner Theatre's "Avenue Q"
Sept. 7-22, 2012: Germinal Stage-Denver's "A Kind of Alaska"
Sept. 7-Oct. 6, 2012: Spark Theater's "Rebecca" (note new address: 985 Santa Fe Drive)
Sept. 11-30, 2012: Arvada Center's "Dirty Rotten Scoundrels" (and Oct. 4-14 at the Lone Tree Arts Center)
Sept. 13-16, 2012: PACE Center's "Scarlet Letter, The Musical" (Parker)
Sept. 14-Oct. 14, 2012: Town Hall Arts Center's "Sweet Charity" (Littleton)
Sept. 14-Nov. 10, 2012: The Avenue's "Murder Most Fowl"
Sept. 14-Oct. 14, 2012: Ashton Entertainment's "Picasso at the Lapin Agile," at the Aurora Fox
Sept. 15-Oct. 14, 2012: Bas Bleu's "The Love of the Nightingale" (Fort Collins)
Sept. 20-Oct. 14, 2012: Denver Center Theatre Company's "Fences" (Space Theatre
Sept. 21-Oct. 21, 2012: The Edge's "Boom" (Lakewood)
Sept. 27-Oct 21, 2012: Denver Center Theatre Company's "The Three Musketeers" (Stage Theatre)
Oct. 2-24, 2012: And Toto Too's "Pardon My Dust" (at Laundry on Lawrence)
Complete Denver Post theater listings:
Capsules of all currently running productions