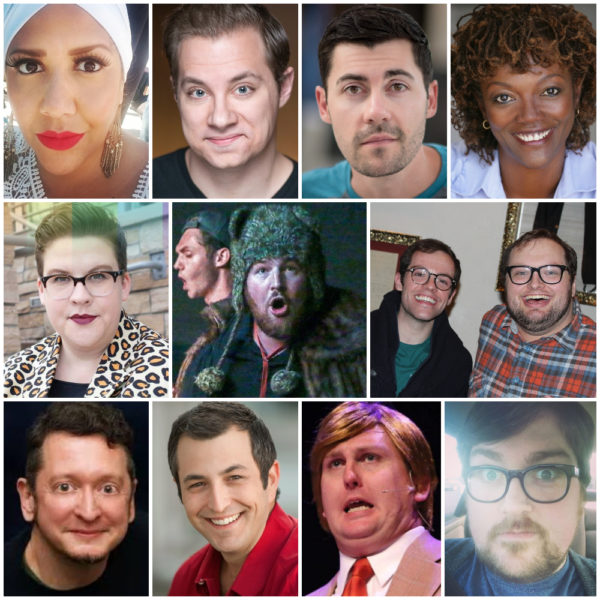 Some of the local theatre community's top performers will gather at the Mizel to support The Denver Actors Fund
Miscast 2018, the fifth annual fundraiser for The Denver Actors Fund, returns Monday, Sept. 17, at a new home: The Mizel Arts and Cultural Center. Miscast is an opportunity for some of the local theatre community's top performers to sing songs and act out scenes they would never … ever … get cast to perform on a legitimate stage. The program includes audience-participation games and general silliness. It's one of the best nights of the year in Colorado theatre, and tickets are now on sale.
The initial performer lineup (listed below) was announced today by Producer and Director Robert Michael Sanders, and it includes Broadway veteran Candy Brown, powerhouse vocalist Anna Maria High (Aurora Fox's Hi-Hat Hattie), newly minted Henry Award-winning best actor Jake Mendes (Aurora Fox's Hedwig and the Angry Inch) and Denver Actors Fund co-founder Christopher K. Boeckx. It was previously announced that Shannan Steele and Steven J. Burge will host this year's party. Steele will star as Donna in the Arvada Center's upcoming production of Mamma Mia, opening Sept. 7. Burge just performed in the Denver Center's extended relationship musical First Date at the Galleria Theatre and will next appear in Benchmark Theatre's world-premiere play What You Will, opening Nov. 30.
Last year's Miscast raised $7,000 for the Denver Actors Fund, which provides financial and practical relief for members of the Colorado theatre community facing situational medical need. In just five years, this grassroots nonprofit has distributed more than $260,000 in direct aid to help local artists with medical expenses, along with neighborly assistance from a group of 60 volunteers. Read some of their stories here.
Actors from throughout the Front Range submitted  their "Miscast concepts" for judges to consider, and once again Sanders, who produces and presents Miscast each year as his own in-kind donation to The Denver Actors Fund, received more submissions than he had performance slots. "This year's turnout was completely overwhelming," said Sanders. All applications were considered by a special selection committee based on variety and cleverness, among other factors. A premium, Sanders said, was placed on submissions that extended beyond simple race- or gender-swapping.
"We made the choices we think best suit this year's show," said Sanders, who called the resulting list "the best cross-section of talent from many different theaters, types and styles of performances."
Sanders has announced the following lineup of actors who will perform at this year's Miscast. But he's holding back on announcing a couple of featured performers, as well as the songs his lineup will be performing, as a surprise for audiences who attend on Sept. 17. The following performer current list (in alphabetical order) is subject to change:
Avery Anderson
Christopher K. Boeckx
Candy Brown
LuAnn Buckstein
Anna Maria High
Kris Graves
T.J. Hogle
Chas Lederer
Jake Mendes
David Nehls
Suzanne Nepi
Mark Pergola
Arlene Rapal
Max Peterson
Elliot Peterson
K. Woodzick
Lisa Young
Plus a few unannounced surprise appearances.
Creative team:
Director: Robert Michael Sanders
Musical Director: Donna Debreceni
Stage Manager: Jordan Brockman
Assistant to the Director: Jessica Swanson

Assistant Stage Manager: Ashley Duke

House Sound: Tom Quinn

Backstage: Meagan Holdeman

Alexis Bond: Lighting

Bucket Brigade: Sue Leiser

Ushers: Jose David Reynosa
This year's event will include several special performance twists, such as a series of games a la Jimmy Fallon and other late night TV hosts. Many area merchants and theatre companies are contributing more than $1,000 in prizes for the event.
Video: Three actors battling cancer helped The Denver Actors Fund raise almost $7,000 with help from dozens of other local theatre artists.
Miscast 2018: Ticket information
Learn more about DAF at www.denveractorsfund.org. Follow DAF at Denver Actors Fund on Facebook or on Twitter at @DenverActorsFun
Special thanks: Dan Rib, Steve Wilson and the Mizel Arts and Culture Center.
(Note: "Miscast" is a registered trademark of MCC Theater and is used with permission.)
Photo gallery from Miscast 2017: 

Photos from 'Miscast 2017,' which raised more than $7,000 for the Denver Actors Fund. To see more, hover your cursor over the image above and press the forward arrow. Photos by John Moore for the DCPA NewsCenter.