By John Moore
Feb. 11, 2013
The sign as you enter the Dangerous Theatre, above, means it: "Seriously! Lots of nudity. Not a quick peek. Full frontal nudity for the ENTIRE SHOW." And it's not just for titillation. Peter McGarry's "Dark Wood" is a legitimate, serio-comic play that finds three apes together in a cage; two have been raised in captivity, one in the wild. What will they do when the possibility of freedom suddenly presents itself? The play asks: How are our perceptions of our world influenced by our surroundings? Are we humans any more free than the animals in a zoo? It performs on alternating nights with "Lysistrata." "Dark Wood" (bravely) stars Patrick Call, Ben Pelayo and Brainard Starling. Directed by Winnie Winglewick. Through April 26 at 2620 W. 2nd Ave., 720-233-4703 or dangerous' home page. Audience members, if naked, can watch the show for free on Feb. 22. All photos by John Moore of www.CultureWest.Org. Thanks to cast and crew.
To see the our full photo series, "It's Opening Night in Colorado Theatre," featuring one intimate, iconic snapshot from 27 Colorado opening nights (and counting), click here.
Click here to subscribe to the CultureWest.org Monthly E-Newsletter
Dangerous Theatre is located in an industrial warehouse row in the Denver neighborhood known as Valverde, about a mile south of Mile High Stadium. Why "Dangerous"? Founder Winnie Winglewick (pictured in the photo below) says: "First, it is a dangerous proposition to attempt to make a living producing theater. Second: Trying to get audiences to come see plays they have never heard of before is a dangerous proposition."
As one elderly couple entered Dangerous Theatre on opening night, they were kindly asked, "You do know that the entire play is performed in the nude, right?" To which the woman replied, "Yes … That's why we're here!"
Luckily for my photo project, Patrick Call, left, Ben Pelayo and Brainard Starling (unseen), were running scenes before Friday's performance while wearing robes that had just been presented to them as opening-night gifts from director Winnie Winglewick.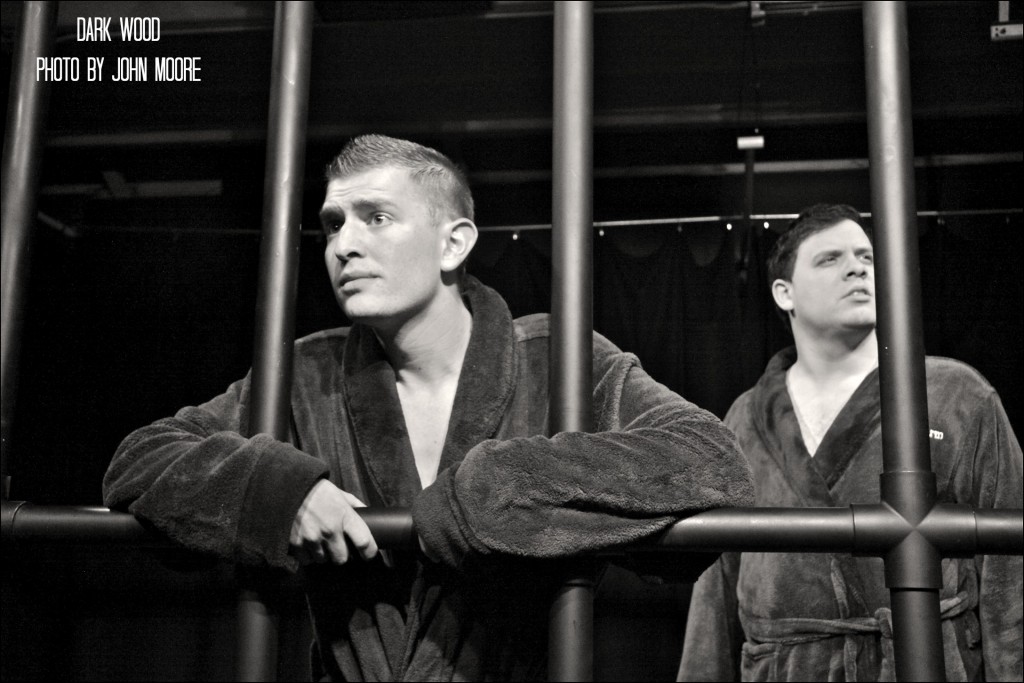 (Please click below to go to the next page.)