To see caption information on any photo above, click here. (It will be on the lower-left corner.) Or just click "show info" on any photo. If you prefer see this feature in its previous format (with each new photo stacked on top of the last), click here.
By John Moore
Sept. 15, 2013
Opening No. 114: Firehouse Theatre's "Next Fall": Luke is devoutly religious. Adam is an atheist. This Broadway play by Geoffrey Nauffts recounts the ups and downs of an unlikely gay couple's five-year relationship, leading to an explosive familial confrontation following a critical accident. Starring Mark Lively and Todd Black, featuring Michael Leopard, Judy Phelan-Hill, Brian J. Brooks and Johanna Jaquith. Directed by Steve Tangedal. Co-produced by Theatre Out. Showtimes: 7:30 p.m. Fridays and Saturdays; 6:30 p.m. Sundays Through Sept. 28 at the John Hand Theatre, 7653 E. 1st Place, 303-562-3232 or firehouse's home page. Thanks: Andrew Hunter, Helen Hand.
All photos by John Moore for www.CultureWest.Org. Click here to see the complete "Opening Nights" photo series to date. (These are outtakes).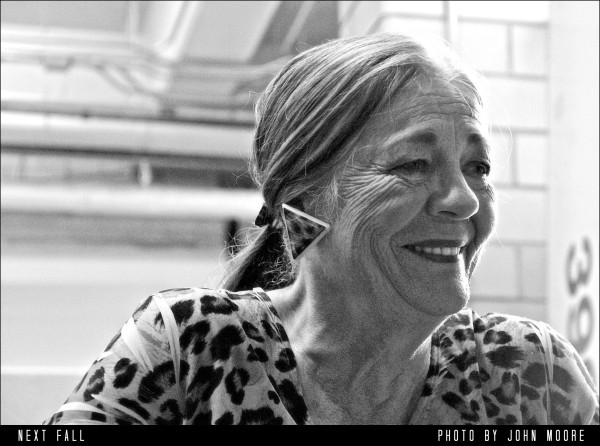 Actor Judy Phelan-Hill.
My review of the Broadway production of "Next Fall"
Quote: "You don't have to believe in hell to walk around believing that you are going to burn in it."
This riveting, familiar family tragedy starts with a car accident that leaves a strapping young man comatose and clinging to life. But the real collision is about to come down between his lover and the encroaching fundamentalist family who never knew — or at least acknowledged — that their son is gay. Rife for the possibility of cliche, Geoffrey Nauffts' drama instead deftly weaves one of the hot-button social issues of the day into an understandable and achingly unwinnable conflict between flawed, knowable characters on both sides of the family tree. Zigging from past to present (as most new plays now seem to do), we see how this unlikely romance bloomed between a spiritual (yet still closeted) southern Christian hunk and the jaded — and refreshingly kind of jerky — older New Yorker he somehow fell in love with.
The playwright raises fair points about the inherent contradictions of fundamentalism and the sadly nonexistent place a gay man has in making critical medical decisions for a loved one. But it's flawed — it's too long and gets ideologically confused by the unnecessary presence of one support character. It's most compelling because the two immoveable forces here — the young man's racist, homophobic father and his intractable lover — are both obstinately set in their ways. Still, I can't remember the last new play I've seen that had audiences openly sobbing by the end. My main misgiving: The story ends in the only way you can imagine it might, and I was hoping the playwright might instead invoke his right to mess with our minds. That might have changed the questions we're left with after an ending that, as written, leaves little doubt about who was right all along.
Click here to subscribe to the CultureWest.org Monthly E-Newsletter
How you can donate to the Denver Actors Fund
If you could not attend your fundraiser tomorrow, you can still help get us off the ground with your donation. Just go to our fundraising page here to contribute — with our humble thanks.