To see caption information on any photo above, or to see the gallery on a mobile phone, click here. (It will be on the lower-left corner.) Or just click "show info" on any photo.
By John Moore
Oct. 30, 2013
Opening No. 127: Off-Center @ The Jones' "Wheel of Misfortune": This new theatrical adventure from Off-Center is billed as "the scariest game show ever." It invites audience members to compete in everyday tasks that Vanna's … er, Bruce Montgomery's magic Wheel of Misfortune makes terrifyingly difficult. Competitors must master trivia, solve puzzles and surmount ridiculous physical obstacles — all for your enjoyment. (If you are not one of the contestants). The two finalists go head-to-head in a lightning round designed by the LIDA Project's Brian Freeland. (He's not only the purveyor of some of the freakiest theater in town, he's moving to New York after all of this is over — so he has nothing to lose.) To maximize the contestants' humiliation, "Wheel of Misfortune" is being videotaped for later airing as an online web series. (The creators are touting "Wheel of Misfortune" as "the show that everyone might one day be possibly raving about.") Those twisted game-show gods are hosts Bruce Montgomery, Mark Sonnenblick and Emily K. Harrison. The second of the first two initial tapings will be at 8 p.m. Friday, Nov. 1 at The Jones, Denver Performing Arts Complex, 1101 13th St. (Speer Boulevard and Arapahoe Street), 303-893-6090 or off-center's home page. Photo by John Moore for www.CultureWest.Org. Thanks: Jane McDonald, Charlie Miller, Emily Tarquin and Randy Dodd. To see the official "Opening Nights" series to date (these are outtakes), click here. Read my profile of game-show host Bruce Montgomery here. All photos by John Moore for www.CultureWest.Org.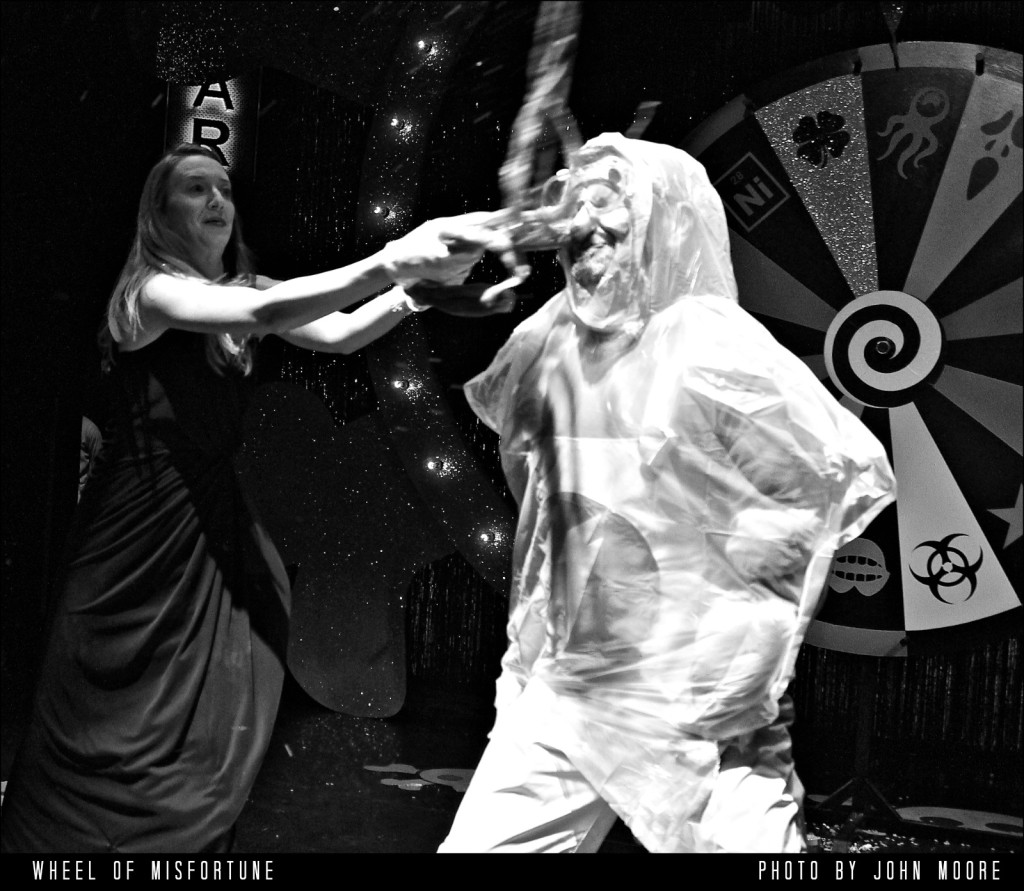 If you lose at "Wheel of Misfortune," you may get an octopus in your face.
Click here to subscribe to the CultureWest.org Monthly E-Newsletter
Colorado theater schedules, however you like them:

All currently running theater productions
All theater listings by company
All theater listings by opening date

How you can donate to the Denver Actors Fund
The new Denver Actors Fund is a modest source of immediate, situational relief when members of the local theater community find themselves in sudden medical need. To donate to the Denver Actors Fund, please go here (with our humble thanks):