To see caption information on any photo above, or to see the gallery on a mobile phone, click here. (It will be on the lower-left corner.) Or just click "show info" on any photo.
By John Moore
Oct. 30, 2013
Opening No. 126: Phamaly Theatre Company's "Vox Phamalia: G.I.M.P. Nation": "Vox" is an annual evening of good-natured but cutting sketch comedy that results from an annual writing-to-performance development workshop designed for disabled actors and writers. This year's show, again directed by Edith Weiss, features all-new material including "Sex and the Pity," "Suicide Hotline" and "Your Own Private Hell." Plus, they explore the subject of dwarf-tossing. The cast includes 15 actors with disabilities, including veterans Lucy Roucis, David Wright, Amber Marsh and James Sherman, along with new or near-new faces Harper Liles, Dominique Frary, Daniel Wheeler, Jeff Zinn, Khea Craig, Paul Migliorelli, Stewart Caswell, Kim Jackson and Naomi Morrow. Intended for audiences 16 and older. Remaining showtimes: 7:30 p.m. Thursday, Friday and Saturday (Oct. 31-Nov. 2); plus 2 p.m. Sunday, Nov. 3, at the Laundry on Lawrence, 2701 Lawrence St. Call 303-575-0005 or go to www.phamaly.org. All photos by John Moore for CultureWest.Org. To see the official "Opening Nights" photo series (these are outtakes), click here. Thanks: Jean Egdorf, Chris Silberman and Gloria Shanstrom.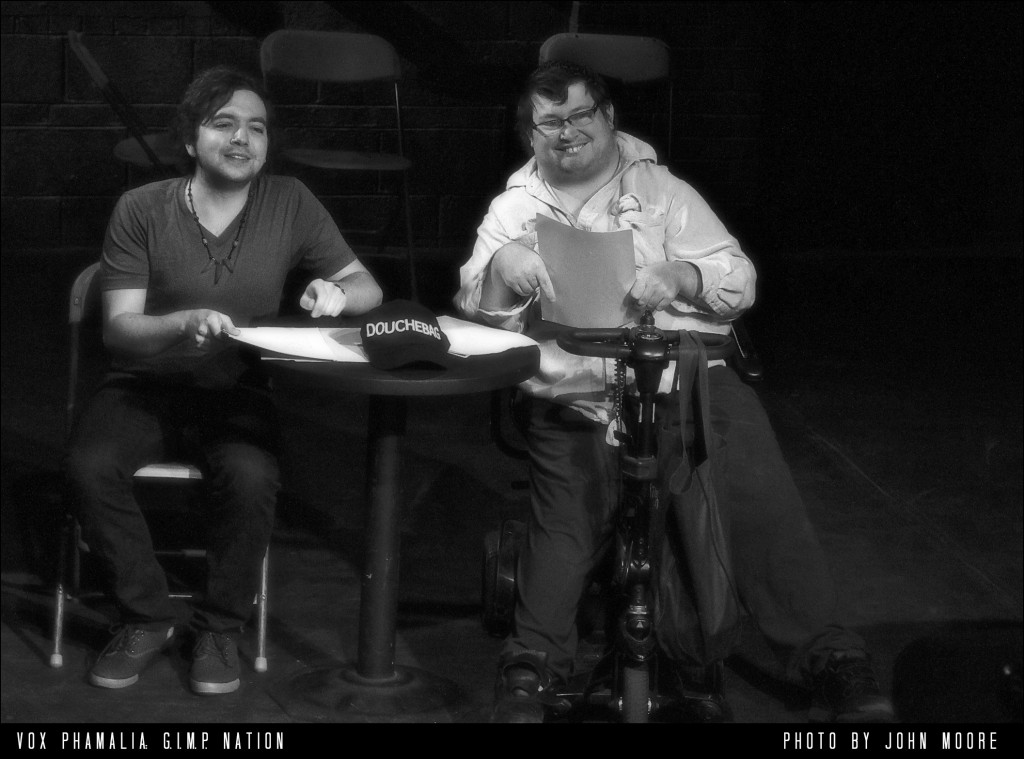 Who's a douchebag? According to the Disability News Team (Daniel Wheeler, left, who has Crohn's Disease, and Stewart Caswell, who has cerebral palsy), it's the CEO of Goodwill Industries, who lobbied for legislation that allows businesses to pay the handicapped a fraction of minimum wage based on their performance on a test that measures their ability to complete ordinary tasks against able-bodied people.
Click here to subscribe to the CultureWest.org Monthly E-Newsletter
Colorado theater schedules, however you like them:

All currently running theater productions
All theater listings by company
All theater listings by opening date

How you can donate to the Denver Actors Fund
The new Denver Actors Fund is a modest source of immediate, situational relief when members of the local theater community find themselves in sudden medical need. To donate to the Denver Actors Fund, please go here (with our humble thanks):