By John Moore
To see caption information on any photo above, or to see the gallery on a mobile phone, click here. (It will be on the lower-left corner.) Or just click "show info" on any photo.
By John Moore
Nov. 1, 2013
The Creede Repertory Theatre marked the closing of its annual fall staging at the Arvada Center on Sunday with a party in downtown Denver during which the revered, remote mountain theater company's plans for the summer of 2014 were revealed.
Artistic director Jessica Jackson announced Creede Rep's 49th season, to be held in its two separate theaters that line Main Street, at a festive gathering at the Wazee Street Supper Club.
The eight-show slate again cuts a wide swath … just not as wide as we've become accustomed to in years past. The season ranges from contemporary comedies ("Hope and Gravity" and "The Last Romance") to a traditional American musical ("Annie Get Your Gun") to children's theater ("Pants on Fire) to late-night improv comedy ("Boomtown").
Creede, located 250 miles southwest of Denver, has weathered natural disasters the past two summers — in 2012, it was the influx of Hollywood crews filming the Johnny Depp bomb "The Lone Ranger"; and, in 2013, it was a trio of devastating nearby wildfires. Both catastrophes kept tourists away from Creede in the early summer. That may explain why the company's 2014 lineup, for the first time in years, doesn't include a title that could be called particularly groundbreaking or cutting-edge. (Last summer, that would have been its epic zombie Shakespeare mash-up, "William Shakespeare's Land of the Dead.") It's time to regroup and recoup.
Creede has built a national reputation for presenting risk-taking, original works alongside more standard, crowd-pleasing fare, but while the 2014 slate includes the newest works by Michael Hollinger, Joe DiPietro and David Ives (all titles new to Colorado), the collective lineup makes for a comparatively safe season by Creede standards.
Creede is a tiny mining town in the San Juan mountains where only 400 people live year-round, but with a summer population that swells to 20,000. As the largest employer in Mineral County, the theater company has long been a powerful economic generator for southern Colorado. Creede Rep is a powerful lure for some of Denver's top actors and directors, including most recently John Arp, Christy Montour-Larson and a steady stream of Denver Center Theatre Company members from both on and off the stage. And Creede Rep has returned the favor, infusing the Denver theater community with a steady stream of new actors who first came to Colorado from Creede and then make significant impacts in Denver, including Michael Bouchard, Jake Walker, Diana Dresser and many others.
After closing Season 48 in Creede in September, Jackson moved "Around the World in 80 Days" up to the Arvada Center, where it played for three weeks. That show featured, among others, Arp and Caitlin Wise, a longtime Creede Repper and a graduate of the Denver Center's National Theatre Conservatory.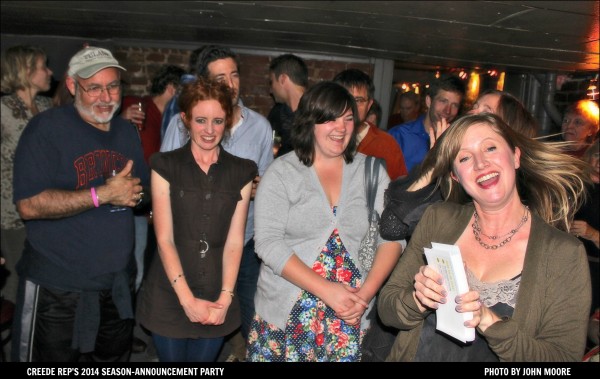 Creede Rep's 2014 summer season
(Descriptions provided by the Creede Repertory Theatre)
"Annie Get Your Gun"
By Irving Berlin, Herbert & Dorothy Fields. Revised by Peter Stone.
The feisty love story of Annie Oakley and Frank Butler set against the backdrop of Buffalo Bill's Wild West Show. Irving Berlin's timeless score includes "You Can't Get a Man with a Gun," "There's No Business Like Show Business," "I Got the Sun in the Mornin'" and "Doin' What Comes Natur'lly." Annie shoots for the stars, hits her target and lives scrappily ever after.
"The Liar"
By David Ives
Adapted from the comedy by Pierre Corneille
Paris, 1643. A charming young man has only one flaw: he cannot tell the truth. He hires a servant who cannot tell a lie, falls in love with Lucrece, whom he thinks is Clarice, who is secretly engaged to his best friend. Nor is he aware that his father is trying to marry him off to Clarice, whom he thinks is Lucrece, who actually is in love with him. His increasingly-more-ridiculous lies add up to a sparkling romantic farce, adapted for modern audiences.
"The Secret Affairs of Mildred Wild"
By Paul Zindel
Mildred's life is ordinary. But her dream world, fed by the 3,000 movies she has eagerly devoured, is spectacular. And when the outside world intrudes via her husband, his meddling sister, their hard-boiled landlady, or the wrecking crew sent to tear down the building – Mildred meets each crisis with a hilarious fantasy drawn from her precious lode of old movies. She makes for a kooky, lovable and enchanting heroine.
"The Last Romance"
By Joe DiPietro
Company favorites John Green, Christy Brandt and Annie Butler will star in this golden-years romantic comedy. Ralph, an elderly widower, feels young again – all thanks to an unexpected second chance at love. Relying on a renewed boyish charm, Ralph attempts to woo the elegant, but distant, Carol. Up against Carol's reluctance and his domineering sister's meddling, Ralph embarks on the challenge of a lifetime, and regains a happiness that seemed all but lost.
"Hope and Gravity"
By Michael Hollinger
Lives overlap and elevators stop on random floors as nine characters are compellingly revealed in this contemporary comedy about fate. From an impossible elevator accident to an unlikely hotel hook-up, chance encounters lead to surprising connections. From the author of 2012's "Ghost-Writer," this deeply fascinating play traces nine stories, told out-of-order, that lead inevitably to one momentous leap of faith.
"Pants on Fire"
A totally made-up musical for kids
Ever wondered what would happen if you could control a play? This hour-long improvised musical is created from the imaginations of kids in the audience. It's your adventure. We just live in it.
"Boomtown"
Improv Comedy
Back, as they say, "by jocular demand." Armed with only an audience suggestion and their twisted imaginations, these inventive actors perform an unscripted, often bizarre show.
Ticket information:
Call 719-658-2540
Go to www.creederep.org
The theater is located at 124 N. Main St.
Click here to subscribe to the CultureWest.org Monthly E-Newsletter
Colorado theater schedules, however you like them:

All currently running theater productions
All theater listings by company
All theater listings by opening date

How you can donate to the Denver Actors Fund
The new Denver Actors Fund is a modest source of immediate, situational relief when members of the local theater community find themselves in sudden medical need. To donate to the Denver Actors Fund, please go here (with our humble thanks):