The world might run a little more peaceably if people only respected other people's door signs.
By John Moore
April 28, 2013
Welcome to my ongoing, 2013 labor-of-love photo series bringing you iconic snapshots from behind the scenes on opening nights in Colorado theater. All photos by John Moore for www.CultureWest.Org.
Opening No. 59: square product theatre's "The Ding Dongs, Or What is the Penalty in Portugal?": When a sweet-faced young couple shows up on a suburban doorstep somewhere nearabouts, say, "Arlington Road," an unsuspecting homeowner finds himself the victim of a surreal home invasion. Using wit and wordplay to counter a more evidently sinister threat, man and couple wage a battle over indigenous property rights from the most unlikely of places … an ordinary American suburban living room. A comedy (yes, comedy) written by Brenda Withers ("Matt & Ben"). Directed for the lower-cased square product theater company by Rand Harmon. Featuring Emily K. Harrison, Jason Maxwell and Jack Wefso. The subtitle is a reference to a line made by author Howard Zinn in "A People's History of the United States," in a section about differing notions of property rights. The artistic company of the theater that premiered this play in Boston is Zinn's son, Jeff, so the otherwise obscure subtitle stuck. Plays through May 4. Showtimes: 8 p.m. Thursdays through Saturdays at the Laundry on Lawrence, 2701 Lawrence St., 303-442-0234 or square product's home page. Thanks: Josh Nelson.
The following gallery is just one chapter in my ongoing photo series called "It's Opening Night in Colorado Theatre," bringing you iconic snapshots from behind the scenes all over Colorado theater. All photos by John Moore for www.CultureWest.Org. To see the actual, official photo series featuring one intimate, iconic snapshot from 59 Colorado opening nights (and counting), click here.
Click here to subscribe to the CultureWest.org Monthly E-Newsletter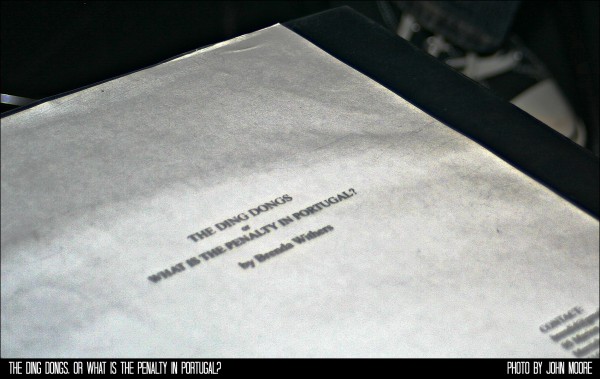 The playwright Brenda Withers is scheduled to attend the May 3 performance and take questions from the audience after the show. She collaborated with actor Mindy Kaling (of "The Office" fame) on the writing of another play, "Matt & Ben," produced a few years ago at the Miners Alley Playhouse in Golden. Withers is also an accomplished actor, having appeared in the Denver Center Theatre Company's "Pride & Prejudice."

Emily K. Harrison and Jason Maxwell rehearse a key scene before the play's opening performance in Denver after a short premiere in Boulder. Natalie and Joe are not your average suburban couple. No, they are a couple of serious Ding Dongs.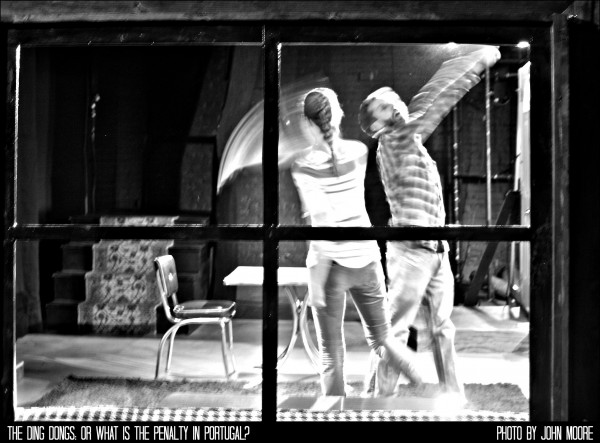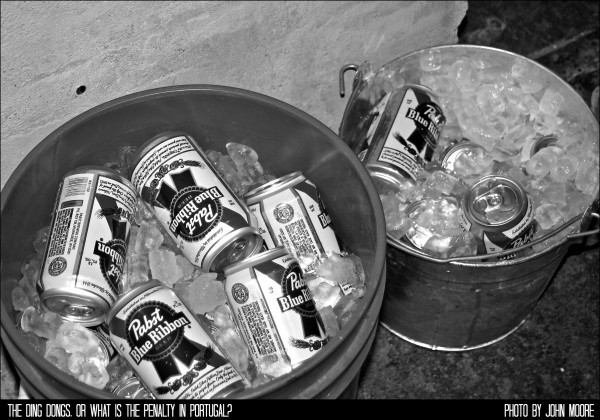 Theater marketing at its best.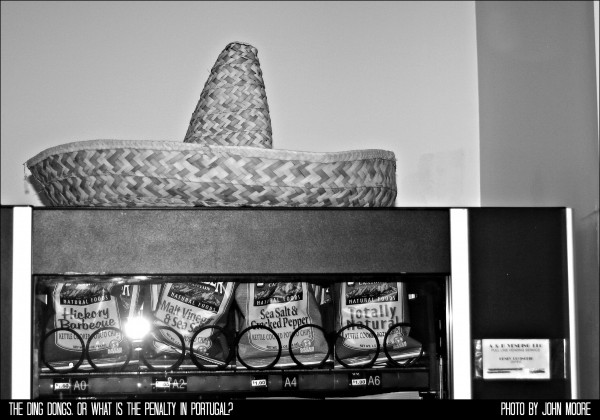 Now that's what I call a snack bar.

Backstage with actor Jason Maxwell.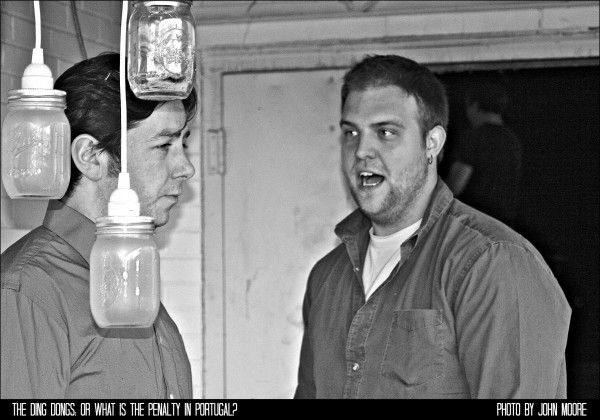 Actor Jack Wefso and stage manager Josh Nelson grab some fresh air before the evening's bell-ringing begins.

Each performance features a guest cameo UPS deliverer. Director Rand Harmon, who teaches at the University of Colorado-Boulder, put one of his students to work, left, on opening night.
(Please click "Page 2" below to go to the next page of our photos from our visit to "The Ding Dongs.")