To see caption information on any photo above, or to see the gallery on a mobile phone, click here. (It will be on the lower-left corner.) Or just click "show info" on any photo.
By John Moore
Oct. 24, 2013
Opening No. 123: The Catamounts' "Failure," A Love Story": This fanciful musical fable is about the triumphs, aspirations and untimely demises of three Chicago sisters who never saw death coming. Set in 1928 in a clock shop on the edge of the Chicago River, this wistful comedy that tells the stories of all three sisters, and the one man who loved them all. "Failure" features Joan Bruemmer, Ed Cord, Crystal Verdon Eisele, Meredith C. Grundei, Michelle Hurtubise, Trina Magness, Jeremy Make, Jason Maxwell and Ryan Wuestewald, with Nina Rolle providing live various music (which includes a bell on her head). Directed by Amanda Berg Wilson. There are three remaining performances, Thursday, Friday and Saturday (Oct. 24-26) at the Dairy Center for the Arts, 2590 Walnut St., Boulder. The Saturday performance will be preceded by a community meal from a menu inspired by the play. Call 303-440-7826, or go to the The Catamounts' home page. Photo by John Moore for www.CultureWest.Org.. Thanks: Andy Bakehouse.
To see the official "Opening Nights" photo series to date (these are outtakes), click here: www.culturewest.org/?p=6068. All photos by John Moore for www.CultureWest.Org.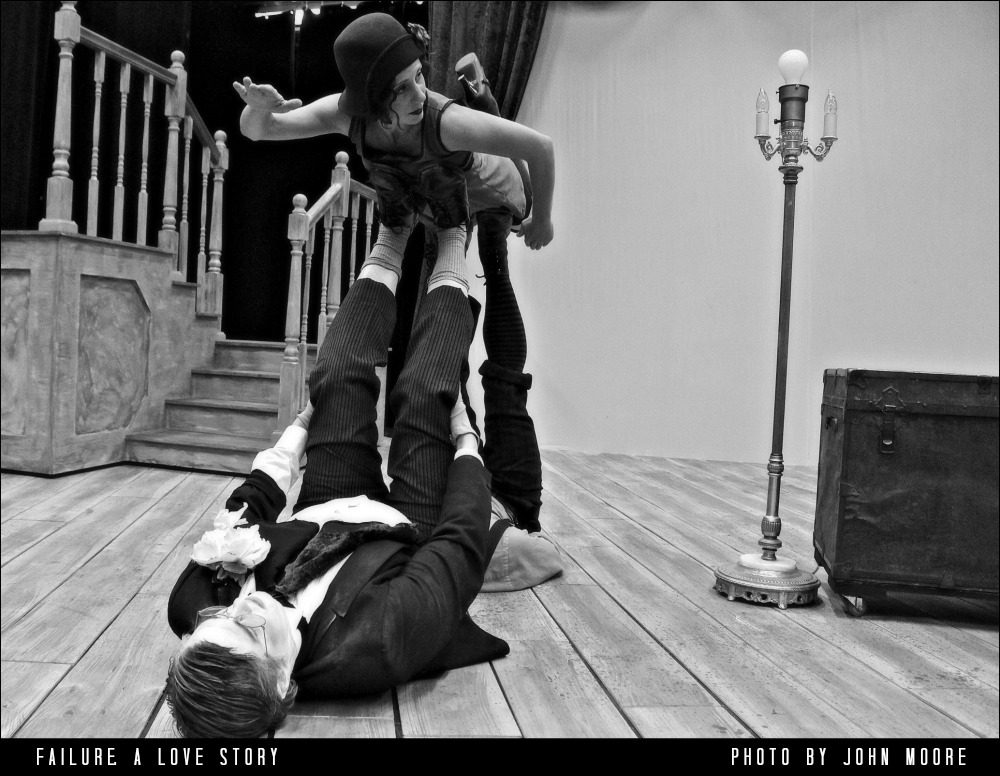 Meredith C. Grundei, playing one of the fated Fail Sisters, goes for a pre-show swim practice safe in the arms, er, feet, of castmates Ed Cord, front, and Ryan Wuestewald. Her character swims the Chicago River.
Click here to subscribe to the CultureWest.org Monthly E-Newsletter
Colorado theater schedules, however you like them:

All currently running theater productions
All theater listings by company
All theater listings by opening date

How you can donate to the Denver Actors Fund
The new Denver Actors Fund is a modest source of immediate, situational relief when members of the local theater community find themselves in sudden medical need. To donate to the Denver Actors Fund, please go here (with our humble thanks):